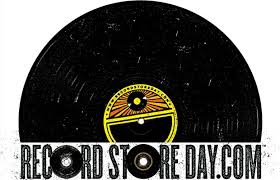 "If you don't care about music, I'm going to say two things: 1. You should.2. If you still don't, go to Record Store Day and watch how excited people get about something they can't even see. You can't even see music, right, but there is something so magical about it." Michael White 15′
DALLAS-Early Saturday, 6:40AM, in a meandering line of 40 people outside Josey Records, the recently opened music store on the LBJ Freeway, sun shining bright in the sky. Men and women are in small groups talking, laughing, and anticipating the day's main event. It's Saturday, April 19th. Josey Records is about to open its doors for the eighth annual, nationwide, Record Store Day.
Record Store Day? Wait, records? As in those old polyvinyl chloride disks my parents have stored in a closet somewhere?
Yes, those records.
As a music listening medium, records have been around since the 1930's offering low playback noise and an aesthetic that can't be beat.  Vinyl, until the 1990s, was very popular being the biggest source of distributing, listening, and selling music to the masses. The height of vinyl dominance came in 1982, when Michael Jackson's Thriller sold 51-65 million copies, gaining 29 platinum record certifications from the United States alone. However, as time passed, the popularity of records diminished, as more durable and smaller mediums of music appeared throughout the music industry.
Even as CDs and MP3s dominate the consumer music market today, it is important to note that record sales have not died out. Die hard record fans and vinyl aficionados continue to build up their collections while artists keep facilitating sales by recording in the old analog fashion.  More recently, however, regular consumers have taken an increased interest in the record collecting world. In fact, 2014 reported the highest number of record sales since 1991, at 9.2 million units sold. Some of this increased business of records can be traced back to the rising popularity of Record Store Day.
So what exactly is Record Store day?
Record Store Day is an annual event first created in 2008 that celebrates the culture of independently owned record stores all over the world. It is a day where artists, fans, and record store owners come together and celebrate the impact of record stores in their community, celebrate records themselves, and especially celebrate music as an art form. JT Donaldson, a record producer and partner of Josey Records perfectly summarized what Record Store Day truly means as it "is anything that gets people excited about the record culture and the collecting of vinyl."
Festivities such as free food, barbecues, bands, DJs, and artist meet and greets are held at the record stores to promote a fun and pleasant experience while you are shopping for new records to add to your collection. But the main attraction of Record Store Day is not the parades or the free concerts by local bands, it is not the platters of gourmet cupcakes shaped like vinyl, or even the meet and greets with Grammy award winning artists.
The main attraction of Record Store Day is the limited edition, never before released records the labels and artists make just for that day. These records are extremely rare; usually less than 5,000 are made of each. As the rarity increases, so does collect-ability, as many people flock to their local record store early to get in line to see and acquire the new and exciting special edition records released.
For some, record store day is all about these new vinyl releases. While Josey Records opened at 7AM, people like Ernest were lining outside the door way before the employees even arrived to open up. "I got here at 3:30 AM. I didn't think I was going to be the first person, but I was happy to be the first person," replied Ernest, tiredly holding up around 15 special edition records. For others, like Allison Dickson, a young women that arrived with her husband at 6:50 AM, Record Store Day is about the experience of a "kind of a comradery with other people who enjoy records like you do,"  effectively building new friendships in the process. No matter what your objective is at Record Store Day, excitement is always present before and after the store is open for business.
Why should Jesuit students care about Record Store Day?
 There are many arguments why Record Store Day is important. JT Donaldson emphasized the cultural aspects of Record Store Day, as he stated "I think it's important just to celebrate the culture of what we are doing through this music" also indicating that "there's not that many times during the year that has a focus [on records], so I think today is an important day because it puts music first, but not only music first, vinyl, especially." Others, like Michael White, a Jesuit senior who participated in Record Store Day, highlighted the impacts Record Store day had on the community, stating that "We want to keep businesses where people are doing what they love, selling what they love, we need to keep those businesses alive, so Record Store Day, in concept, is a really cool way to keep these kind of store going and to keep interest for record collecting up."  Michael White also addressed the importance of music is to the human soul in relation to emotions, well-being, and happiness, declaring, "If you don't care about music, I'm going to say two things:
1. You should.
2. If you still don't, go to Record Store Day and watch how excited people get about something they can't even see. You can't even see music, right, but there is something so magical about it."
The ability of Record Store Day to create such a mass following is one of true importance. It shows that people are continually coming together to deepen their community by making new relationships, forming friendships, supporting pursuits, and growing and maintaining important cultural aspects, preserving them for future generations. Even if records are a small part of the music selling market, and even if more efficient ways of listening to music are apparent, records are not a waste of time. We need records not because of their ability to sound deeper and clearer than CDs, and not because we can easily show off our music superiority tangibly on shelves, but we need records because they bring people back to a communal life, a life full of interest,  companionship, and a love for human creativity.
My Own Experience
From what I have gathered, there is something magical about music, and Record Store Day only deepened my love of the musical art form. The experience at my first Record Store Day on April 19th, 2015, is one that I will never forget, as the events that transpired are truly amazing.
This is my story of Record Store Day:
For starters, I had my eye on a special edition record by an indie folk singer named Father John Misty. This record was different, as it was a pure red vinyl that was shaped like a heart.  This was the only special edition vinyl I really wanted, but they only made 5,000, and it was in high demand.
I went to record store day with my friend Felix, and he had the idea of heading off early to the record store to get in line for the records at Josey Records. I was opposed to this idea because it meant getting up at 5:40 AM on a Saturday. Finally, Felix talked me down. And I picked Felix up at 6:10 sharp. It took about 30 minutes to get to Josey Records, and when we got there at 6:40, there was already a line of 40 people waiting outside the front doors. The store opened at 7, and we walked right in.
How Record Store Day works at Josey Records is that there are boxes of special edition and limited release records on a table by the cash register. The records are in alphabetical order, A to Z, Z being nearest the register. So the line would move really slowly as the people in the front of the line were looking through all the boxes, one at a time, until they got to Z, then would move to the register and pay if they got a record.
If you haven't been to Josey Records I would record-mend it, it's a really nice place with lots of music from CDs to cassette tapes. The music they were playing in the store while we waited in line was pretty awesome too. It was a mixture of old R&B and funk, and it was energizing in the early morning.
Felix was also looking for limited edition records to buy, as he wanted a J-Dilla vinyl in the shape of a police badge, a Blackstar record that was in the shape of a black star, and a Wu-Tang Clan record that looked normal but was half yellow and half black.
It took about two hours to even get to the boxes full of records. When we finally got there I was not feeling optimistic, for I was pretty sure there would be no more heart shaped Father John Misty records. As I passed through the A box, then to the B, then to C, D, E, and finally F, I was right. No Father John Misty. I was really disappointed due to the fact that I came all that way. Felix didn't find the Blackstar record in the B box and he didn't find the J-Dilla album in the J box, so he was equally disappointed.
Felix asked if we wanted to "cut our losses" and leave to go to another record store that was opening at 10, but I felt like we needed to go through all the boxes just because we spent so much time in line. We made our way looking through each box seeing if there was anything we were interested in, and finally we got to the W box, and Felix found the Wu-Tang Clan record he wanted. He was excited about it, and so now we had to stay in line to go to the register to pay for his new found record.
Since we were near the end of the boxes, I leaned over the boxes and peaked down the row to see what was at the end, and to my surprise, I see a record that looked like a black star on the table. I realized it was one that Felix wanted, and now Felix was even more excited, but he couldn't get it just yet because it was at the very end after the boxes. I then realized that the special shaped records were not in boxes, but they were just stacked on a table at the end. This is why Blackstar was not in the B box. We went down the row some more, and we came across a small box near the end that was carrying the 7 inch vinyl exclusives, and in that box Felix found his 3rd record he wanted, the J-Dilla police badge. Felix was 3/3, and I was 0/1 so far, but I had hope that my Father John Misty record would be with the other different shaped vinyl. We get to the end, and Felix picked up his Blackstar record, and there was no Father John Misty left. At this point I just wanted to go home. I turned to go to the cash register with Felix, but when Felix picked up the Blackstar record, he stared down at the other Blackstar records (there were about 5 piled up on top of each other) and just yelled, "Wait!" He picked up all the Blackstar records, which are pure black so you couldn't see through them, and under all 5 of them was the last Father John Misty record they had in the store. I was shocked. Felix, out of pure intuition, found the record I was looking for. The employees couldn't believe it either. What made it even more amazing was that the people directly in front of looking through the boxes wanted the Father John Misty record, and walked right past it, along with the other 40 customers before them. They only had 5 of the heart shaped records at the store, and I managed, out of pure luck, to get one of them. It was a great way to end a really fun, crazy record store day.
Thank you to

Alistair Keggen '17

Alistair Keggen '17