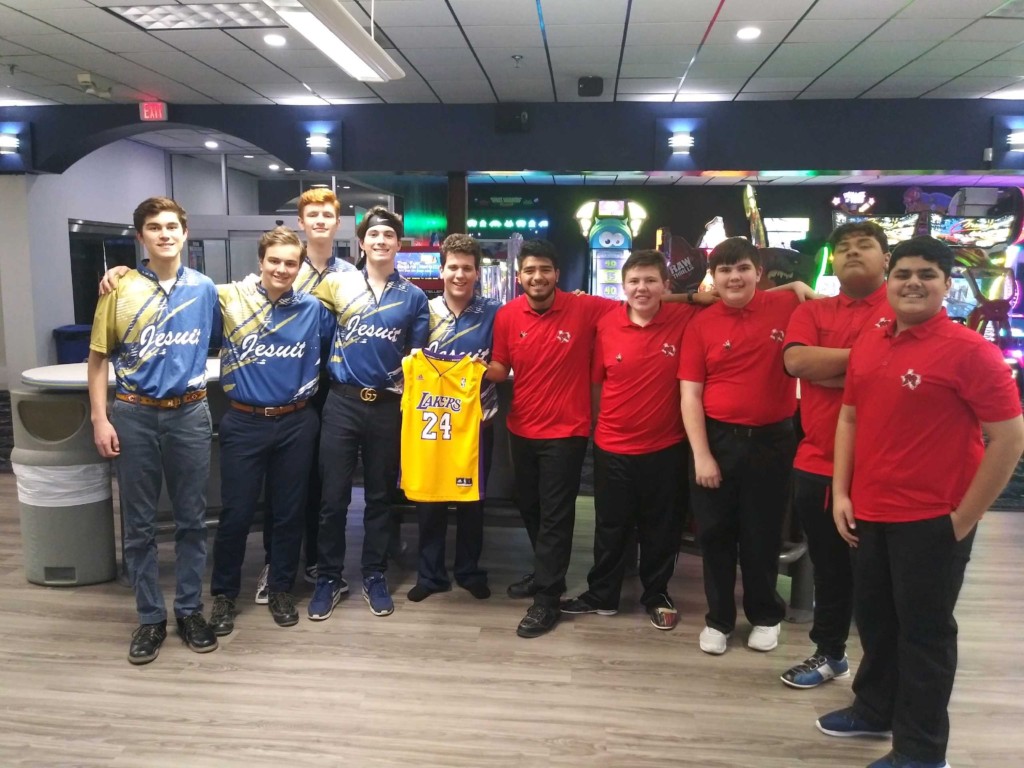 The score is 97-151. A 54 pin deficit. Jesuit is currently losing 3 out of the 5 individual matches. They need this match. A substitution has to be made. Seasoned varsity Coach Ken Howell needs to bring in his ringer. At 5'9 and thick as a bowl of oatmeal, Matthew Vincent '20 is subbed into the game. Sizing up his opponent, puny in comparison, Vincent places his purple ball on the rack and prepares to dominate the match. You can tell he's never missed a lift. Starting the game out with a strike, Vincent never takes his foot off the gas, as he closes frame after frame. With the game almost secured, Vincent ends it with a strong 10th frame, with a final score of 191 to win the match 288-271.
Individual Matches
Vincent's comeback victory reflected the performance of the team as a whole on January 25th, with the team surging back to win all but one of the individual matches against the Blue Raiders of L.D. Bell. As mentioned above, Vincent won his match 288-271 in a duel match with Sam Sudderth '20, who rolled a 97 in his varsity debut. Will Risinger '20 followed this up with a dominating 332-282 win, to win Jesuit's second point of the day. The dual team of Silas Hartman '20 and Ethan Blum '20 fell short in their match with a final score of 282-383, which included a 138 from Hartman and a 144 from Blum in his first varsity match. Hayden Montpas '22 came back from a early deficit with a strong 211 to win 358-343. Jack Corrales '20 won the fourth point for Jesuit with a 364-276 victory, and with the greater cumulative pin total, Jesuit moved into the baker games with a 6-1 lead.
Baker Games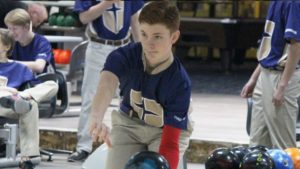 Needing only one baker game to seal the match, Jesuit quickly ended the first baker game in a 177-152 victory. With the match in hand, Jesuit celebrated senior day with all senior lineups, leading to a 175-138 win and a 167-138 in the second and third baker games. Capturing all three baker games and cumulative pin total, Jesuit won all 8 baker points to add to a 14-1 victory to extended Jesuit's unbeaten streak to 18. With this win, Jesuit also sealed their position as district champions for the second year in a row.
JV Match
Jesuit's JV Bowling team also squared off against L.D. Bell on this Saturday morning, looking to continue their stellar season. Nick Evanich '22 and John Risinger '23 started things off for Jesuit with a tight 218-214 victory, including a strong 132 game from Risinger to seal the first point for Jesuit. Alex Tinker '23 and Ryan Menke '23 were unable to complete their comeback in the second match, with a 185-212 loss. Michael Norris '21 fell in a 158-219 match three. Victor Martinez '22 picked things back up for the Rangers with a 217-195 victory, and Will Mina '22 won the third point for Jesuit in a 262-184 victory. Narrowly stealing the cumulative score at 1040-1024, Jesuit moved into bakers needing three points with a 5-2 lead.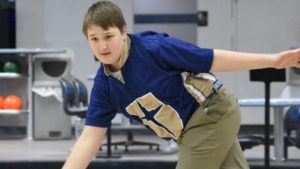 The JV won the first baker game with a strong 172-110 win, to bring them within one point of clinching the dub. They quickly secured the win with a 105-80 win in match two, and then followed that up with a 86-115 loss in the third baker. The final score was 11-4, with Jesuit's JV winning another match as their season neared its conclusion.
MacArthur
After a solid win, Jesuit's varsity moved on to play MacArthur on January 27th for their last home match at USA Bowl. Will Risinger started things off for the Rangers with a 352-185 win in match one, while the split match between Silas Hartman and Mike Kaufman '20 ended in a 249-172 win for point number two. Jack Holloran '20 won his match with a team-high 358 against a MacArthur 137, while Matthew Vincent won 318-184. Jack Corrales finished things off with a 311-246 win. Heading into bakers with a 7-0 lead, Jesuit swept the bakers with scores of 150-86, 163-65, and 157-98 to win the match 15-0, extending their undefeated streak to 19 with just one game left in the 2019-2020 season.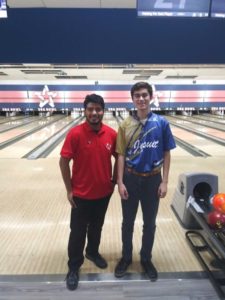 Reflections
From the senior day game against L.D. Bell, Coach Howell remarked that "After a slow start in the first game, the team really turned it on for the rest of the match to pull out a big victory."
Additionally, after two solid matches in a row, Matthew Vincent stated that "I'm going to have to consult a chiropractor after putting the team on my back not once, but twice." Bold words from the Senior.
Jesuit looks to stay undefeated for their second season in a row against Nimitz on February 15th at the Bowlero in Euless, Texas as they prepare for regionals in early March. Make sure to check back to The Roundup for more bowling and other sports news!