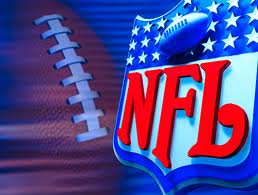 Well, I think we can all agree that firstly I am definitely not an NFL scout and secondly the art of scouting quarterbacks, even for professionals, is like trying to see when the digits of pi repeat. This is obviously a failed science and who knows; in three years we may be talking about how great Nathan Enderle is (he is the starting QB for the University of Idaho, for your information) and how stupid everyone was for believing Arkansas' Ryan Mallett was supposed to be good. But I digress and now want to express my opinions on which quarterbacks will be taken and in what order in the 2011 NFL Draft.  This will be a very weak draft class, with Stanford's Andrew Luck staying in school and depriving teams of selecting the Peyton Manning clone. This will force teams to gamble a bit with every selected quarterback in this draft. The first two quarterbacks taken will be Auburn's Cam Newton and Arkansas' Ryan Mallett. I don't know which one will go first but these two will be taken in the first twenty picks. Newton has the raw arm that some NFL offensive coordinators will covet so they can mold it and compress it inside of a system. His running ability will get him on the field early and any kind of 40 yard dash time under 4.65 seconds will only improve his draft stock. Mallett is the quarterback to be wary of because he is potentially the next Ryan Leaf, not because of his character issues but his rocket arm and pocket presence will seduce scouts just as Leaf did. His shaky decision making and lack of mobility will make him a high risk high reward type prospect. Also, scouts have been worried about his ability to take adjustments in game and work them into the offense. The Arkansas vs. Alabama game only enhanced scouts worries of his inability to adjust in game. He will need a big offseason to cement himself within the first round. Out of all the quarterbacks in this draft, he is the riskiest to gamble on. Of course, NFL scouts could be right and we could be looking at the next Carson Palmer in Mallett.
#1. Cameron Newton (Redshirt junior)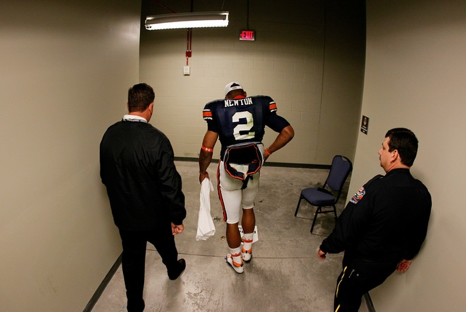 (Photo by Kevin C. Cox/Getty Images) Yahoo! Sports
Hgt: 6'6"
Wgt: 247 pds
Sophomore year stats: None
Junior year stats:
Passing -2589 yds, 28 TDs, 6 INT
Rushing –1409 yds, 20 TDs
2. Ryan Mallett (Redshirt junior)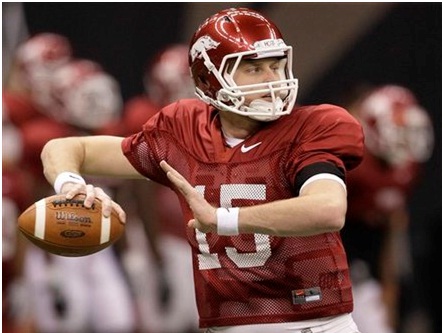 (Photo by Christian Petersen/Getty Images) Yahoo! Sports
Hgt: 6'5"
Wgt: 248 pds
Sophomore year stats:
Passing –3627 yds, 30 TDs, 7 INT
Junior year stats:
Passing –3592 yds, 30 TDs, 11 INT
3. Jake Locker (Senior)
(Photo by AP) Yahoo! Sports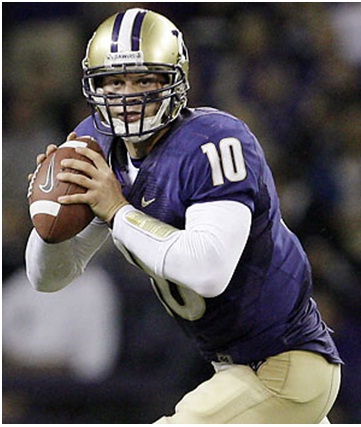 Hgt: 6'3"
Wgt: 230 pds
Junior year stats:
Passing –2800 yds, 21 TDs, 11 INT
Senior year stats:
Passing –2209 yds, 17 TDs, 9 INT
4. Blaine Gabbert (Junior)
(Photo by Kevin C. Cox/Getty Images) Yahoo! Sports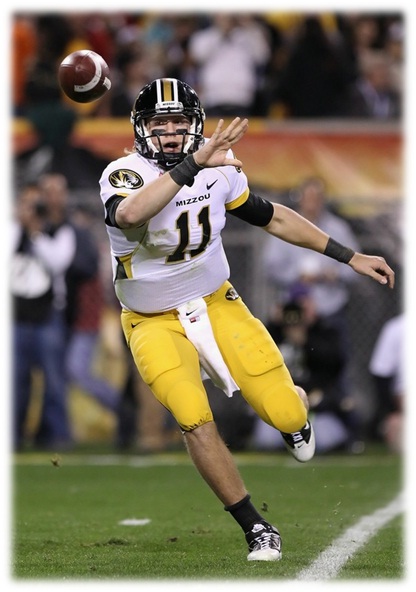 Hgt: 6'5"
Wgt: 235 pds
Sophomore year stats:
Passing –3593 yds, 24 TDs, 9 INT
Junior year stats:
Passing –2752 yds, 15 TDs, 7 INT
5. Christian Ponder (Senior)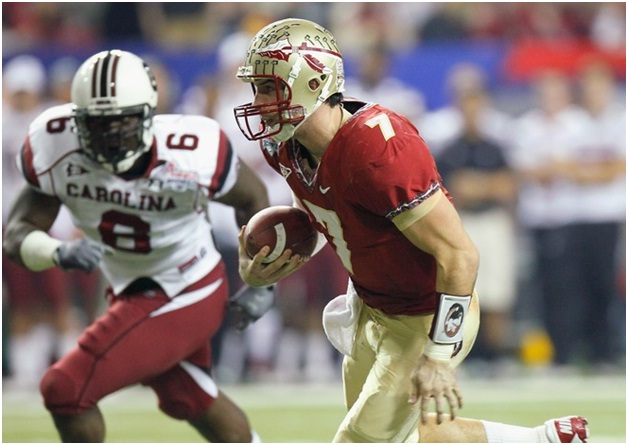 Photo by Walter Cherepinsky/Matt McGwire
Hgt: 6'2"
Wgt: 225 pds
Junior year stats:
Passing –2717 yds, 14 TDs, 7 INT
Senior year stats:
Passing –2044 yds, 20 TDs, 8 INT
At the bottom of the first round, University of Washington's Jake Locker will be taken and don't talk to me about how much of a risk he is. He is tied with Newton as the most athletic QB in the class and will dazzle people before the draft. His 6-3, 230 pound frame is perfect for his run and gun playing style. Reports have been on the internet that he ran a 4.32 before the start of his junior year but I doubt that. He definitely looks like he could run a 4.45 though, and his arm strength will rival Mallett's once scouts can compare the two. Obviously people think he is inaccurate but look people, this is a 1st round draft pick playing with a bunch of guys who will be on UFL teams next year. He had no help and I think he could resemble Jay Cutler in his Denver Broncos days. He is a better risk to draft than Mallett, but Mallett had a better year which will merit him higher draft position (not to mention about four million more guaranteed dollars). Mizzou's Blaine Gabbert, Oklahoma's Landry Jones, and FSU's Christian Ponder will be taken in the second and third rounds in that order. Gabbert is close to a first round pick but playing in an all shotgun offense will bring him down to a second rounder. Landry Jones is a borderline second round/third round pick next year but only because with development he will be able to become a good backup QB. As corny as it sounds, Landry is a type of QB teams would want to have because if a QB goes down, Jones has shown he can be put and plugged into the QB position and as a spot starter, produce. His accuracy and pocket presence are pluses, but everything else is average. This is also with the belief that he will declare for the draft, as he has yet done. Ponder is a third round pick because of his upside only. With no great college stats to back him up, he will try to show scouts his physical skills which will make him a high pick. His physical stature is fine and his ability to throw on the run gives him a major plus to NFL teams still running the West Coast offense, which mostly uses roll outs and misdirection on most passing plays (see Michael Vick and Eagles).
The rest of the draft is an even harder to predict, with quarterbacks like Iowa's Ricky Stanzi, Virginia Tech's Tyrod Taylor, and Idaho's Nathan Enderle (booya)  possibly making their way into at earliest the end of the fourth round or falling to even to the beginning of the seventh round. Till we actually see what happens in the many months before draft day, this is my interpretation of what will happen and I understand that I could be totally wrong with everything I've said. Now please feel free to rip this up and remind me that scouting quarterbacks is a failed science again.