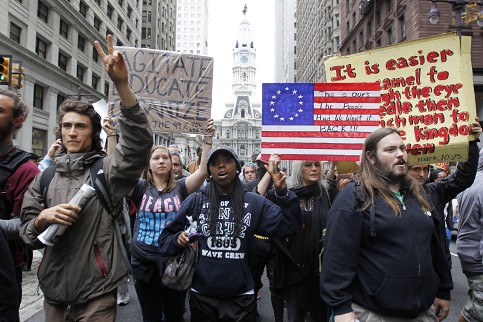 Tom Morello, the guitar player for Rage Against the Machine and Audioslave, made an appearance at Zuccotti Park Thursday morning, October 13, 2011, to play for Occupy Wall Street protesters.
"First they ignored you," Morello told the crowd. "Then you got pepper-sprayed and New York found out about it. Then 700 of you got arrested, and the rest of the country found out about it. Now there are 1,300 cities and towns that are standing up like you are here. Last Saturday I played Occupy LA, and now I'm seeing you here today, and I know in my heart that all hell can't stop us now!"
What? Is there a revolution happening in America? Now? Why haven't I heard about it? Also, who is this loony, and what is he talking about?
Morello, America's 21st century Harvard-educated, Ralph Nader-endorsing, ex-punk heir to the Guthrie/Seeger/Ochs/Dylan throne of anti-fascism and folk music, is of course speaking of Occupy Wall Street, the ongoing series of demonstrations against economic inequality and corporate greed taking place today in New York City and cities around the country.
And he is not alone in his words; the fire and bite with which he speaks is representative of the way lots of the protestors have been speaking about the movement. Among those who have stepped up to the cause alongside Morello in the last four weeks and addressed the crowd in New York City are Margaret Atwood, Noam Chomsky, Alec Baldwin, Salman Rushdie, Naomi Klein, and Michael Moore.
Occupy Wall Street has even gone national, spreading at this date to nearly all major American cities – Atlanta, Chicago, Seattle, Philadelphia, Los Angeles, and here in Dallas. Just Wednesday, students at the University of Michigan began planning for their very own (curiously directed) protest, "Occupy Ann Arbor."
Why, then, has the movement seemed so strangely passionless for the last month, so evidently non-dominating? Why has it been consistently relegated to second or third place news behind baseball, Republican debates, and Nobel prizes?
I hardly think it's a failing of the American public to hop enthusiastically onto the fight – that it's just another example of the apathy that plagues the comfortable citizens of this country. No, I doubt it's that. In truth, I think the fight is just, well… boring.
Chief among the examples of this is the movement right here in Dallas. Over the last ten days, more than 1,000 Dallasites have gathered at Pioneer Park to protest "corporate greed and its control of the government," as the website of the sponsoring organization, Occupy Dallas, states. But, at risk of sounding unintelligently blunt and curmudgeon-like, if what has happened here is the future of American protest, then such a future looks flimsy and unconvincing.
A spirit of cooperation between the city and the protestors has defined the Dallas occupation. Last Monday, October 10, the city officials even helped the leaders of the group file for the special use permit that will include delivery of a Port-A-Potty for the demonstrators. On Thursday, October 13, city lawyers met with Occupy Dallas lawyers to discuss moving the protests from Pioneer Plaza to an area behind City Hall.
I think it's all a little strange. Upon hearing this I couldn't help imagine it all as something out of a Monty Python skit: "Um, well, we don't mind if you protest angrily… but would you mind doing it over there? Also, do you need a Port-A-Potty?"
Aside from its underwhelming acts of resistance, another problem with the Occupy movement seems to be the endless comparisons to other protest groups, the most obvious being the 2009 emergence of the Tea Party protests; "Tea Party for the Left?" an October 11 article in the Daily Beast asked.
Though attractive on the surface, the comparison fails – and, unfortunately for those in support of the Wall Street demonstrations, it does so in favor of the Tea Party. The great conservative grass roots movement of the 21st century is, at its least, influential.
Statistically, it is estimated that over 300,000 gathered around the country on Tax Day in 2009 to protest the government's economic intervention; Occupy Wall Street has yet to eclipse 30,000 nationally. The Tea Party effectively gave birth to a primary competitor for the Republican Party nomination in 2012 – it holds political influence. Occupy Wall Street, at its best, has garnered celebrity and political endorsements – it exists in itself.
Upon its foundation, the movement's official website labeled it a "people powered movement for democracy… inspired by the Egyptian Tahrir Square uprising." While the differences in scale and influence in this comparison are obvious and not worthy of the time it would take to detail them, a larger theme of Occupy Wall Street becomes evident here: it has fought and fought, like a determined child, to gain some sort of respect through likening itself to other enterprises – it is hopelessly conscious of itself and its place in the country. It seems more like an advertising campaign than it does a passionate resistance.
While addressing his New York City crowd at Zuccotti Park Thursday, Morello introduced a song by Woody Guthrie, saying that if the depression-era singer were alive today, he would be headlining the protest. If that were true and Guthrie still alive, however, I suspect he would not just be headlining the protest, but trying to move it forward. After all, his famous line reads: "All you fascists are bound to lose," not "All you fascists are bound to negotiate with us eventually."