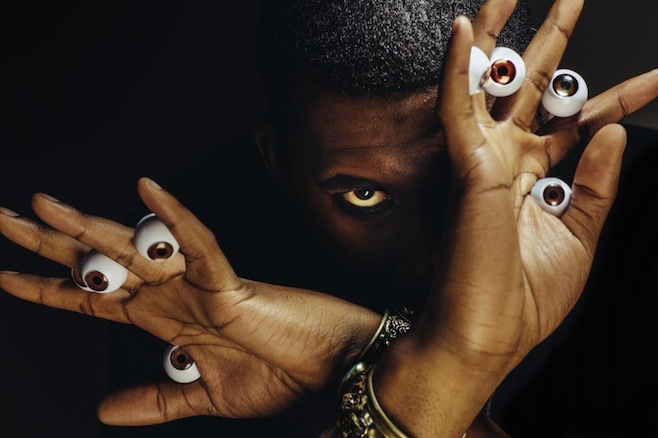 Flying Lotus
You're Dead! Album Review
Warp Records
Genre: Jazz Fusion, Experimental Electronica, Experimental Hip Hop, Nu Jazz, Neo Jazz, Psychedelic Jazz IDM, Wonky-Hop, Space Jazz,  Experimental-Futuristic-Jazz-Infused-Electronic-Magic
Released: October 7, 2014
Every single album that Steve Ellison has released under the Flying Lotus moniker has been a conceptual piece of art and music, encompassing transcendent ideas that have emotional ties to his upbringing. From the year of his birth (2000's 1983), the location of his musical identity (2008's Los Angeles), abstract concepts of space and time (2010's spectacular Cosmogramma), and even into the deep caverns of our dreams and subconscious (2012's Until The Quiet Comes). 
With these albums exemplifying Ellison's visionary themes, it comes to no surprise that his latest release follows suit. You're Dead! explores a concept that has been around since the beginning of time, and in its essence pops up in every facet of our lives: death.While mysterious and formidable, You're Dead! successfully views death from a more hopeful angle, shifting this daunting perception into something much more sanguine.Flying Lotus' music is heavily rooted in jazz, hip hop, and IDM. His inspirations include hip hop greats such as J Dilla to jazz greats, his aunt, Alice Coltrane, and his uncle, the legendary John Coltrane.
If you listen to Flying Lotus' music, you'll see that the songs never stay firm or still, kind of like a kid with ADHD. One minute it's improvisational jazz, the next minute wonky synths come in, and to close it off he'll drop some of the sickest beats to grace your ears, all in one song. (Imagine Miles Davis + Pink Floyd's "On The Run" +  a simple Madlib beat.) Now picture that journey expounded to nineteen tracks, and that's what Flying Lotus basically is. You're Dead!, in a way, seems to have encapsulated every single album FlyLo has done.
The opener, "Theme," sounds eerily like a black hole opening, with it's orchestra-like vibrancy droning off into the atmosphere. Not even a minute in, the track breaks into a spacey jazz cadence. The following three tracks tread improvisational space jazz grounds, all while segueing perfectly into one another, like one really long track. Hyperactive bass grooves, nimble and quick drumming, and power riffs help keep each track different, while also keeping them perfectly, for lack of a better term, "turnt up." These jazz improvisations feel so vibrant, alive, and pumped with ludicrous amounts of adrenaline, as if Flying Lotus made the gunpowder and lit the fuse by himself. The real hint of fireworks comes on the track "Never Catch Me," which features iconic rapper Kendrick Lamar, virtuously rapping one of the best rhymes I've heard all year, as well as embodying the album's statement. "Analyze my demise, I say I'm super anxious/Recognize I deprive this fear and then embrace it," he quickly spits, cleverly incorporating the album's concept perfectly.
Among Lamar is a slew of other artists such as Snoop Dogg, FlyLo's rapper alias "Captain Murphy," Angel Deradoorian, Thundercat, and Niki Randa. Even legendary jazz pianist Herbie Hancock makes an appearance, upping the ante on the album's jazzy side. However, it's in Snoop Dogg's featured track "Dead Man Tetris" that I first encountered disappointment. Not that the song as a whole is bad, the production is pretty good and it sounds aptly like a video game. Yet the vibe of the track seems clunky and pales in comparison to the overall feel of the album; it probably would've benefited from being an independent single rather than appearing on this album .
The rest of the tracks range from fully fleshed out tracks to brief interludes: the hauntingly beautiful suite "Coronus, The Terminator," the harmonious "Descent Into Madness (feat. Thundercat)," the sample heavy "Turtles," the grandiose "Obligatory Cadence," and the deep psych-jazz cut "The Protest"; these all stand equally on their own, fully illustrating FlyLo's technical prowess and ear for a good tune, compositionally and stylistically.
And while all these songs are packed with incredible production and heaps of creative ideas, they never drag on.
This nineteen song album clocks in at only thirty eight minutes, the longest track being a little over three minutes, the shortest, just about thirty seconds. So while every song is meaty to its core, they're fleeting and not too overwhelming for newcomers to Flying Lotus.
Perhaps the most striking part of this album is the overall approach toward "death." Take a look at the music video for "Never Catch Me," attached above. The kids are dead, yet they're dancing like they just won the lottery and driving off into the sunset as if they just got married. The main point that I feel FlyLo is trying to drive home is that while death can be mysterious, foreboding, and at times, limiting in terms of lifespan, that doesn't mean we should be afraid.
An aspect of the Jesuit way of life is finding beauty in all things: nature, buildings, sports, movies etc. Flying Lotus' greatest feat yet is laid out on the table on You're Dead!: he's found beauty in death and has fully displayed it throughout these nineteen tracks. Fear is the ultimate limiting factor, and it is a fact that WE ALL will end up fearing death. But when you've seen death as the opposite of completely desolate, it makes both sides—life and death—much more worth the ride, and the experience, truly showcasing its immaculate and uncompromisable beauty.
THE VERDICT
Infusing jazz, electronica, hip-hop overtones, a slew of talented guest artists and neo-psychedelia, all with an experimental approach.
Flying Lotus crafts one of the most profound and noteworthy albums of the year. As he explores death and beyond, FlyLo takes his conceptual approach towards his music and transforms these trademarks into an album that, despite its short running time, makes an everlasting mark,  all while remaining just as meaningful. You're Dead! will no doubt make my Top 5 Albums list and will be a record I will listen to frequently in the near future. I urge everyone with the desire to listen to new music, or anything at all, to listen to this wonderful album.
FAV TRACKS: Theme, Tesla, Cold Dead, Fkn Dead, Never Catch Me (feat. Kendrick Lamar), Turkey Dog Coma, Stirring, Coronus, the Terminator, Siren Song (feat. Angel Deradoorian), Turtles, Eyes Above, Moment of Hesitation, Descent Into Madness (feat. Thundercat), Obligatory Cadence, Your Potential//The Beyond (feat. Niki Randa)
LEAST FAV TRACK: Dead Man's Tetris (feat. Captain Murphy & Snoop Dogg)
Score: (9.4/10)