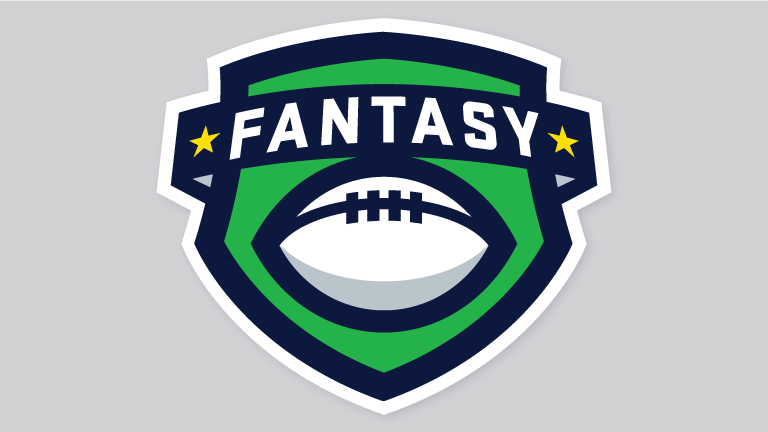 Throughout the 2019 NFL season, the fantasy football world has been turned upside down plenty of times, but what else is new? As much research that goes into fantasy football, it often comes down to chance. Whether it be a season-ending injury, a suspension, or an unexpected, fantastic performance, fantasy football constantly bears new surprises, bringing with it colossal impacts upon fantasy teams.
Busts
Joe Mixon, RB, Bengals
After watching in horror for weeks, I have concluded that Joe Mixon will continue to be a complete bust this season. I see no hope in any improvement in Joe Mixon's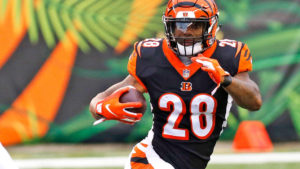 fantasy production. The Bengals are awful, and their absolutely atrocious offensive line provides no room for Joe Mixon to run. Since the beginning of the season, the Bengals have had the 3rd fewest yards per carry before first contact. This stat helps demonstrate Joe Mixon's helplessness as a member of the Bengals. He has almost no room to run in the Bengals' offense and is constantly limited by the lack of talent in the offensive line. If you have the option to trade Joe Mixon, take it. At this point, I feel comfortable trading Joe Mixon for any player that could start in my lineup. Joe Mixon has been the biggest disappointment of the season for fantasy players. I see no hope in that changing any time soon.
Booms
Chris Godwin, WR, Buccaneers
Coming into the season, Chris Godwin's average draft placement in fantasy football was 50th overall, making him the 20th drafted wide receiver. Through 7 weeks of the NFL, Chris Godwin is the highest scoring wide receiver in standard leagues and has dominated the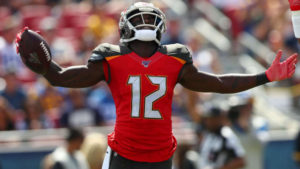 fantasy football world. He averages 17 points per game, a whole 3.5 points higher than the second best receiver. Chris Godwin already has 662 receiving yards and 6 touchdowns this season, despite having a bye week in week 7. He is heavily outplaying his superstar teammate, Mike Evans, and there are no signs of stopping. His consistently amazing performances and extremely low draft position make him the best valued player coming out of the 2019 fantasy football draft.
Buy Low Players
Keenan Allen, WR, Chargers
After starting the season with a bang, Keenan Allen's production has heavily declined since week 4. He went from averaging nearly 135 yards and a touchdown per game in the first three weeks, to merely averaging 40 yards per game since then. This severe regression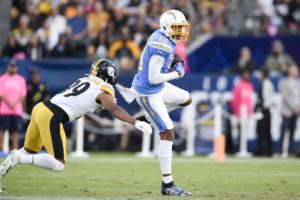 has left many fantasy owners extremely disappointed with Keenan Allen. In fact, many are trying to trade him away. Because of his recent poor performances, Keenan Allen is extremely undervalued and can be easily acquired for much less than he is actually worth. He is bound to bounce back, especially now that Melvin Gordon has returned to the Chargers and brought some life back into their offense.
Waiver Wire
Ty Johnson, RB, Lions
Anyone who held a stake in Kerryon Johnson in fantasy football was stunned to find out that what appeared to be a minor injury suffered in Sunday's game would end up causing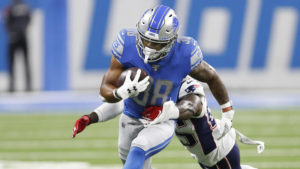 him to need a potentially season ending operation. This injury leaves many fantasy teams that relied on Kerryon Johnson's consistent weekly performances in desperate need of a running back. Ty Johnson, the backup to Kerryon, will receive the starting RB job in Detroit while Kerryon is out, making him a great replacement for your fantasy lineup. Ty Johnson is set up for fantasy success, as he is not only going to receive most of the carries, but will also receive the goal line work, a key aspect of Kerryon Johnson's fantasy success. He is a must add in larger leagues and will hopefully provide some major fantasy upside.
Stay tuned to The Roundup for more Fantasy Football Updates!