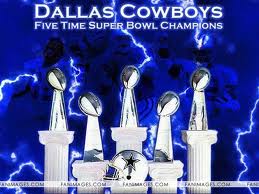 The last time the Dallas Cowboys won the Super Bowl was in 1995. Think about that statement for a second. Most of the students in the 2015 and 2016 classes were not yet born, and the students in the classes of 2013 and 2014 were only toddlers. In 10 of those seasons since the last Super Bowl victory, the Cowboys have missed the playoffs completely. What happened to the Cowboys of the '90s?
Meet Jimmy Johnson.  Johnson was hired in 1989. He was Jerry Jones' friend and teammate at the University of Arkansas. At this time, Jerry was only the owner, and Jimmy built the team. He was the head coach from 1989 to 1993, leaving the franchise after he and Jerry could not work together (read: they were sick of each other). During the Johnson era, two Super Bowl rings were won, with a third being won by the team he assembled in 1995, which had Troy Aikman, Emmitt Smith, Michael Irvin, and Larry Brown as holdovers from the Johnson team.
Also important to note: Jimmy Johnson was the only head coach of the Dallas Cowboys with the power to sign players and coaches without any say from Jerry Jones. At least, that's what Johnson says. According to Jones, "any one of 500 coaches could have won those Super Bowls," making the reference that he brought in all of the talent. Soon after that statement, Johnson and Jones "mutually parted" and Jones brought in another man: Barry Switzer. His only accolade with the Cowboys was winning a Super Bowl, which is still widely credited to Johnson for building the team.
After Switzer, there have been five head coaches for the Dallas Cowboys: Chan Gailey, Dave Campo, Bill Parcells, Wade Phillips, and Jason Garrett. If by Jones' logic that "any one of those 500 coaches could have won [the Super Bowl]" then all of these coaches should have at least one Super Bowl ring. They only made the playoffs 6 times, and have a combined record of 1-6 in those playoffs. So, is it poor coaching that has made the Cowboys mediocre, or *gasp* a lack of talent that Jerry has handpicked?
Well, looking at the team today, there seems to be no end to the talent: Tony Romo, Jason Witten, DeMarcus Ware, Dez Bryant, Miles Austin, Morris Claiborne, Tyrone Smith, Brandon Carr…etc. Those are the biggest names in Dallas, with Romo, Witten, and Ware being in multiple Pro Bowls. Witten broke the record for number of catches by a tight end in a season, while Morris Claiborne was the 6th overall draft pick, Brandon Carr was paid $40 million to come to Dallas, and Tony Romo had one of his best years statistically this year.
Remember the comment about how Johnson built the team? This was due to a special clause in Johnson's contract that he got to pick the personnel for the team, and Jones could determine their contracts. No other coach in the Jones era has had that clause in their contracts, meaning Jerry has brought in all the current talent for his team. So, clearly it's the coaches fault, right? According to these comments by Jimmy Johnson, it is. "The No. 1 motivator (in the NFL) is fear. Fear of maybe letting down your teammates or being embarrassed or chastised or fear of losing your job. Where is the fear in Dallas? There is no fear in Dallas. It's a country club where everybody is buddies." This quote from Johnson exhibits how the climate in Dallas has changed from his tenure, a time when Jesuit Coach Robert Williams played cornerback for Johnson, "Give him a reason to cut you from the team, and he will. Don't run to the ball every play? Your name won't be on the roster the next day."
The offseason "resort" program is most evident in the antics of the Cowboys' leader, Tony Romo, who is still trying to make the cut to be a professional golfer. Considering that he is the #1 athlete-golfer, Romo could one day make the cut to be a pro golfer, but he should wait until he is retired from football, or has won a Super Bowl. Romo has to focus on the team, so that others won't get in trouble, and so this "resort" offseason mentality will vanish. Now that he has signed a contract that is worth more than Peyton Manning's, he needs to finally step up.
Tony Romo has the talent level to be a top 10 player in the league, he just needs to go out and prove it. He has the weapons in Dez Bryant and Demarco Murray to do it, and Jerry will make sure that the offensive line will be at least a little better this year. Many Cowboys fans want to believe in Tony, and winning a playoff game or two this season will be a solid step in the right direction.
But otherwise, Jerry Jones needs to wake up, and get a Jimmy Johnson-esque coach on the field and let him govern the players. He needs to make everyone fear for their jobs, including his stars like Romo and Witten, and he needs to hire an actual GM, otherwise the Cowboys will suffer from mediocre play and not make the playoffs.
Again.
The Offseason for the Cowboys
Free Agents
First, we will start with the list of free agents:
| | | | |
| --- | --- | --- | --- |
| Position | Name | Position | Name |
| LB | Victor Butler | WR | Kevin Ogletree |
| CB | Michael Coe | SS | Charlie Peprah |
| DE | Kenyon Coleman | TE | John Phillips |
| OG | Derrick Dockery | LB | Brady Poppinga |
| SS | Eric Frampton | LB | Ernie Sims |
| CB | Mike Jenkins | LB | Anthony Spencer |
| RB | Felix Jones | OC | Phil Costa |
| LS | L.P. Ladouceur | SS | Danny McCray |
| P | Brian Moorman | DE | Brian Shaefering |
The players who are Free Agents (FA) will be noted for each position, with RFA standing for Restricted Free Agents. Players who have been cut with have a slash-mark through their name, while FAs that Dallas has signed will have an (N) next to their name.
QB – Tony Romo, Kyle Orton, Nick Stephens
The 'Boys need to draft a quarterback as their third stringer and as the possible future of the franchise. Matt Barkley, coming out of USC, would be a great quarterback to come in to the Cowboys and sit behind Romo for a few seasons, before getting a chance to start. Best case scenario, Barkley becomes an Aaron Rodgers type player, while the worst case is that the Cowboys wasted a third or fourth round pick.
Two things have happened since I wrote that paragraph: a) the Cowboys signed Tony Romo to a 6-year, $108 million contract, and b) they have given an Arena Football League QB a chance to make a roster spot. Nick Stephens, undrafted after the 2012 Draft, had a short stint with the Tennessee Titans before being cut after two preseason games and joining the AFL's Utah Blaze. If Barkley falls to the Cowboy's 3rd round pick, they should absolutely pick him up as a project, and could be used as possible trade piece if Romo turns into a consistent QB.
Romo needs to step up this season, now that he has been paid. While some Romo apologists will blame the O-Line for his interceptions, or the receivers since they are the ones that are dropping passes, or that there isn't a consistent running game to alleviate pressure on Romo, they need to stop sticking up for him. Let's try a different perspective: The next time Jason Witten has a receiving TD, no credit will go to Romo; Witten will get all of that credit because he did all of the work. See how silly that sounds? Romo is 1-6 in win or go home games. "But it's the O-Line's fault!" Romo has one playoff win in seven seasons as a starter. "The defense has to step up!" Since 2010, Romo's record as a starter is 17-21. "There hasn't been a good running back in years!"
So, logically, couldn't the Cowboys use $108 million dollars to sign a few linemen, or upgrade the defense, or even sign a new running back?
RB – DeMarco Murray, Felix Jones (FA), Lance Dunbar, Phillip Tanner
With Jones likely not returning to the team, the Cowboys need to look to free agency for a number two back, as Dunbar and Tanner are still not ready to take that role just yet. Some possible options are Peyton Hillis (KC), Ahmad Bradshaw (NYG) and Shonn Greene (NYJ). The Cowboys could use a late pick for this choice and promote either Dunbar or Tanner, but that seems unlikely. Murray has only played in 23 games out of 32 in two seasons, but has proved that he can play some great football when healthy, like when he broke Emmitt Smith's single game rushing record in 2011. This will also only be Murray's third season in the league, and could have a breakout season depending on how the offensive line plays.
FB – Lawrence Vickers
Vickers has been the only fullback on the team for a few seasons now, and really only comes in on 3rd and short sets and goal line situations, so there is no need to draft a player or sign anyone in free agency.
WR – Anthony Armstrong, Miles Austin, Cole Beasley, Tim Benford, Dez Bryant, Danny Coale, Jared Green, Dwayne Harris, Carlton Mitchell, Kevin Ogletree (FA), Donavon Kemp
Dez Bryant, Miles Austin, and Dwayne Harris have cemented themselves as the No. 1, 2, and 3 receivers, respectively. After them, question marks lie for the rest of the receivers. Kevin Ogletree, a good contributor last year, is gone, now playing for the Tampa Bay Buccaneers. Cole Beasley and Danny Coale are not consistent enough to be considered viable backups, and unless they improve this off season, they will stay on special teams. The rest of the guys are fringe and practice squad players, so it appears that the Cowboys are expecting that Beasley and Coale will become more consistent, or will draft a receiver late. It looks like the former is more likely.
TE –  James Hanna, John Phillips (FA), Jason Witten, Andre Smith
This position is easy to write about, because a future Hall-of-Famer (Witten), lines up for the 'Boys on Sundays. That being said, the Cowboys should try to resign John Phillips for any two tight end sets, but only if they have the cap room and are not confident in James Hanna. Hanna was a steal in the 2012 Draft, as he was drafted in the 6th round. Hanna was great as a blocker, and should see the field more this year as he was behind everyone on the TE depth chart. Andre Smith hasn't seen the field for the Cowboys, and is likely a practice squad player.
To preface all of the offensive line sections, there will be a lot of change in the upcoming season, and many of these players will get cut.
OC – Ryan Cook, Kevin Kowalski, Phil Costa (RFA)
Phil Costa was signed by the Cowboys to a two-year deal. If anyone knows about the offensive line (specifically who played and failed last season), they will wonder what the Cowboys were thinking. Signing Costa to a two year deal actually makes sense for two reasons: 1) Costa is good enough to be a backup should the Cowboys find someone who can block, and 2) this actually creates cap room for the Cowboys. Since he was a RFA, the Cowboys signed him to a contract that pays him $2.7 million dollars, instead of signing him to a one year $1.323 million deal. But wait, how does that save the Cowboys cap space? Glad you asked. Costa's new deal actually only pays him somewhere under $1 million per season and his signing bonus of $450,000 does not count against the cap, meaning that the rest of the money is in incentives. Plus, if he doesn't perform well this season, the Cowboys can cut him. Cook and Kowalski will be competing with Costa for the starting spot, but at this point it looks like Costa will be starting.
OG – Mackenzy Bernadeau, Derrick Dockery (FA), David Arkin, Ronald Leary, Nate Livings
This is going to be really confusing. I really do feel bad for the offensive line coaches because all of these guys are really bad. Without a doubt, (unless someone exponentially better is available), the Cowboys will be drafting a guard in the first round. Dockery probably won't be back with the team, but if he is, he will be playing with a minimum contract. That's really all there is to say about this group.
OT – Jermey Parnell, Tyron Smith, Darrion Weems, Doug Free
Tyron Smith was the one shining light for the line, and is still doing a great job at protecting Tony Romo. Doug Free has regressed… but he will probably start (barring draftees and a surprise free agent signing). Parnell and Weems are nonfactors and won't be competing to start, and will continue to be backups (if they aren't cut).
To preface the defensive line and outside linebackers, a lot of guys will be changing positions due to the new 4-3 scheme that new defensive coordinator Monte Kiffin runs.
DE – Tyrone Crawford, Jason Hatcher, Sean Lissemore, Marcus Spears, Ben Bass, Kenyon Coleman (FA), Ikponmwosa Igbinosun
Yes, Ikponmwosa Igbinosun is a football player in Dallas. Fortunately for analysts attempting to pronounce his name, he is only on the practice squad. With the new Tampa 2 defense that is being implemented in Dallas, none of the players that are currently an end will be starting, with OLBs DeMarcus Ware and Anthony Spencer moving to the end position on the line. It is hard to tell if players like Kenyon Coleman will be resigned because many of the players could move inside to tackle, or move back to the second level and play linebacker. Many questions remain for this group.
DT – Rob Callaway, Jay Ratliff, Brian Schaefering (FA), Josh Brent
Jay Ratliff has done an outstanding job while starting at nose tackle in the 3-4 scheme and will still start for Dallas. Otherwise, it looks like DE Jason Hatcher will be moved to DT and start for the Cowboys. Brian Schaefering will be resigned if there is cap room available, and he and Callaway will compete for that other DT spot as well. Josh Brent will probably not play for a while, as he committed intoxicated manslaughter, killing teammate Jerry Brown. Unfortunately, he will probably never play again due to the fact that he could spend up to 20 years in prison.
OLB – Alex Albright, Victor Butler (FA), Anthony Spencer (FA), DeMarcus Ware, Kyle Wilber, Monte Taylor, Justin Durant (N)
Justin Durant, newly signed from Detroit, will be one of the starters for Dallas as he looks to provide an impact immediately. ILB Bruce Carter will probably move outside and be the other starter for the Cowboys. Victor Butler will probably not be resigned, and the rest of the players will likely not even be competing for a starting spot. This is one of the bright spots for the Cowboys. Not to mention another bright spot…
ILB – Dan Connor, Brady Poppinga (FA), Ernie Sims (FA), Sean Lee, Orie Lemon, Caleb McSurdy, Bruce Carter, Brashton Satele
…who goes by the name of Sean Lee. Lee plays a lot like future Hall of Famer Brian Urlacher, and will be the Cowboys starter for a long time. Sims will probably back up Lee, meaning that there are five players backing up Lee. It is going to be a very competitive offseason.
S – Eric Frampton (FA), Danny McCray (RFA), Charlie Peprah (FA), Gerald Sensabaugh, Barry Church, Matt Johnson, Will Allen (N)
Gerald Sensabaugh has been released. Any Cowboys fan who hears that name immediately thinks, "Oh, he let in a touchdown. AGAIN." While cutting Sensabaugh makes sense, it also brings about a startling revelation: No one from the 2008 draft class is currently with the Cowboys. That is not good news. Nor is the fact that the Cowboys have no clue who is going to start at safety yet. Barry Church is currently at the top of the depth chart, but he is recovering from a torn achilles that took him out for most of the season. Otherwise, there is no one who is really capable to start. Dallas has signed Will Church from the Steelers to help give some depth at safety, but Dallas will be drafting a safety to give depth and to challenge Church and Allen.
CB – Brandon Carr, Morris Claiborne, Michael Coe (FA), Mike Jenkins (FA), Sterling Moore, Orlando Scandrick, Vince Agnew, Micah Pellerin
Last season, the Cowboys made major changes at cornerback, signing Brandon Carr to a big contract, and making a trade to move up for cornerback Morris Claiborne. Carr and Claiborne did very well, and will undoubtedly be the starters this season (barring injury). Claiborne had a great rookie season and could overtake Carr for the number 1 corner on the depth chart this season. With two good starters, there seems to be a rather large drop-off after that. Mike Jenkins is a free agent and will probably not return to the Cowboys because they don't really want him. Orlando Scandrick is probably the next player after Sensabaugh that most Cowboys fans want gone, but he will be staying as he has restructured his contract and the Cowboys need a backup or two.
LS – L. P. Ladouceur (FA)
Ladouceur hasn't botched a snap since he joined the Cowboys in 2005. The long snapper has made clean snaps on 493 punts, 214 FG, and 302 PATs in his career. Dallas has wisely signed him to a 5 year deal.
K – Dan Bailey
Finishing the year with 29 made field goals out of 31, Bailey is the Cowboys most consistent form of scoring (provided they are within the 50). 26 of his FG attempts were under 50 yards and he was perfect, going 26 for 26. He only attempted 5 kicks at 50+ yards, and only missed two of those.
P – Brian Moorman (FA), Chris Jones
After suffering a partially torn anterior cruciate ligament in his left knee, Jones was basically out for the rest of the season, and the Cowboys quickly signed Brian Moorman, who was pretty good for the season, but probably won't be back, since Jones is a much more consistent and powerful punter (and who will be back). Dallas could sign him to be insurance for Jones again, but that is unlikely.