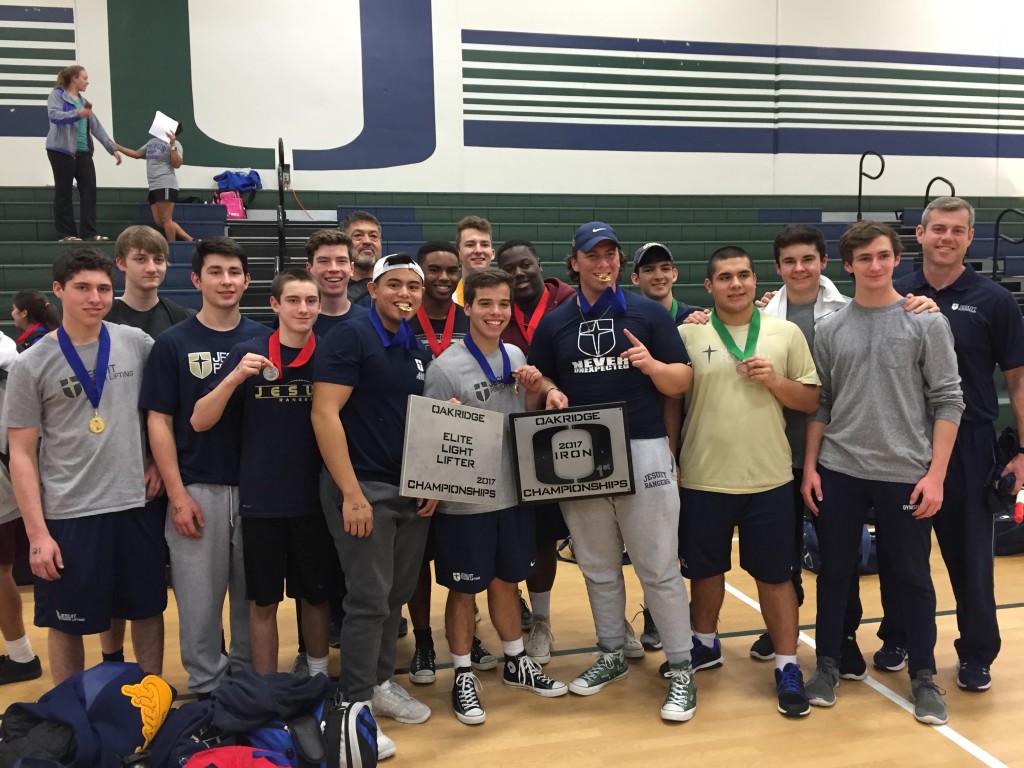 Echoing grunts, the rich, humid smell of sweat and thundering clatters of metal all filled the gym at the Oakridge Powerlifting meet on January 21st.
The Jesuit Powerlifting team established its dominance by taking first place overall at the Oakridge meet. Jesuit won first by accumulating the highest sum of points out of all the competing teams. Points are awarded to a team if their participant places fifth or higher: 1st place earns 7 points, 2nd earns 5 points, 3rd earns 3 points, 4th earns 2, and 5th earns 1. Jesuit in total earned 46 points, beating 2nd place, Waxahachie, by 12 points.
A total of 14 Jesuit powerlifters competed at the Oakridge meet. Out of those 14, 9 placed 5th or higher. Seniors Damian Cunnigham, Jordan Odulio, and Steven Mancillas, along with junior Daniel Van Amerongen all took first in their weight classes: 275, 198, 165, and 148 pounds, respectively. Next, seniors Allen Dalton and Evan Jackson took 2nd in their weight classes, SHW and 198, as well as sophomore Nick Schnitzius in the 114 weight class. Competing in his first meet, sophomore Grant Delanoy was Jesuit's only 4th place finish. Finally, juniors Luke Theivagt and Phillip Villalba both took 5th in their 132 and 220 weight classes.
Prior to the meet, when asked how he felt about his first meet ever, junior Phillip Villalba felt "a little nervous" but was sure he would be fine, as he saw there wouldn't "be any problem lifting the bar" as long as he could get "through the nervousness." Phillip had only been a member of the team for 3 weeks before the meet, yet he went on to place 5th in his 220 weight class. When asked about the team, Phillip was confident that the team "should get first," a prediction that went on to become reality.
Second year powerlifter Connor Thomas, who unfortunately was unable to compete due to a back injury, echoed the same sense of confidence. He said he felt "pretty good" about the team going into Saturday, and was sure the team would do well as long as they could transfer the team's "hitting big weights in practice" over into the meet. Jesuit's 1st place was proof that the transfer was successful. Thomas was especially excited to point out that Coach Weeks had told the him that "he couldn't remember ever winning the Oakridge meet before. Our victory might have been a Jesuit Powerlifting first!"
Overall, the Jesuit Powerlifting team had a solid performance at the Oakridge meet. The new additions to the Jesuit team have definitely had a positive impact on the team. The team's performance at the Oakridge meet serves as a good omen to start of the year, and as Thomas commented, "if we keep this up, we will have a very successful season."
Full meet results can be found here: http://thspa.us/meetdetail.aspx?&passedDivisionID=3534