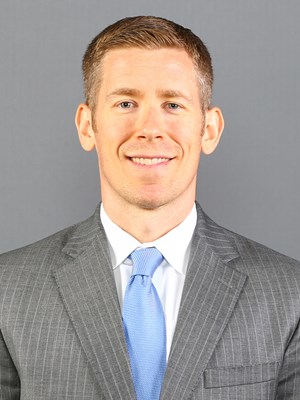 With the new semester Jesuit Dallas' Strength and Conditioning program has brought on a new strength coach. I had the pleasure of sitting down with Coach Lefebvre to get to know him better.
Where are you from?
"I was born and raised in Milwaukee, Wisconsin."
What was you favorite part of growing up and what sports did you play?
"Probably fun memories with my family and friends.  I loved playing sports and just being out and active. When I was younger I played many sports. Specifically basketball, football and baseball. However in high school I ended up sticking with football and basketball."
Why did you become a strength coach and what are your favorite parts about your job?
"Like I said, I loved sports growing. They were a really big part of my life. I loved sports and working out so it seemed natural like a natural fit for me.
There are a lot of things to love about my job. I think seeing my athletes be successful in the sport is fantastic. It doesn't necessarily have to be gym accomplishments. I love seeing my athletes win on the field. From a regular game to a championship, seeing them achieve what they have worked for makes me love my job."
Where did you go to school to become a Coach?
"Like I said I'm born and raised from Wisconsin so I went to small D3 school, University of Wisconsin-Stevens Point, to get my bachelors.
Then while I was working as an Assistant Strength Coach at LSU I received my Master in science, Kinesiology: Sport Management."
How have you liked Jesuit so far?
"I really like the atmosphere of this school. Everyone has been very accepting and so nice to me. There is a sort of brotherhood that I have noticed with the students and athletes. They all push each other to do better and they push their coaches. I really like this school and I am happy to be here."
What is your favorite sport to work with?
"Everyone thinks it's football. Not to knock football, but I love whoever I am working with at the moment. Whatever team is in the weight room is my #1 priority and my favorite. All the teams at Jesuit bring the intensity and frankly the whole athletic program of Jesuit is my favorite."
Do you prefer morning or afternoon lifts and do you like to listen to music while working out?
"I normally like to lift in the morning and start my day with it. This might bring some surprise, but I don't listen to any music while working out. Don't get me wrong, I love music, all types of music, but when I am working out it is my time and I like do be alone and quiet with myself."
What do you like to do when you are not at work?
"I love spending time with my family. Being a coach is a really hard job in the fact that you spend a lot of time away from your family. I love playing game with my kids, they especially love Uno and ping pong."
What is your favorite type of food?
"I love anything with spice. Mexican and Indian food is really good. From my time at LSU I began to enjoy Cajun food. I also really love brownies. They are definitely my favorite dessert of all time."
If you have any other questions or want to talk to Coach Lefebvre you can find him up in the Dell, mornings and afternoons before and after school.
Tune into The Roundup for more updates on our wonderful staff!