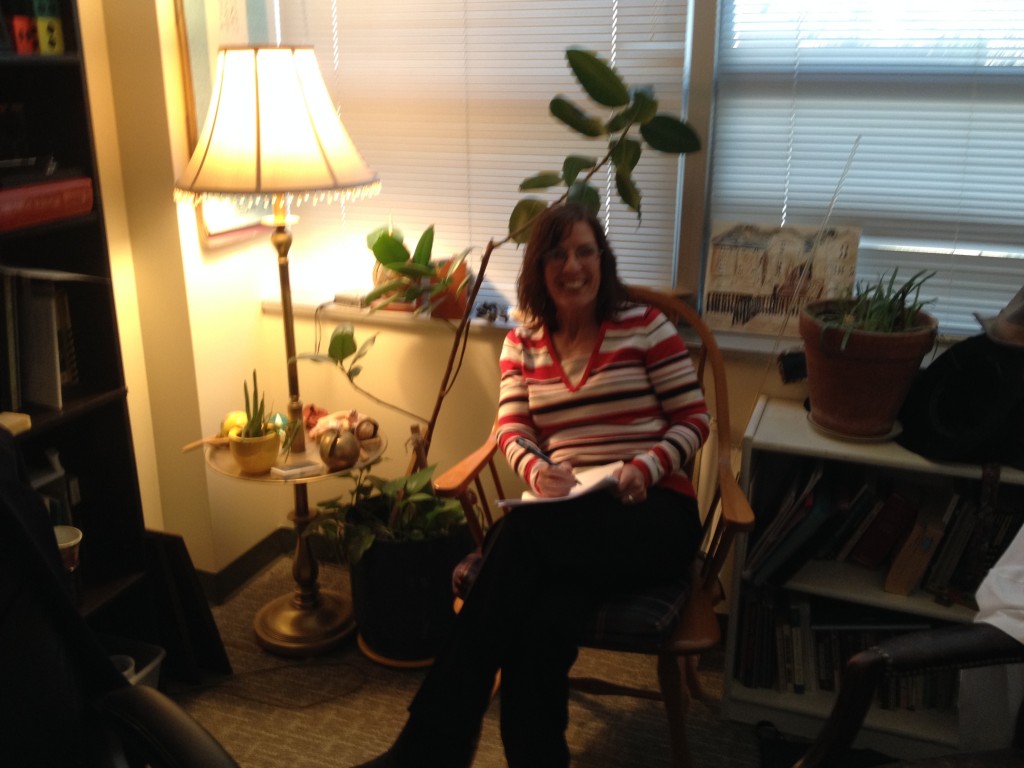 In a previous piece, I explored some of the sacrifices made by families of Jesuit staffers who are their household's sole breadwinner. While that group of male faculty members whose wives stay at home represent an increasingly rare family arrangement, another group represents the growing norm in today's society: the working mother. For these female faculty members, balancing work with children is a non-stop, difficult but rewarding roller coaster of time and energy that would drive many people up the wall.
First is math teacher Anne Blackford, who had to deal with a different set of circumstances as she was forced out of her job when she first had kids. "I am old enough to remember that if you had a baby you had to resign your job," she says, "so when my kids were infants I was not working at all." However, as her children got older she went back to work.   Her husband traveled a lot, so she faced some new challenges having to balance work and home life without another person always around to help carry the load. "At one time, his territory was the United States, Canada, South America, Africa and Europe," she explains, "so he was gone a lot and the biggest challenge was when my children were ill and there were times when I missed many, many days because there was no one else." Luckily, Blackford's mother retired and moved closer so that there could be an extra pair of hands around to assist whenever possible. This arrangement forced Blackford to be a furious planner as well, spending many weekends setting up a schedule for her kids. "If you're one of my students, you know I'm sort of a planner so I used to think that I had to get everything done on Saturdays from a spic and span house to the dry cleaning to the laundry," she says.
Next, English teacher Mary Beth Farrell emphasizes the joy she finds in being able to do both of the things she loves most: be with her children and shape the minds of young men. "I want to praise Jesuit," she says, "because they are so supportive of a mother's needs and responsibilities." Farrell finds herself very lucky that she works in place that allows her to attend important events for her child. However, stress can arise upon coming home and knowing that other outside events with her daughter need to be attended while also carving out time to grade papers and plan for the next day's lesson. "It's a little bit crazy," she admits, "but the joy that comes from being able to do both enriches my life. Teaching differs from many  jobs; for example, the preparation and implementation of the work not only centers around subject matter but I also feel like I'm benefiting humanity in some way."   In this way, Farrell feels she is getting the best of both worlds, being able to come into Jesuit and feel enriched and inspired yet still be with her child and help play a role in her life.  She remembers that her oldest child, Garrett, now 23, "benefited from growing up in a home where mom worked as he now holds a great respect for women who desire to balance motherhood and their professional life."   In addition, Farrell finds special consolation knowing that she is setting an example for her own daughter, that she doesn't necessarily have to choose between being a mother and having a career. "I think it's wonderful for her to see me as a mom and also someone who is very passionate about her job," she says, "and I hope she is learning the importance of finding her passion and the contentment that comes from living it every day."
Another English teacher, Sheryl Row, stresses the importance of the partnership she and her husband shared in raising their children while both retained full time jobs. "I was fortunate that my husband was very present in my daughters' lives, and he had a flexible work schedule to some extent, so we had a good partnership in taking care of the kids," she says. This partnership even included making sacrifices such as moving closer to the school when their first child was born to make transportation easier. And even though she "had an advantage being a teacher because I had my summers free, Christmas, spring break, that kind of thing," Row noted that she had other things going on in her life that caused some stress and required planning. "You just fit it in," she says, "you do what you want to do. I believe that very firmly, that if you want to do it then you make it work." Furthermore, Row believes that she needed to be a working mother because she believes that she does not have the temperament to stay at home all the time. "By the time the summers were over, I was climbing the walls," she jokes,"and I don't think my kids have any resentment about it. I enjoyed working and wanted to keep working."
Finally, science teacher Dr. Sarah Smith has a unique experience of her own, as her first child was born while she was still completing her degree. Interestingly, one of the reasons she even chose the teaching profession was so that she could have as much possible time with her kids, operating under the assumption that she would be working while her kids were in school and be free when her kids were free. "It puts moms in a lot of turmoil knowing that you're spending most of your day away from your children and you have that maternal instinct to be home with them," she explains. However, she emphasizes that the choice is not one that dictates her value as a mother.  For her though, it was a difficult decision because she loves what she does so much but also does not want to be away from her kids. "It's hard because I had children before I finished my degree," she says, "and then I really found a love for teaching when I was there." In that way, she feels she has a calling both to teach and to be a mom, and even if she never had kids, she still believes that she would be a teacher.
We all know how much work our mothers put into planning our lives. From driving us to practice to cooking dinner and doing laundry, moms have a lot more responsibility than many of us realize. Add to that the responsibility of a full time teaching job, and free time becomes a foreign concept. However, these Jesuit teacher-moms understand the nature of this craziness and they embrace it, exemplifying an exceptional love for both their children and their profession.