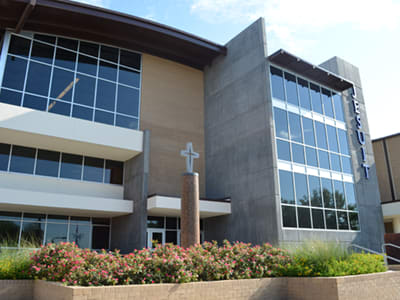 Often characterized by academic, athletic, and social pressure, Freshmen year can be an overwhelming transition for most high school students. In just one year, you're moving to a new building, meeting new people, taking challenging classes, and possibly thinking about your future. The stress can definitely get to you. 
However, the community at Jesuit takes genuine concern for its Freshmen. Sophomores, Juniors, Seniors, Teachers, Coaches, and Counselors are all here to help you – the class of 2025 – during this transition. 
If you are seeking success this year, then this article is for you. The Roundup reached out to Jesuit's hardest-working seniors and asked, "What do you wish you knew Freshmen Year?" Here are the best pieces of advice from Jesuit's class of 2022:
The Keys to a Successful Freshman Year
Meet with your teachers
Unlike middle school, work outside the classroom is absolutely necessary for success at Jesuit. Aside from studying and turning in assignments on time, one of the easiest ways to do this is by meeting with your teachers.
Student Body President, Joey Trigiani '22 explains:
 "I wish I knew that there is always another resource to go to for academic help when one doesn't work out. All of the teachers are there to help you regardless of if they are actually your teacher. I frequently visit teachers that I have never had a class with because sometimes things click more when I hear them from different perspectives. This has helped me to overcome challenges and ultimately be successful in many of my courses."
Similarly, Aarin Jain '22 notes:
"Something I wish I knew as a freshman would be that the teachers at Jesuit are not scary people to be afraid of. Instead, they are actually really approachable and invested in every student's academic journey. Freshmen should definitely reach out to teachers with any questions they have. They are also super nice and very fun people to talk to even about non-school-related stuff which definitely helps make classes easier."
"Make sure to meet with your teachers – I made the mistake first semester in English of conferencing after the posted date and ended up not being able to revise my paper," added Tyler Gazzam '22.
Truthfully, teachers are your biggest advocates. Meeting with teachers early in the year allows you to develop relationships, which can pay off as class difficulty begins to ramp up. If you have a strong relationship with your teacher, they become much more approachable when you're having trouble understanding something.
Build Strong Academic Habits Early
Especially with the new schedule, it can be tempting to blow off homework assigned by a class you don't have the next day. Personally, I have fallen victim to this myself last year, often delaying English readings and Math Pearsons until the last minute. However, if you can get into the habit of completing (or at least starting) homework the day it's assigned, you will save stress and always be ahead of the game.
Will Mansour '22 offers a simple strategy to help achieve this: 
"I recommend you take advantage of your free periods. You can finish any homework due the next day and meet with your teachers, which dramatically decreases your stress level. This also helps give you more flexibility after school, and in general, saves time."
Jack McClure '22 adds: 
"As high school progresses, teachers will begin assigning more long-term homework that is intended to be completed over multiple days. If you get into the routine of doing homework as soon as it's assigned, you'll be able to stay on top of these long-term assignments, and won't ever have to cram everything the night before."
Branch Out to New People
I feel like this is really overlooked, but don't be afraid to seek advice from upperclassmen. For the most part, they have gone through just about everything you are currently experiencing. Hence, they always offer great advice on classes to take and extracurriculars to join. I could give a list of guys who have advised me from the classes of '21, '20, and even '19. The point is, your brothers are always here to help.
It may seem hard to meet people older than you, but there's actually a pretty simple method to do so: join extracurriculars. Extracurriculars allow students to explore their interests and relieve academic stress. Aside from sports, Jesuit has a plethora of extracurriculars, most of which can be found here. 
Nathaniel Walker '22 suggests:
"Don't be afraid to try new things. Whether it's a new club, sport, or hobby, you never know who you'll meet."
"Freshmen year is a great time to join a sport or extracurricular. If you stick with whatever you join, you'll have a strong resume, as participation in clubs for 2, 3, or 4 years shows dedication to colleges," explains Ike Pawsat '22. 
"With 300 people per grade, there's bound to be someone you share common interests with at Jesuit. Try and find some sort of extracurricular (like the Roundup) to do, because it will definitely help you meet people," notes Grant Kostos '22.
Finally…
That concludes all of the tips that your Senior Class has to offer. If there is one thing you should take away from this article, it is this: take care of yourself in high school. Save that last assignment for the morning and get an extra hour of sleep. Eat a good breakfast before school. Take some time off at the end of the day to relax. Regardless of your workload, mental health should be your number one priority. Maintaining a balance of academic rigor and extracurriculars will lead to a healthy, successful Freshmen year.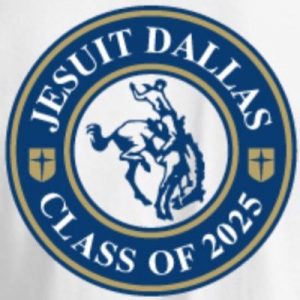 If you still feel lost and need any advice, feel free to reach out to me at 22110@jcpstudents.org. I'm always happy to help.
Stay tuned to The Roundup for more tips for success!