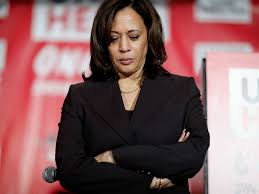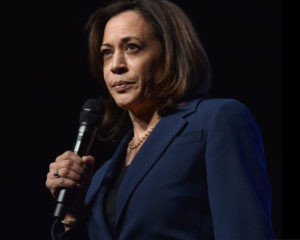 Credit: US News
On January 21, 2019 the junior senator from California, Kamala Harris, announced she would throw her hat in the ring for the Democratic nomination in the 2020 election. Almost a year later, she ended her campaign on Tuesday, December 3, in an article by CNBC remarking "I've taken stock and looked at this from every angle, and over the last few days have come to one of the hardest decisions of my life."
In a conference call with her staff released Tuesday, Harris cited financial reasons as the culprit behind her resignation from the race, in the same CNBC article, saying "My campaign for president simply doesn't have the financial resources we need to continue."
Despite qualifying for the December debates in California, she lacked the funds to air TV ads in Iowa where the first caucus will be held on February 3, 2020. This is important because it is the first step in deciding the 2020 Democratic nominee, and whoever wins will have an early lead.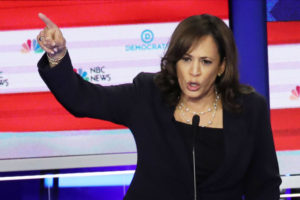 Credit: Drew Angerer (Getty Images)
A breakout star in the Democratic party, the former California attorney general, polled as high as 15% in June after a viral moment of her attacking former Vice President Joe Biden on his failure to support bussing to integrated public schools. However, in the months since the June debates, she has failed to capitalize entirely on that success, and her campaign began to falter.
Notoriously, in the second debate, Congresswoman Tulsi Gabbard attacked her on her criminal justice record. Gabbard went after Harris for her harsh prosecution of drug use such as marijuana. Gabbard cited this as hypocritical because earlier in her campaign Harris went on "The Breakfast Club" radio show, and laughed when she brought up her use of marijuana in college.
Her resignation comes on the heels of some major developments in the 2020 race. On Sunday, November 24, 2019, Former Mayor of New York City, Michael Bloomberg announced he would join an already crowded field of candidates, in seeking the Democratic nomination. Her resignation also comes less than 48 hours after, Montana Governor Steve Bullock, and Former Pennsylvania Representative Joe Sestak also dropped out of the race.
Another important event that occurred previously to her resignation was on Saturday, November 30. On that date, the Harris campaign's State Operations Director Kelly Mehlenbacher resigned, and left to become the Deputy Chief Operating Officer for the Bloomberg campaign. Mehlenbacher said in her resignation letter obtained by the New York Times, "This is my third presidential campaign and I have never seen an organization treat its staff so poorly."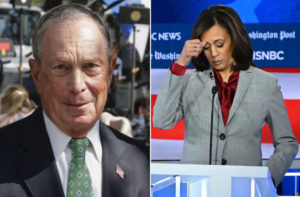 Credit: Getty Images
In less than two weeks since his announcement, Bloomberg proved himself a challenge to Harris. Along with an aide leaving to work for Bloomberg, in a poll released on Monday by Morning Consult Bloomberg was tied with Harris at fifth, polling at 5% with Democratic Primary Voters in the early primary states of Iowa, New Hampshire, South Carolina, and Nevada. In a poll on Monday by Hill-HarrisX, Bloomberg was polling at 5th at 6% above Harris at 6th with 2%. Harris's campaign's suspension may signal that more candidates will resign before the Iowa Caucus, next year.