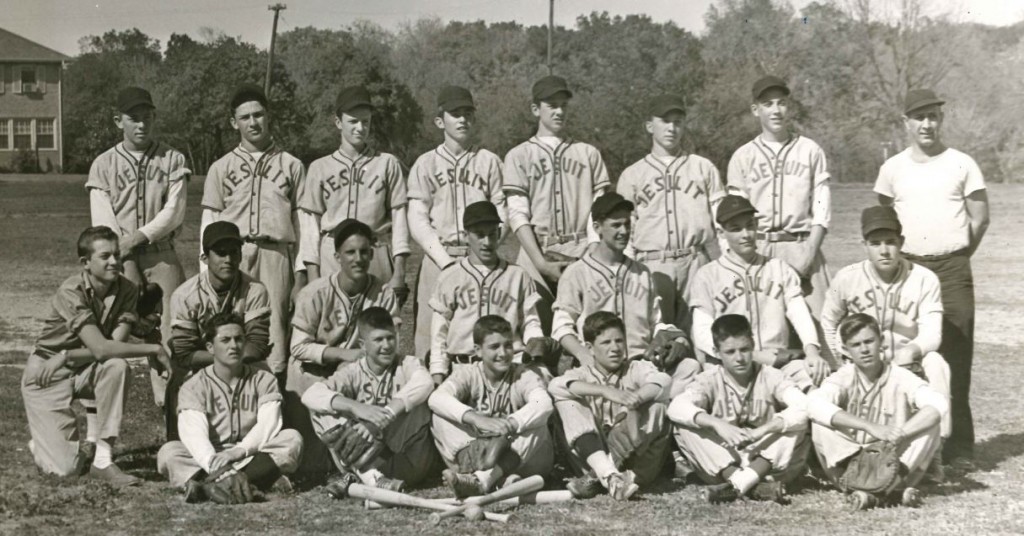 To some, he is Dad, to others, he is Coach, and even to some, he is a best friend. Thousands of people have encountered Gary Pasqua '55 in his time as both a coach and student at Jesuit, and there is one thing they can all agree on: nobody is more deserving of the Gold Ranger Award than himself.
As a student at Jesuit, Pasqua made a big name for himself right away on the football field. Establishing himself as a leader, Pasqua dominated at the Linebacker position, earning All-State honors and carrying the Rangers to their first ever TCIL state championship. According to life-long friend and fellow Hall of Fame Inductee Rufe Brewton '55, Pasqua was a "leader and a good example for all of us."
Football wasn't the only sport that he excelled at, however; Pasqua dominated on the baseball field so much that he received All-State honors for three straight years and even was selected to the All-Metro team his senior year. Pasqua carried on his baseball success to college, where he played well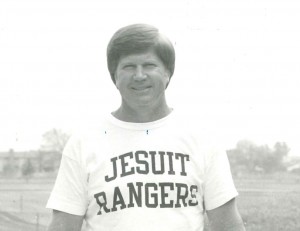 enough to be drafted to the Cincinnati Reds of the MLB.
Fortunately for Jesuit, Pasqua gave up his baseball career and came back to Jesuit in 1959 as both a baseball and football coach. Little did Jesuit know, this hire was the beginning of an era in which the Rangers would emerge into a top competitor in the state at every sport they offered.
It only took five years for Pasqua to be promoted to the head-coaching role of the football team, and in 1964, a 29-year dynasty began in which Jesuit would see some of their most successful football seasons. In his first years at Jesuit, there was not much on campus, and that prompted Pasqua to help raise money to build Jesuit's first real football stadium. As the football coach, Pasqua was nothing short of dominant, bringing home 17 district titles, 10 state championships, and sending over 120 of his players to play college football.
Not only did Pasqua bring athletic success to Jesuit, but he also made a lasting impact on every single player and coach he encountered, setting an example for all on how to be a Man for Others. Pasqua, as described by former players, was the kind of coach you wanted to play for and succeed for.
Brewton explained Pasqua's coaching techniques, stating, "[Pasqua] demanded of the players and other coaches what he demanded of himself." Brewton went on to explain that "it wasn't really anything that he said we had to do, it was more of an inspiration to be able to do it with him." Brewton even went as far as to say that coaching under him was not as much like a job, but rather it was a "family."
To say that Coach Pasqua was a loyal and respectful man would be an understatement. According to Jesuit legend himself, soccer Coach Charlie DeLong, Pasqua was a great friend to have: "Whenever somebody needed help he would be there." DeLong added that Pasqua was both "great to work for, great to work with."
Pasqua's impact did not just pertain to his players, however; the coaches learned a lot from him as well. DeLong described that Pasqua was a "great mentor," and, "he helped you to become a better coach, no matter what that meant." DeLong went on to say that "you knew he was the boss, but he never was the boss in a bad way."
The truth is, words do not do the impact Pasqua had on people justice. His accomplishments are remarkable, but more importantly, Pasqua developed friendships and also served as a model for how to be a good friend and man. Even as his health has declined, he has kept the same form, and his wisdom and insight has not changed.
The Jesuit Community as a whole has benefitted from having a man like Pasqua around, and the awards he continues to receive are well deserved.