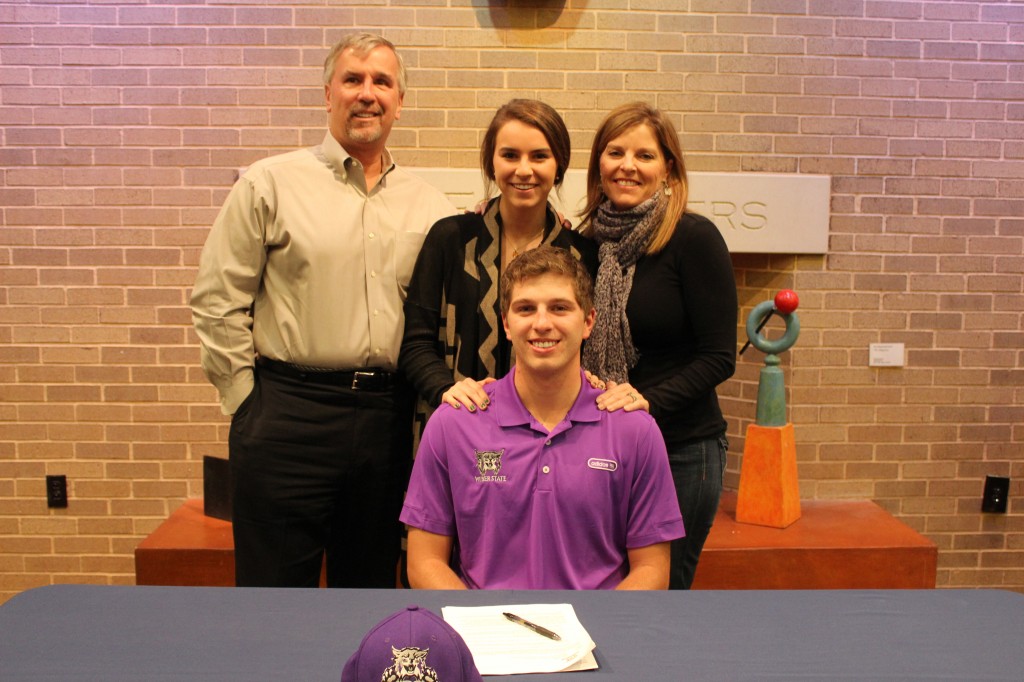 Sean Badger's life has always involved sports, whether that meant scoring goals as a renowned soccer player, or booming kicks through the football uprights as Jesuit's star kicker. Many thought he had the talent to compete collegiately, and they were right, but not in the sport that they might have assumed.
Badger '14 instead chose a different passion, golf. On Nov. 13 Badger took his seat at the prestigious table in Hughes Hall, where so many Jesuit athletes have sat before, and signed his letter of intent to play Division 1 golf at Weber State University in Ogden, Utah.
Primarily playing soccer from age three and, as he progressed, continuing  into high school, most people assumed Badger would choose to play soccer in college. However, Badger decided to try his hand, or rather foot, at kicking for the Jesuit Ranger's football team.  As a freshman, the young Badger was sending kickoffs out of the end-zone, an amazing feat for someone of his age and with his lack of experience. But Badger decided to give up  soccer and football at the end of his sophomore year. Going into his junior year, he would discover something he has loved "more than … anything else": golf.
While many golfers who play collegiately started at the ages of four or five, Badger  has only been playing for a modest two years. When asked about how he picked up the sport, Badger  explained he started the sport when,  "I was just out with some buddies one time … and they told me to hit a driver … and I said 'Alright' [and] I hit one and it was  alright, but then I thought 'Hey this is something I can do for the rest of my life.'"
Just like that, a golfer was born. Soon after, Badger tried out and made Jesuit's Varsity golf team.  Jesuit Head Golf Coach Cathy Marino, described the impressive accomplishment as "a great story [about a person who] … did all the right things [and] … followed the perfect path." Badger described the recruiting and commitment process as  "a long one but a fun one. [Being] a late bloomer, it means a lot to me to have the opportunity to play Division 1 golf."
With recruiting offers from Abilene Christian, St. Edwards, Southern Utah, Utah Valley, as well as Weber State, Badger's choice of where to sign was far from a no brainer, but when it came down to making a decision Weber State felt like the "perfect fit."
"The campus life is great, the coaches are great, the [people] are great, the golf courses are great, the tournaments are great …  [It has] anything you would want in a college, if you were an athlete," said Badger.
Many moments punctuated Badger's golf career, but as he says, I "never thought I would be playing golf, never thought I would make the Jesuit golf team, and [especially never] thought I would play Division 1 golf." As Coach Marino said, "The fact that he pulled it off is a tribute to him and his determination."
Much hard work and dedication went into his achievement. If Sean Badger has taught us nothing else about himself, it is that he has the drive and the talent to achieve his goals. Now all we have to do is wait and see what he will do next.