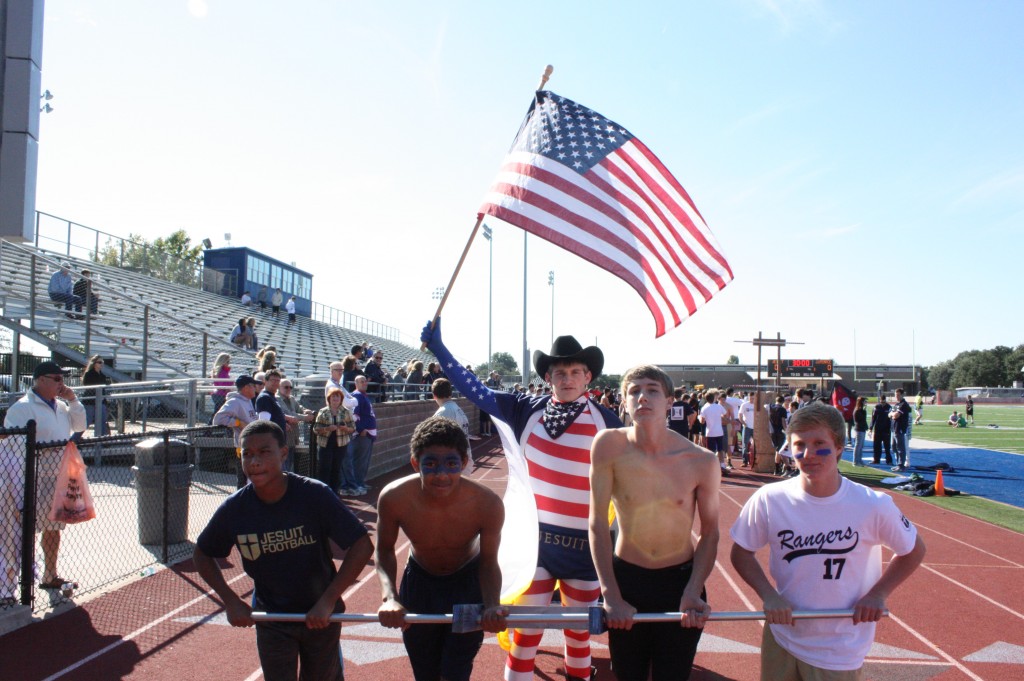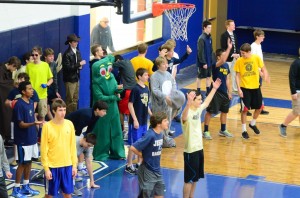 One day of the Jesuit school year stands apart from the rest. On this day, champions emerge from ancient Greek sports. On this day, face paint and costumes set the trend. On this day, the parking lot becomes a rodeo. On this day, a great sensational yell rattles the gym. This day, a day like no other, is Ranger Day.
Ranger Day brings the community together to celebrate the spirit of Jesuit. This event takes place on the Friday morning of the Homecoming game, and readies the school for triumph. However, Ranger Day does more than rally the school; it joins every member of the community in a shared experience. On an ordinary day, Jesuit students emulate ants. Like ants, they work hard, interact with others nearby, and serve the community. However, Ranger Day allows these ants to take a step back and admire the anthill at large. Students discover their role in something bigger than themselves, and this sense of belonging echoes long after the final yell.
Ranger Day kicks off with a pep rally in the large gym. This year's security theme involved Officer Scoggins, the new director of Jesuit security. Enthusiasm tore through the stands as Officer Scoggins sported a "28 acres" cape around the gym, surrounded by his security team of seniors. Next, students from each grade competed in games, ranging from the typical three-point basketball challenge to the unique paper airplane toss. Once again, seniors prevailed in every event, with a little help from the sidelines of course. After the final yell, students were free to choose from an array of games, including soccer, dodgeball, chess, football, and even a ride on a mechanical bull.  With various activities, live music, and free food, Ranger Day never saw a dull moment.
Ranger Day culminated in the Chariot races, which rely on cooperation, design, and most of all, speed. Each year, in accordance with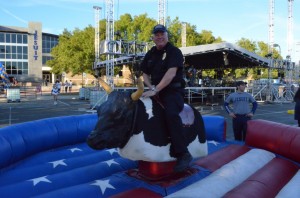 tradition, Big Brother seniors construct a chariot with their freshman homerooms, carefully adhering to safety guidelines. One senior mounts the chariot while four freshmen push and pull. This year, Mr. Reese's homeroom claimed victory, but not without a great deal of effort. According to Mr. Reese, "the seniors drew diagrams on the board, asked the freshmen for input, and had the freshmen vote on runners." Confident in his homeroom, Mr. Reese asked,  "What should I wear on the day of the race as a sign of my victory, because I know we are going to win?"  Thanks to meticulous preparation and bold assurance, Mr. Reese's homeroom "knew they had it in them to win," and sure enough, they did.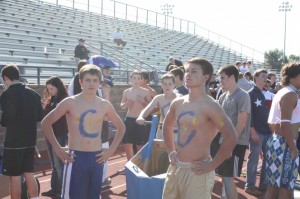 Ranger Day allows students to wear school spirit costumes, ranging from horse masks to fighter pilot suits. While most students dressed in Jesuit apparel, some take fashion to the next step, designing intricate costumes with deep meaning. Nobody knows more about spirit attire than senior Alex Curry, who won the spirit award for the fourth year in a row. The winner of this award receives a Sonic gift card, but "the chance to be enthusiastic" truly motivates Alex. He owes success to a Jesuit flag, which served as the centerpiece of the costume year after year. In Alex's view, spirit apparel "is an awesome way to show love for the school, but too few kids are taking advantage of it." As this Ranger Day legend retires his throne, he can only hope that "younger students will take up the crown and keep it going."
Faculty and students work together to plan an eventful Ranger Day. Mrs. Michele Williams and Soccer Coach Charlie Delong direct a committee that decides  which activities to keep and which to eliminate. According to Mrs. Williams, the planning "is very organic because lots of things just happen without asking." Thanks to proactive cooperation, Mrs. Williams "mostly does a lot of follow up on what people are supposed to be doing." She also added that funds for this year's mechanical bull came from the athletic department and student council, transforming the parking lot into a Wild West rodeo.
Not only do Mrs. Williams and Coach DeLong direct a Ranger Day committee, but they also work with five seniors to map out the festivities. Mrs. Williams asks the seniors "what games they want to see in the gym, and tries to make them happen." Looking ahead to next year, the committee "will try to reserve a bounce house," a sign that Ranger Day will continue to grow in the future.