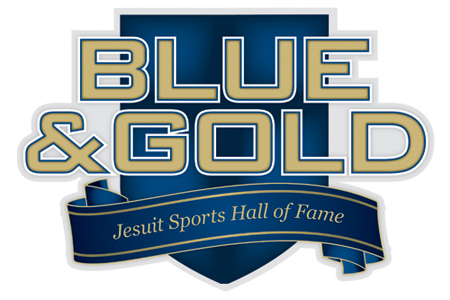 Jesuit Dallas prides itself, above all else, on its focus on community. The aggregated work and dedication of parents, students, teachers, priests, and alumni make Jesuit a truly remarkable place. The impetus on full community involvement is probably most evident at sporting events. From August to June, Jesuit's fields and stands are packed with players and parents out to support their school.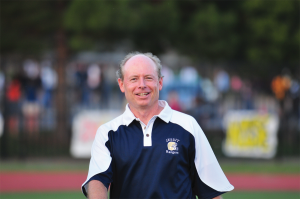 But, for most community members, one's actual service to Jesuit sports is quite limited. Young men volunteer at sporting events while they are still Jesuit students; parents help their children's events by working the snack bars or selling programs; coaches develop players and teams during the course of their employment. However, once their direct involvement in Jesuit is gone, most people move on from volunteering at Jesuit sporting events. John Schmeltz is not one of these people.
John Schmeltz '74 has been a steady, positive force on Jesuit athletics for five decades. Since his high school years, Mr. Schmeltz has selflessly dedicated his time and, later, his booming voice to bettering Jesuit sports. His service has not skipped a beat: since he first donned the nametag and freshman beanie in 1970, John has been a permanent fixture at Jesuit events. Because of his lifetime of contributions, John Schmeltz will receive the Philip Postell, S.J. Distinguished Service Award.
Unlike many others honored at the Blue & Gold Dinner, Schmeltz never attained superstar athlete status during his time at Jesuit. But Mr. Schmeltz did find a place where his school spirit and charisma would go to good use: on the student-led Lone Ranger fan squad. "My best [Jesuit] memories came from being president of the Lone Rangers my senior year," remembers Schmeltz. "[Lone Rangers] got me involved in so many Jesuit sports…It was a wonderful experience."
After four years in college, Schmeltz enlisted in the United States Air Force as a pilot. It was during his time in the service that Schmeltz realized the special place that Jesuit held in his heart. "I looked back at all the success I achieved in the military and I realized the real value of a Jesuit education," said Schmeltz. "I really think the school sets kids on a good path armed with the right tools, from people skills to leadership to responsibility."
Luckily, Schmeltz's commercial pilot job after serving in the Air Force gave him the opportunity to come back to Dallas. John loved getting back into his home community and returning to the school he considered family. "With American Airlines' base being here, I kind of naturally moved back in to the old neighborhood," explained Schmeltz. "I knew I wanted my kids to go to Jesuit, and I ultimately sent three boys through."
Schmeltz used his flexible time schedule as a pilot incredibly unselfishly:  instead of planning work around vacations, he made sure he was available for Jesuit sporting events first and foremost. For decades, Schmeltz has provided what may be the most familiar voice on campus: most have heard his powerful voice booming over the PA system at football games. "I'm blessed to have a job that affords me that much time," said Schmeltz. "I love what I do."
Mr. Schmeltz is a model example of consistent service at Jesuit. Whenever Jesuit athletics needs someone on a job, Schmeltz always seems to be the first and most generous. "Mr. Schmeltz thinks of the Jesuit community as his family," said Chuck Vinson, who was on the selection committee for the Distinguished Service Award. "And he's always willing to be there for his family."
While announcing games is John's most visible contribution, it is only a part of the incredibly selfless work he does. Schmeltz has long been a guiding force on the Jesuit booster club, never shying away from volunteer work. When he's not calling games from the announcer's box, Schmeltz can usually be found doing the odd jobs needed to keep Jesuit athletics running smoothly. After Father Philip Postell announced his transfer in 2011 after 19 years as president, John Schmeltz was tapped to serve on the nationwide principal search committee.
Above all, Schmeltz exemplifies humility. Every bit of the work he does is aimed exclusively at giving students and parents a better experience. Schmeltz revealed his amazing humbleness when asked to note his proudest accomplishment.
Instead of mentioning his work heading the booster club as president, announcing huge games for the football team, or choosing the new principal of the school, Schmeltz pointed to his work writing booster club bylaws. "When we made our way into the UIL, Jesuit had to revamp its booster club," explained Schmeltz. "Father Postell and I went to work writing new bylaws…I'm glad I could do my part to make the jump [to the UIL] a good experience."
"One of [Schmeltz's] most admirable qualities is that he has no agenda," said Vinson, explaining his selection for the Distinguished Service Award. "He wants to be helpful to Jesuit because he has a giving spirit and feels it is the right thing to do." In word and deed, Schmeltz fulfills the call of the Jesuit order's founder, St. Ignatius of Loyola, to "give and not to count the cost." His exclusive focus on giving students the best sports experience possible makes him a great role model.
So, what's the best way that parents can learn from John's example and make the community a better place? According to Schmeltz, the best contribution is just showing up. "I think there's nothing more exciting for players than seeing their parents and friends and supporters physically supporting them," said Schmeltz. "And I'm not just talking about football. I'm talking about basketball, baseball, lacrosse… those are the [attendees] I really admire."
Jesuit Sports Hall of Fame Inductee Jerry Taliaferro '63
Jesuit Sports Hall of Fame Inductee: John Murphy '70
Jesuit Sports Hall of Fame Inductee: Adrian Winnubst '81
Jesuit Sports Hall of Fame Inductee: T. J. Hansen '01
Pat Schnitzius '45 Grabs John F. Campbell Fan of the Year Honor
Gold R anger Award Winner – Mike Boeding '60
Rev. Philip Postell Distinguished Service Award: John Schmeltz '74