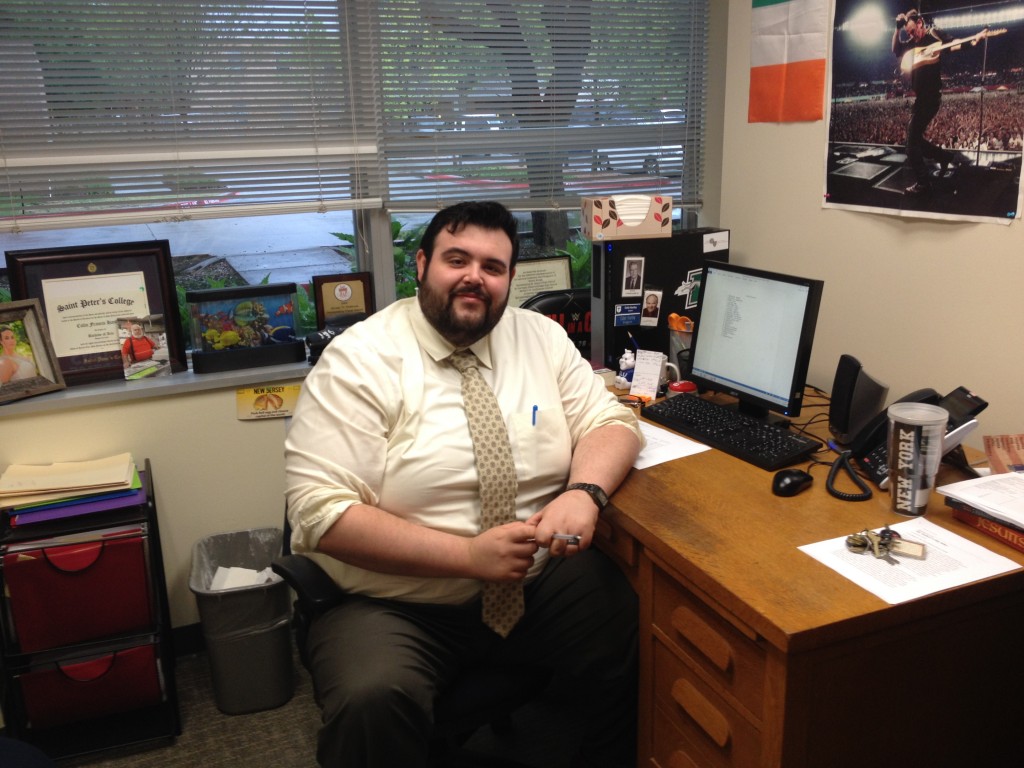 "The world is full of stories, in books, movies, and experiences. That's why I chose English: I love the stories."
Mr. Colin Hanley murmured these words with a grin while reflecting on his life choices and on his four years at Dallas Jesuit.
Mr. Hanley was recently awarded the Catholic Foundation's Work of Heart Award, a prestigious honor that recognizes unsung heroes in Dallas Catholic schools who go the extra mile to model the Catholic faith and serve their communities. Any person can nominate any teacher or faculty member, and Mr. Hanley proudly accepted this honor in his fourth year at Jesuit.
Perhaps you have seen Mr. Hanley around campus. He has a hulking and intimidating build, but those who know him understand that his large figure belies his inner graciousness and approachability. Mr. Hanley often sits on a bench after the last bell to greet the students as they walk down the main hallway, delighted to engage the students who choose to share a word on their way by. Jesuit Principal Tom Garrison lauds Mr. Hanley's daily efforts to "be present for students."
Formerly teaching English and Theology classes at St. Mary's Jesuit High School in New Jersey, Mr. Hanley arrived at Dallas Jesuit with a full knowledge of the Jesuit system of education and life. He understands that Jesuit truly is a family, and constantly seeks to develop the Jesuit brotherhood by forming relationships with students and faculty members alike. English Department Co-Chair David McGowan expressed appreciation for Mr. Hanley's ability to "fit in so well in the Jesuit community, and embody the general climate of both kids and faculty members." Mr. McGowan smiled as he remarked, "he's only been here four years, but it feels like he's been here forever."
Inside the classroom, Mr. Hanley teaches students how to be classy young men just as much as he teaches English literature. Mr. Hanley emphasizes the importance of "being accountable and self-advocates." More importantly, he wants boys to realize that "it's okay to be proud Catholics, even in 2015."
However, Mr. Hanley's chief lesson for his students is realizing that they live in a big world, a world filled with countless distinct points of view and stories. He simply wants his students to "recognize that these stories exist, and take the time to go out and learn all of them." Calling to mind the Profile of the Jesuit Graduate at Graduation, Mr. Hanley emphasizes the importance of being Open to Growth and experiencing a vast domain of knowledge and stories after leaving high school.
What Mr. Hanley loves most about teaching are the "opportunities for spontaneous interactions with over 1000 students and faculty members each day." He enthusiastically describes teaching as the perfect job, a way to "grow old, but never grow up." Mr. Hanley's unqualified love of teaching shines through in his selfless actions. Fellow English teacher Sheryl Row admiringly notes on his "immense love of teaching," remarking that he "has a passion" for what he does.
Through his genuine passion for teaching and meaningful relationships with his peers, Hanley acts as a consummate role model for Jesuit students and faculty alike, showing, beyond doubt, that he earned this well-deserved recognition.