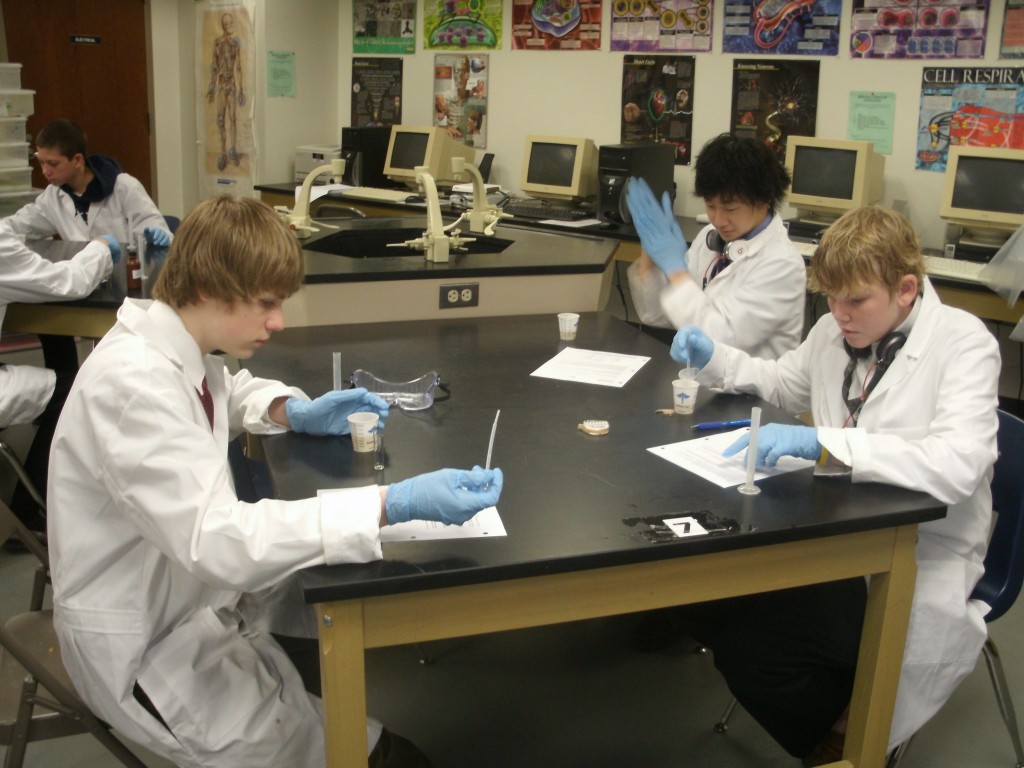 Rushing against the clock to save his life of his patient, an adult gorilla, Dr. Michael Holub and his team drain five liters of pus from his patient's body. Their hard work succeeds in revitalizing the gorilla's furry body. Sharing this and many other stories, Dr. Holub, an accomplished anesthesiologist came to Jesuit to share his experiences in the field with the Medical Society on Feb 3. His presentation gave students a sense of what anesthesiology truly is.
Dr. Holub's story of saving the gorilla's life captivated students. According to Mrs. Boyle, the fact that his team had to remove five liters of pus instantly grabbed everyone's attention. She stated, "he was able to give the Medical Society students a different perspective on the field of medicine and allow the students the opportunity to be exposed to a potential career in anesthesiology." Dr. Holub's experience with treating the gorilla showed students that medicine has the potential to reach beyond its association with treating people. "Many of our society members have serious aspirations of becoming an anesthesiologist," said Junior Sean Howard '16, the Medical Society's president. "Dr. Holub was really able to peak their interests and show them the great aspects of his field, especially with these unique and exciting cases."
Dr. Holub's presentation opened students up to the possibility of a career path in anesthesiology. He helped students see themselves in his position by explaining his day-to-day tasks. Explaining that Dr. Holub's presentation contributed to the Medical Society's mission, Mrs. Boyle said, "As with all of our speakers, the goal is to expose the students to different facets of the medical field so that when they are ready to choose a career path, they have an idea of what that career entails and to determine if that career is their passion." Dr. Holub contributed to this year's lineup of great speakers. "This year we have had a large array of medical personnel, including a psychologist, periodontist, and male nurse," continued Sean. "We plan to top off the year with Mr. Kirby coming to speak about his disease in March, and a pathologist who will bring live cultures and samples in April. This is looking to be one of our best years for speakers."
His speech fits into the larger goal of providing diverse ways to interact with the medical field. For example, freshmen take a ten-week course where they dissect cats to learn about anatomy. Sophomores just finished taking a ten-week course that focuses on the structure and function of human systems. Although juniors usually begin clinical rotations at Presbyterian hospital, last year's Ebola cases delayed the clinical rotations. Seniors attend monthly seminars by Dr. Patty Lesczynski, a family medicine physician. The Medical Society provides many different ways to learn about the medical field.
Recently, the Medical Society has been making a difference through the Guatemala trip. In addition to teaching the seminars, Dr. Lesczynski also travels to Guatemala each year with the Medical Society. She prepares students by teaching them how to treat patients. In January, the Medical Society collected medicine through a medicine drive. Mrs. Boyle stated, "it still amazes me to see the Jesuit community contributing selflessly to this great cause.  The donations that have come in from students (past and present), parents and faculty are very touching because these medicines will help out someone in ways that most of us can only imagine."
This year, Jesuit began sponsoring a child in need through Heart Gift. Heart Gift is a nonprofit organization that raises funds for children who cannot afford treatment for Congenital Heart Diseases. It has served 190 patients from twenty-six countries. Jesuit has raised funds through various activities organized by different Jesuit clubs and organizations. The Medical society is excited to contribute since this is the first time it has worked with the organization. On Thursday, Feb 19, the Medical Society will host a meet and greet with the doctors and surgeons who are donating their time and resources to help Jesuit's sponsored patient. Sean noted how "this is but one of many ways that the Medical Society aspires to live out the Jesuit motto of being Men for Others." The Medical Society is selling tickets. If you are interested in going or donating, contact the Medical Society or Director of Community Service & Social Justice Mr. Richard Perry.