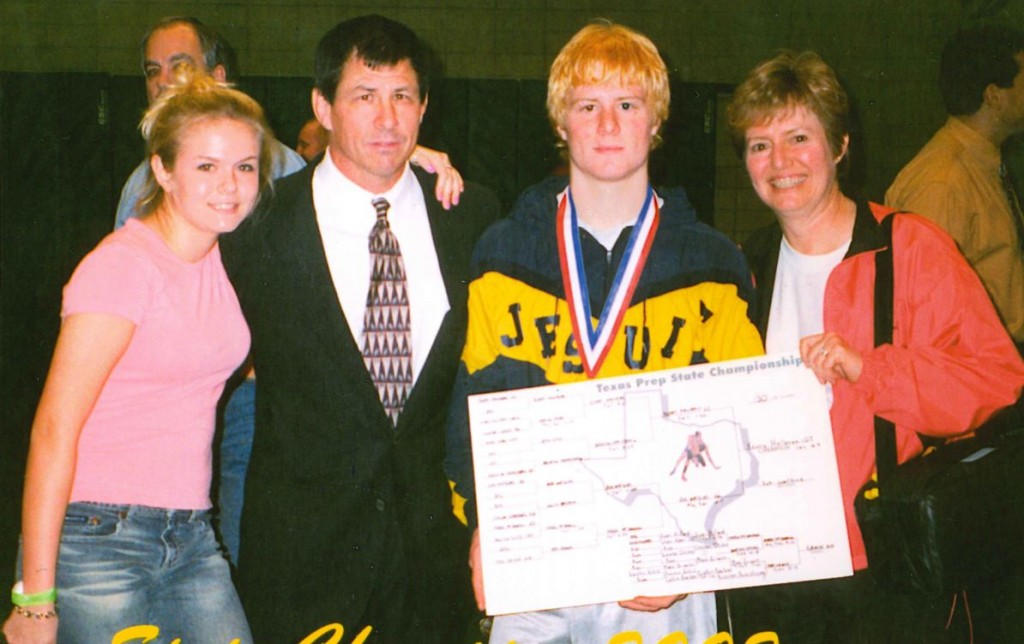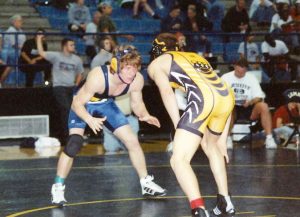 The Jesuit Sports Hall of Fame was created to showcase the accomplishments of graduates who excel above all others in one particular aspect of the Profile of the Graduate at Graduation: Physically Fit. However, communicating with the inductees reveals that the award celebrates much more than that. These inductees, while epitomizing what it means to be 'Physically Fit,' are often some of the best representatives of the other five aspects of the Profile: Open to Growth, Intellectually Competent, Religious, Loving, and Committed to Working for Social Justice. This statement certainly pertains to Kenny Halloran '04, who was recently inducted into the Hallf of Fame on April 25th for his prowess on the wrestling mat.
From a young age, it was clear that Halloran was destined to be a wrestler. "Wrestling was in my blood. My father, Frank Halloran, was a very accomplished wrestler and later a coach here at Jesuit. Eager to get me started at a young age, my father started one of the first wrestling clubs for kids in Houston and I started practicing at five. I was immediately drawn to the challenges the sport presented, both physically and mentally," he recounted. However, wrestling was not his only passion. Quite the athlete, Halloran participated in a wide array of sports throughout the course of his childhood, including soccer, pewee football, baseball, track and swimming. He described how his involvement with wrestling influenced his success in these sports, saying,"The work ethic and discipline I learned through wrestling really helped me excel in other athletic pursuits."
It is safe to say that Jesuit might not have been blessed with Halloran's athleticism if it weren't for the school's relationship with his father, who coached the wrestling team for a time. Growing up attending public school in north Dallas, Halloran was initially hesitant to continue his education at Jesuit, unfamiliar with the students and the Jesuit culture. "I wouldn't say I was drawn to Jesuit. I… had made a great group of friends. I was very reluctant to leave that network behind and start from scratch. My father had been working here for about five years at the time and I knew it was a great school but did not know a single person going into day one of freshman year. I applaud any freshman in a similar situation." However, he finally came to grips with this commitment, one that would prove to be one of the most defining moments of his life and one that he is greatly indebted to. "Learning how to start anew is a great lesson to learn at a young age and will serve you well in the future. I didn't know it at the time, but deciding to attend Jesuit set my life on a different trajectory and has proved to be one of the most rewarding decisions I have ever made. I will forever be grateful to my 15-year-old self for accepting that challenge."
Once at Jesuit, it did not take long for Halloran to become a dominant wrestler. In fact, unlike most athletes here at Jesuit, he quickly found success at the Varsity level as a freshman. "The first tournament of my freshman year was the Tri-State tournament, with high schools from Texas, Oklahoma and New Mexico. I pinned a returning state champion in the finals and was voted most outstanding wrestler of the tournament," he recounted.
This performance clearly set the standard for the rest of Halloran's stellar Jesuit wrestling career in which he only endured 17 losses, compared to a staggering 142 wins. He reached the Texas Prep State finals three years in a row, losing as a freshman but redeeming himself in victory as a sophomore and junior. A team captain his junior and senior seasons, he was honored as team MVP and led Jesuit statistically in practically every wrestling category. If this isn't impressive enough, his senior year Halloran was named an All-State wrestler and Honorable Mention All-American and was selected as the 2004 Athlete of the Year by the Jesuit Lettermen's Club.
However, one singular moment stands out above all others. When asked to divulge his greatest memory during the course of his wrestling career, Halloran showed no hesitation, calling his choice "an easy one": "There is a photo of me jumping in my father's arms after winning in overtime during the state finals my senior year. Whenever I need some inspiration or feel overwhelmed, I look at that photo and it helps remind me that nothing worth having comes without sacrifice and hard work. It will always be one of my most cherished memories and continually reminds me that the journey is what makes the victory sweet."
This victory over Sean Glassel of the Woodlands in the 145-pound weight class in the 2004 UIL State Tournament marked the first time a Jesuit student-athlete won an individual UIL state championship, ensuring him a place in Jesuit history.
However, for Halloran, these illustrious accomplishments did not completely define his Jesuit wrestling career. The Jesuit theme of brotherhood surfaced when discussing his high school wrestling experience: "A lot of my favorite memories of wrestling at Jesuit are the down times the team would spend together after a grueling practice or on road trips to Houston. It might sound strange but being miserable together became a kind of motto for us. Cutting weight is something few people understand and it creates a strong bond. A favorite pastime before practice was creating lists of all the things we would eat after season."
The success he had at the high school level, exemplified by his three consecutive state titles, earned him a wrestling scholarship at the University of Michigan, an impressive feat considering that "less than once percent of high school wrestlers go on to compete for Division I schools, roughly 300 seniors a year," according to Halloran.
At Michigan, Halloran became part of an extremely successful program that ranked in the top ten nationally each year Halloran attended, including an impressive 2nd-place finish at the NCAAs his freshman year. Along with excellence comes much tougher competition, as he found out quickly. "Every practice was an absolute battle," said Halloran, reflecting on the elevated level of skill that each of his collegiate teammates possessed. He further elaborated on this point, revealing that his own practice partner was a four-time Big Ten Conference Champion, a two-time NCAA Champion, and will likely wrestle in the 2016 Olympics!
Even though he wasn't able to quite replicate his high school dominance at Michigan, Halloran still full-heartedly labeled his experience as "incredible," again focusing on the theme of brotherhood as an important aspect of his collegiate wrestling career: "While I didn't have the same level of success I am very proud of my role in helping others reach their goals." Furthermore, some of his greatest memories are again characterized by a sense of community. Halloran reminisced on this topic, saying, "I loved training together as a team in the off season when the pressure was off. Once a summer we would bring some wrestling mats out into the center of the Big House and have practice, we would blare music on the PA system with 110,000+ empty seats watching.  My favorite part of it all was and is the friendships made with teammates. Living together, going to class together, practicing together and competing together. It's a very special bond."
All in all, wrestling has had a profound impact on Halloran's life, especially outside of athletics. The wealth of knowledge that he has gained from the sports is so great that he professed, "I feel like I could write a book about the values wrestling has taught me." He continued, reflecting on the power of self-discipline that wrestling made him appreciate: "If I had to choose one attribute wrestling has instilled in me it would have to be self-discipline. Having dreams and goals is the easy part. Committing to the process and not skipping a single painstaking step along the road to success is where things get difficult. As someone much smarter than me once said, 'How you do one thing is how you do all things.' Having the self-discipline to set and achieve goals has translated to every aspect of my life and will continue to serve me in the years to come."
Besides being gifted with superb athletic talent, Halloran is quite representative of the "Man for Others" persona that Jesuit instills in its students. Currently, he works as a program planner and evaluator for the Diabetes Health and Wellness Institute in the Frazier neighborhood of south Dallas. As an employee, his goal is to "provide health care access, education and wellness training for a high risk, medically underserved population," these actions exemplifying the 'Committed to Working for Social Justice' aspect of the Profile. He commented on the self-gratifying nature of his profession, saying, "It is very rewarding work that allows me to experience first-hand the impact of public health initiatives."
To this day, Jesuit has played an immense role in shaping the truly exceptional man that he is today. "The further in years I am removed from Jesuit the larger it looms as a distinguishing factor in my life. Jesuit was the first time I stepped outside of my comfort zone. It's where I first got the idea to join the Peace Corps, another decision that has greatly impacted my life. It laid the educational foundation for me to get a Master's degree and showed me at a young age the rewards of giving back. It truly set my life on a different trajectory," he reflected, appreciative of the value of his Jesuit education.
Halloran expressed immense gratitude concerning his induction into the Jesuit Sports Hall of Fame, calling it an "incredible" honor. Additionally, he harped on the fact that this is a huge honor not only for himself, but for his whole family, concluding with a quote: "As a mentor once told me, 'No matter how old you get, it always feels good to make your parents proud.'"
Just as the sport of wrestling has had a substantial impact on Halloran,- he disclosed, "I don't think it is possible to put into words how fundamental wrestling has been in my life" – so too have his accomplishments and character on and off the wrestling mat impacted the whole Jesuit community. Halloran truly embodies the Profile of the Grad at Grad and is no doubt a worthy inductee for this esteemed honor.