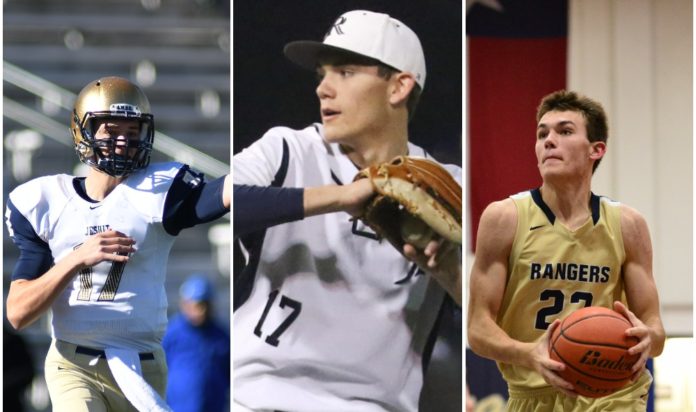 Solemnly silent, the group of 51 students waits for the chaplain to speak. "The response is: Blessed be the Lord, my rock." The team responds in unison, "Blessed be the Lord, my rock." This is not a special occasion or public display; this is the Jesuit football team sharing a prayer in their locker room, minutes before kickoff.
One of the voices in response is Jacob Palisch '17, second-year quarterback on the team, who uses this "rock" in his everyday life, whether it's under stadium lights, in a desk, or within the Jesuit community.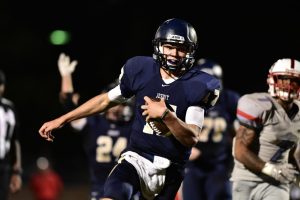 In Postell Stadium, Jacob led his team as quarterback and punter to back-to-back district titles for the first time in Jesuit history. The football team was also ranked No. 20 in Texas, the highest ranking in program history.
In the fall of 2013 when Palisch was a freshman, Head Coach Brandon Hickman knew he had something special in his program. "He came in as a freshman and we knew he was talented from the get-go when he started. We honed in on that sophomore year. He played on the scout team." Palisch played both receiver and quarterback his freshman and sophomore year, causing the team to quickly rally around his presence in the pocket.
For Offensive Coordinator and Quarterback Coach Jonathan Short, the elite QB is the "unquestionable leader of the team." As the outgoing senior hands over the reigns to Parker Towns, a junior, Short remarked that "the two were practically inseparable." A transfer from Allen, Towns came to Jesuit, Short recalled, "looking for something more," not just being an athlete. Because of that desire, the QB Coach clearly sees that they are "cut from the same cloth, that it wasn't just about athletics."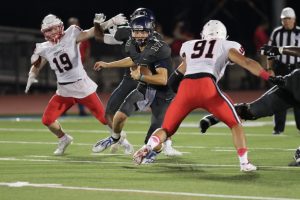 Short remarked that having the ability to come together in mass before games is "extremely special." He continued, "A lot of teams will incorporate unity and teamwork and brotherhood into it, but having something greater to build that upon" remains a true staple of Jesuit football. This tradition, as Hickman sees it, of "having the platform to say prayers, or [having] mass before games" is "pretty unique [because] we're able to…connect spiritually with our players."
Perhaps a prime example of Jacob's equal commitment to his sports teams came last May when, although baseball had won their championship on a Sunday afternoon, Jacob was present the next morning with the football squad. Hickman spoke highly of the MVP of the baseball team in that "he's a total team player, that other guys count on him. One of the things he talked about a little bit before the season started was, 'Guys, I'm gonna hold you accountable, but I expect you all to hold me accountable.' And I think when he said that, he really won his teammates over."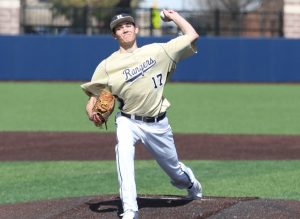 A starting pitcher for the Jesuit baseball team, Palisch finished last season with an 11-1 record, 117 strikeouts, and a microscopic 0.64 ERA which led the team to a top 10 national ranking and championship title. Adding to his impressive season stats, Palisch threw two no-hitters, one of them a fifteen strikeout gem. He and the Rangers go into the 2017 season seeking their second consecutive championship in a very competitive area.
As is the case with most baseball players, Palisch's duties on the mound are not exempt from superstition. Madame Julie Richard of the French Department, upon her first visit to a game of his, noticed a prayer before every pitch. Palisch, admitting to this superstition, remarked that his prayer involves "[knowing] that if I did not have God, if He had not empowered me and given me strength, there is no way I would be at this point… He is the reason I am there." These prayers, given last season's results, are sure to be present on the rubber next season. After seeing the prayer and then the subsequent victory, "I…realized that he's actually pretty good," Richard said with a laugh.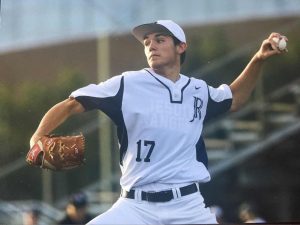 On the basketball court currently, Palisch is a forward for the Rangers, averaging 3.6 points per game, 13.3 minutes per game, and 3.8 rebounds a game. He was honored with a spot on the UIL All-District 9-6A second team last year and has helped shape the Rangers' 16-7 record this season.
However, athleticism is not the extent of Palisch's ability, as he is a stellar student, representing what it means to be Intellectually Competent. A National Merit Scholar and AP student, Palisch maintains a 4.0 GPA. The required balance for an academic position like his and three major sports, Short sees "a correlation between being in stressful situations, just like having deadlines and due dates and AP courses and still going through with practice."
Richard has taught Jacob for three years and has had a first-hand experience with his classroom presence. "I did not know Jacob as an athlete before I knew him as a student," she remarked. Over three years of teaching the athlete, Richard observed "an uncanny ability to memorize facts and vocabulary and the way formatting a sentence works… He's an excellent writer in French. That developed rather quickly." Richard also explained how all of her classes try to celebrate each student's extracurricular successes, but "Jacob definitely celebrated, if not brought up some of those moments before I could. When you hold a significant position on a team, sometimes those get highlighted before other positions and, certainly, people are aware of Jacob's successes. He always highlighted everyone else's."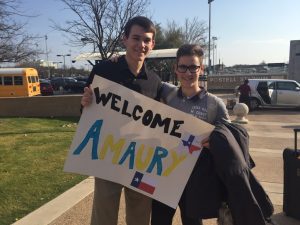 Speaking on the perhaps hidden dimension of Palisch, Richard believes that "His faith is more important to him than he lets people know." Much like his athletic prowess or academic skills, Jacob has seen growth in the area of his faith, specifically in his conception of what "faith" is. He expanded: "To me, faith, when I came [into Jesuit], was a lot of introspective stuff and a lot about me, what I believe and whatnot. And what I've seen, as I've started doing service, is a lot of community, and when you're in a community of a lot of people who are your peers, your teachers. When everyone who is caring about you, when you're with all of them, you really start to see that faith is more about acting out what you believe."
On Community Days, Richard recounted that "we spent some time talking about just his faith and how central it is to him. He goes to a very small Lutheran Church, so their Bible studies are kind of constructed differently, and he's able to go to Bible study with his father which is a nice element to their relationship… He is always honored when he's asked to lead a bible study." Though a majority of the Jesuit student body is Catholic, "He has enjoyed the perspective of being a non-Catholic in class and he feels like he is able to bring the perspective that he has to the class."
Coming from and living in a Lutheran household, Palisch noticed that "We always tend to focus on the differences, but when we're talking about different denominations, it's really not that different when you get down to it." In his relationship with one of his peers, soccer player and Jesuit classmate Chase Burciaga '17, Palisch continually grows in his faith as his brother "definitely challenges me, whether he knows it or not, to be better in my faith from the conversations that we have, talking about faith, what each of us believes, how we feel about service in different aspects."
Jacob Palisch exemplifies what it means to be a part of Jesuit: recognizing that you're serving not only your community and God, but you're doing so without being boastful amidst many accomplishments. The most recent of these many accomplishments include being named a finalist for the Davey O'Brien Scholarship and committing to Stanford University to play baseball.
For wherever life after Stanford takes him, Coach Hickman believes that "he's the most unselfish player I've ever coached, and that says a lot about him… He'll carry that throughout college and into his adulthood when he has a job. You have to be a team player as well, and I think he epitomizes that."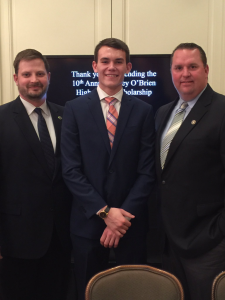 In a concluding thought, as he heads to Stanford next fall, Palisch thinks that the "the biggest thing, when I think about Jesuit, is community. That sense of having relationships with your brothers. Even if you don't have that great of a relationship, it's about being willing and being open to form new relationships. Being open is one of the biggest parts of the community, and that's what I'll take with me with most."