Charlie Boroczak '22, like most high schoolers, deals with the challenge of balancing all the activities in his life. The senior works hard to maintain his school grades, participate in the Senior-Freshman Big Brothers Program, plays on the varsity football and rugby teams, and manages to get a little time to hang with friends.
Oh, and run a non-profit for over ten years that works to give kids less fortunate than us Christmas that they might not get otherwise. His non-profit, Charlie's Angels, took off at a young age and has grown substantially since. This year Charlie's Angels did some remarkable things.
*All quotes in this article are from Charlie unless otherwise specified*
The Start of Something Special
When Charlie was six years old, he saw his parents adopt an angel from Salvation Army. He told his parents, "This looks fun, I want to buy Christmas gifts." His parents told him that he could not buy any presents because he did not have the money. He thought to himself, "I'll earn my own money and adopt my own angel." He earned money by doing odd jobs for family and friends. He eventually earned enough money to adopt his own angel. In doing this service he found that "this is more than just having fun at the store, this is fulfilling actual needs of actual kids." Charlie says," A light bulb went off in my head…and that's where Charlie's Angels were born."
Challenges
Charlie faces many challenges doing this every year. He has to raise money, find shoppers, organize a drop-off date d location, and so much more. Charlie says that the part he struggles with the most is logistics. But thankful his family and friends are there to help him. "My parents are really the reason this project expanded. They help me figure out how to make this happen." Besides logistics, Charlie also cannot shop and organize by himself. He relies on the countless hours of service from his friends and other volunteers. "I'm proud of all the people that have helped me. It's not me, it's everyone that helps. We have like five hundred people behind this project. It literally would not happen without them."
Another challenge that Charlie faces is time. No matter how early in the year he starts this, it will always come down to the wire. Charlie says, "the other hardest part is the countless two hours of sleep in the days leading up to this." Charlie said that for the greater part of the past two or three weeks, he has only gotten 2-3 hours of sleep attempts to balance school, sports, and Charlie's Angels.
I asked Charlie why he keeps going when it becomes more and more difficult each year. He said, "The more people that get involved every year, it's like 'I can't stop now,' but really it's knowing that you're making a difference. There is nothing like it. It fills you up inside. I can't tell you, I can't describe it, but there is a feeling that I get when I do this."
It's the moment I wake up on Christmas morning every single year. Before I even touch my tree I sit on the couch and can't help but think about the generosity of everyone around me. 700 kids are having Christmas this year…it is magic.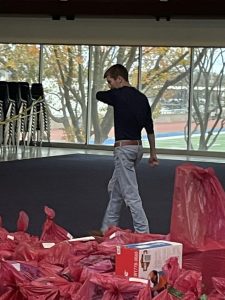 Charlie's Character
Charlie can be seen as a leader all around the school in different ways. Many people see these great examples of leadership and admire them. I asked what others thought about Charlie and how he has developed as a person in doing Charlie's Angels.
"Charlie is a great guy who truly cares about other people" -Thomas Gasper '22, one of Charlie's good friends and volunteer for Charlie's Angels.
"His leadership and organizational skills have grown and developed in this project" – Charlie's grandmother.
"Charlie's Angel's is the epitome of what we're trying to teach as far as being men for others at Jesuit College Prep. The amount of commitment, determination, and love that Charlie shows for this program is incredible. He did a lot of work in his 'temporary workspace', my office, which is what he called it, and seeing what he's doing is what we're trying to teach here at Jesuit" – Mr. Murphy.
Charlie's Advice
When asked what advice he would give to others who wanted to do something like this, Charlie says, "Nothing is ever achieved from being comfortable, and believe me this has made me very uncomfortable. I've gone two straight weeks on 2-3 hours of sleep a night. It sucks. But it's all worth it when you're doing it for other people…it's a need that other kids have."
Charlie also advises, "Don't be afraid to ask for help. Never be afraid to ask for help. That was a problem I had last year, I tried to do it all myself, and that was a big lesson learned…build yourself a team of people that you can trust, and build around their strengths.
2020
Charlie knew going into the fall of 2020 that it was going to be more challenging because of COVID-19. There were many issues involved. Many people could not afford to donate that year because of their financial situation. Many people did not want to be shoppers they felt uncomfortable. Many people were focusing on other personal issues and Charlie's Angels were at the back of their minds. Although those were challenges that Charlie did face, he faced many more unexpected challenges.
Within a three-week span in the fall of 2020, Charlie's grandfather and a classmate, and also experienced a season-ending injury when he broke his ankle and tore three ligaments. He was stuck at home and he couldn't move. Charlie thought to himself, "there's no way I can make this happen." It did not look promising for Charlie's Angels to happen this year. "Then once thought about it and got some 'you can do it' from other people…I started a GoFundMe, and the way the GoFundMe took off gave me hope to keep it going."
The GoFundMe
Last year when Charlie was bedridden, he had no idea how he was going to raise funds to do Charlie's Angels. He could not even do much of the project until he had the funds. So that's when he had the idea to start a GoFundMe. With the GoFundMe and money earned earlier in the year, he was able to adopt a new high of 185 angels, which is equal to over $18,500 raised.
This year, along with continuing to work for money himself, Charlie put up the GoFundMe again. Almost instantly, it took off. On what seemed like every Snapchat story and many Instagram stories was a link posted to the GoFundMe and notes telling people to go donate. Charlie also went around the hallways of Jesuit asking and encouraging people to donate. Doing this, along with a very sizeable donation, Charlie raised over $70,000 dollars, adopting 700 angels, smashing his record from 2020.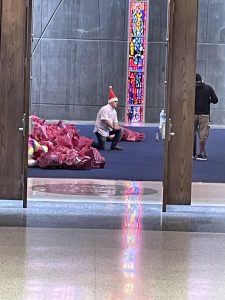 2021
This year was a special year for Charlie's Angels in many ways. Not only did they adopt over 700 angels and give Christmas to lots of people, but it was also more sentimental for Charlie this year because it was dedicated to Shannon Rider.
"She was a second grandmother to me, a second mother to my mom. She's been in my life since the day I was born. She's known me my entire life. She was one of my best friends, one of the best people in the world. She passed away from cancer in October right as the project was kicking off. She always hires me for odd jobs, she was like my confidence booster…I would call her every time before I would have to pitch my project…she would tell me what to say and how to say it. She was a big part of boosting me up to be able to do it."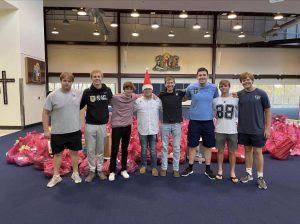 Plans For The Future
On Charlie's GoFundMe, he gave a brief description of Charlie's Angels and explained his plans for the future. Charlie said that he wanted to hit 500 angels donated because this would be the last year that he would be able to do it in the foreseeable future. That is how it seemed until Charlie went to Salvation Army to get more angels. They could not get him all the angels that he wanted to due to others wanting to adopt angels. All the leftover money was used to adopt Forgotten Angels, which are general items for general age groups. That is when an idea came to Charlie.
"We adopted a threatening amount of angels…that tells me it's doable, maybe one day, to adopt all the angels…and cover everybody. Maybe that's a goal. If we could adopt all the angels, that would be phenomenal, to say the least."
"My goal is I have to figure out a way to leave it behind to someone else. I won't have time to run it in college. I need to figure out a way to leave it behind as a legacy that I leave to keep it going because it can't stop now. We've done too much on it. Too many good things are happening." Charlie does say, however, that he would like to get involved as much as possible once the chance comes, whether that be right out of college or later in his life. 
Including the 700 angels from this year, Charlie's Angels has adopted 1,130 angels.