On March 29, Jesuit's varsity rugby team destroyed the Allen Eagles, 87 – 0, on the Rangers' senior night. The win gave Jesuit a 4-1 record in the North Division of Texas' Single-School League.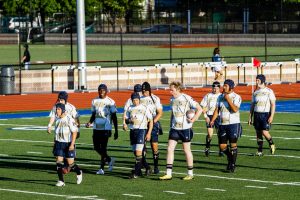 Julian Fragoso '12 led the team in scoring with four tries, and nine players notched at least one try. Senior Chris Steiner, an emotional leader on the team, turned in 11 conversions. For those unfamiliar with rugby scoring: a "try" is when a player crosses the scoring line and a "conversion" is when a player has to kick the ball through a goal post, similar to a field goal in football.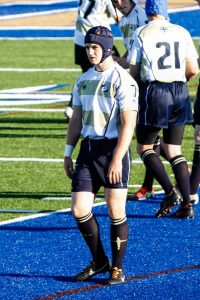 The match was the last home game of the year for the team, and it marked the seniors' last game at Jesuit. The fact that they would never play at Jesuit Stadium again made Senior Night especially meaningful for seniors. "The night was a memorable one," said senior captain Brendan Metcalf, "especially [to] the [players] that have been with the program three to four years."
When asked about the game, coach Anthony Mattacchione complimented his players on their absolute dominance of an outmatched Allen squad. "As a coach, all games are important to the spirit and foundation of a team," he said. "Doing well versus a strong football school which potentially can draw from twice the number of athletes as we have also is an added bonus and shows the players that they can compete against any team."
And, as Metcalf notes, seniors enjoyed going out with a bang. "It will be nice to look back at my class' senior night and say: we destroyed them," Metcalf admitted.
Although he celebrates the big win, Coach Mattacchione points out that the team still needs to improve. "We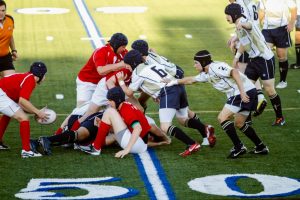 have to work on a few things and staying healthy and fit will benefit everyone," Mattacchione said. "Incorporating more fitness and fine tuning our skill set is what we are focusing on in the weeks leading up to State Finals."
Jesuit's sights are set firmly on the State Finals. The seasoned rugby team carries high expectations into the postseason. "We are currently ranked #2 in the state and #23 in the country," said Mattacchione. "That's a lot to live up to and we want to be competitive and achieve our goal of winning another State Championship. This is only possible if we stay focused, practice and play as a team and be our brother's keeper."