Ah, the Texas State Fair, our state's showcase for the fun, the tasty, and the eye-catching. Among the eye-catching features of the fair, the livestock contest, where animal enthusiasts from all over Texas bring in their prized animals to be judged for various aspects such as their breed, size, and grade, allures many enthusiastic fair goers.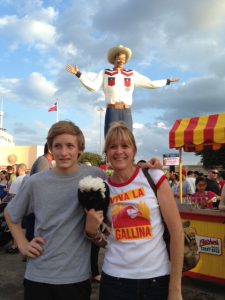 One of those people just so happens to be Jesuit's very own Eamon Stack '17. Eamon lives in Dallas, near Jesuit, where he raises the chickens (all of them hens) in his family's backyard. Eamon "raised a couple of them from eggs, but since [he] didn't have much luck with that, [he] purchased most of them as hens."
Raising them in an urban environment is quite the challenge. They have lost chickens to their dog, possums, hawks, and even a bobcat. Eamon even said that "[he] find[s] hawks sitting on the fence, eying the chickens, sometimes when [he] go[es] out there." Additionally, several of their chickens contracted a non-lethal virus spread by mosquitoes known as "fowl pox." Those chickens were not able to compete at the fair, as the unsightly "pox" grow on the chicken's most visible areas.
Despite these challenges, Eamon was able to bring nine of his chickens to the State Fair. "The nine [chickens] we brought are all different-looking whether it's by size or color." The chickens took an incredible eight 1st place ribbons, an impressive amount for anyone.
However, Eamon is no stranger to the State Fair scene: "I did it last year and six of our chickens won in best variety." This year, eight of his chickens placed in the "Best Variety" (different color or pattern for a breed) category along with two of the eight also placing in the "Best Breed" (type of chicken) category.
During the months following and preceding the State Fair, Eamon collects eggs from all the hens: "Yeah, we get eggs every day. We collect the most during the spring, [but] when it's winter, not as much."
Contending against other chickens from around the state (and some from out of state) and taking home, not one, but eight first-place ribbons is an amazing feat. This is definitely a unique and cool achievement for Eamon and his feathered friends.