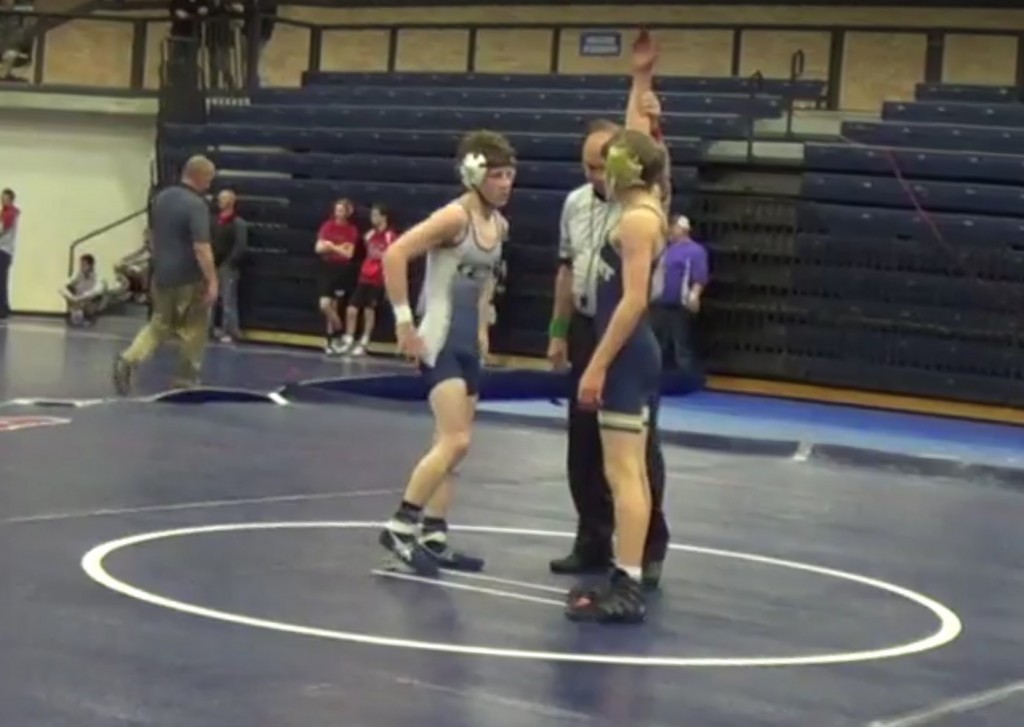 Dozens of shivering, bare skinned bodies throng the scales, organized in lines by weight, from 106 to 285 pounds. Palpable tension covers the room like a blanket, as potential opponents size each other up with fleeting glances over the low murmur of the room. In two hours, these high school athletes will compete in a contest of physical strength and skill, to determine who will advance to the State tournament: the UIL Region 2 wrestling tournament has begun.
Last weekend, February 17th and 18th, Ranger wrestlers Gabriel Farrell '19 and Derek Dumbrigue '18 took on 28 other schools and 3 other districts to compete for a spot at the state wrestling tournament in Cypress, Texas. Sophomore Gabriel Farrell (106-pound weight class) and junior Derek Dumbrigue (113-pound weight class), both had the opportunity to compete on Jesuit's behalf, each advancing past districts the week before at Richardson Berkner High School and each one earning second place in his respective weight class. Both wrestlers would face stiff opposition at regionals, as the best wrestlers from the entire region gathered at Allen High School to duke it out over a qualifying spot.
Gabriel Farrell jumped out to a successful start, earning a 12-4 major decision over sophomore Christian Fuentes from Lewisville Flower Mound. Wrestling back on the consolation side of the bracket after a hard loss to eventual second-placer and state qualifier Gabe Martinez, Farrell won again, defeating Alexis Casablanca of Irving Nimitz with a 10-0 major decision. Advancing once more, Farrell gained a 15-technical fall over Arian Nieto from Lewisville to finish at sixth place in his bracket.
"I'm a little disappointed I only missed qualifying for state, or at least a state alternate spot, by one place," Farrell commented. "It's invigorating to be exposed to a whole new level of competition at tournaments like this. Now that I've finished my first year on the varsity side, I know just how much harder I'll have to work to make it to state next year and hopefully place along with several other teammates."
Derek Dumbrigue also got off to a successful start, beating Anthony Arrendondo from Irving Nimitz in a very close contest. The junior started out strong, with a takedown 13 seconds into the match and a subsequent two-point near fall six seconds later. With 30 seconds left in the first period, Arrendondo fought back with a one-point escape and a takedown to keep Dumbrigue in the lead by one point. After a scoreless second period in which Jesuit elected the bottom position, Dumbrigue reversed his opponent early in the third period, but was reversed himself again 10 seconds later. With a score of 6-5 and Jesuit in the lead, Dumbrigue went on the offensive again, scoring another two points for a 8-5 lead. Arrendondo gained another two-point reversal to nearly tie up the score. with 19 seconds left, Dumbrigue was able to ride out his opponent to secure the win 8-7 and finish out his season with a record of 24-14.
According to the Jesuit junior, "It was a tough tournament, but I had a great time wrestling with great competition." As for his future plans, he hopes "to have more success, and become a state qualifier."
Both wrestlers plan to wrestle freestyle during this off season in the Ranger Wrestling club along with several other members of the Jesuit wrestling team.