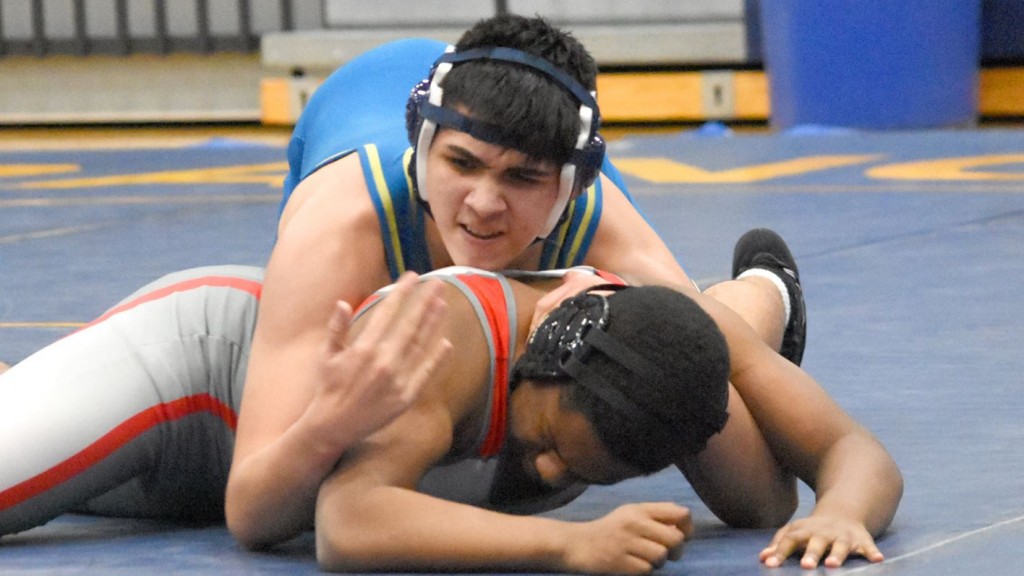 With the first half of the 2021 season completed, the Jesuit Wrestling team has been off to a great start. Throughout March, the team has wrestled at several meets. Coach Menard stated that he has been "impressed with the team as a whole. The team has persevered through obstructed practices, moved UIL dates, and not even knowing whether or not they could compete. We truly have a strong group of boys participating this year." Let's take a look at how the team has performed.
Richardson Quad Meet
On March 2nd, the Rangers opened their wrestling season at Richardson High School for a quad meet, facing Skyline, Berkner, and Richarson. The Rangers were able to defeat Skyline and Berkner, winning 48-30 and 48-27, respectively. Unfortunately, Jesuit fell short to Richardson, losing 30-54.
Andrew Wiechman '22 exhibited a dominant performance at the meet, pinning all three of his opponents. Wiechman was able to pin Skyline's Robert Myers, Berkner's Cesar Adrien, and Richardson's Testimony Lucas, leading the team in victories.
Roberto Tello '22 also helped by pinning Berkner's Ayomide Gbadamosi. Moreover, the underclassmen supported the team, with Michael Geary '23 and Luke Santoni '24 pinning their opponents against Richardson and Berkner.
Overall, the Rangers saw great success at the Richardson quad meet.
Jesuit vs. McKinney Boyd
Despite a fantastic performance from many of the Rangers, Jesuit narrowly lost 36-48 against McKinney Boyd on March 6th.
The J=juniors had a stellar performance at the meet, with Jack McClure, Andrew Wiechman, Roberto Tello, and Blake Hunter all pinning their opponents. Jack McClure '22 and Louis Traister '23 led the lighter weight classes, pinning McKinney Boyd's Colby Farmer and Alex Dickson.
Meanwhile, at the heavier weight classes, Blake Hunter '22 and Roberto Tello '22 pinning Javier Cortez and Jackson Dietz. Andrew Wiechman '22 topped things off, winning by fall over Jackson Forester.
Pearce Invitational
On March 11th, the Rangers were faced with yet another quad meet at JJ Pearce High School. Jesuit fell short to Lake Highlands and JJ Pearce; however, the Rangers put up a commendable fight.
Against Pearce, the sophomores had an outstanding performance. Nick Morris '23 was able to pin Pearce's Jackson Holt, while Michael Geary '23 defeated Brennan Hatch by fall. Logan Mezger '23 also helped by pinning Kevin Castro. Furthermore, after a strenuous match against Pearce's Guy Lewins, Louis Traister '23 emerged victorious, winning by major decision (10-1). Finally, Andrew Wiechman '22 pinned Pearce's Gabriel Sheddrick, refusing to let go of his undefeated record.
In the Rangers' fight against Lake Highlands, Logan Mezgar '23 and Andrew Wiechman '22 continued their streaks of domination. Mezgar was able to pin Lake Highlands' Anthony Gonzalez, while Wiechman won by a 1-0 decision over Diego Aguilar. Additionally, Jack Judson '21 supported the team by pinning Lake Highlands' Ethan Toker.
The Team's Thoughts
Andrew Wiechman '22: "The season has been going well. We have gotten a lot of freshmen and sophomores this year, so we're able to fill out nearly every weight class, making us much more competitive against other teams. The team has done a great job adapting to the COVID deadlines and handling the difficulties of the shorter season. Jesuit Wrestling has a bright future."
Jack McClure '22: "I'm proud of the team's hard work this year. We've had to persist through a lot of obstacles COVID has created, yet we have pushed through and still managed to see success during our competitive season. As long as we maintain the work ethic that we've had for the past semester, the team will continue to succeed in the future."
Ultimately, the wrestling team has had a very strong start to the season, and hopefully, the Rangers will continue their success as they approach the district championships.
Remember to check back to The Roundup for more wrestling coverage!