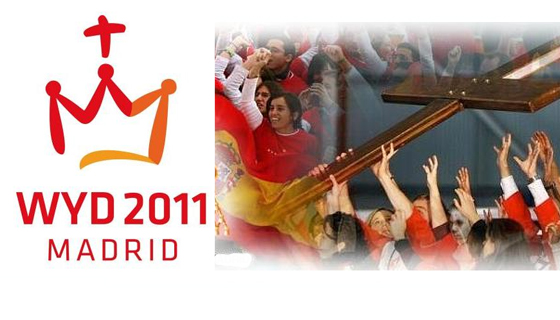 On August 16, 2011, nearly 1,000,000 young people from around the world will congregate in Madrid, Spain, for the opening mass and celebration of World Youth Day, a global gathering for youth to grow in their Catholic faith.
Presided by Pope Benedict XVI, World Youth Day is actually a weeklong program consisting of various programs, workshops, and masses developed by the Vatican and designed to build the Catholic faith in young people today. "It is a time to grow in faith, in knowledge and love of God," says Jesuit Campus Director Mr. Robert Murphy, S.J., who is helping to coordinate Jesuit's pilgrimage to this unique festival.
Held once every two to three years, the event regularly attracts between 500,000 and 1,000,000 young people. The most recent World Youth Day occurred in 2008 in Sydney, Australia, but previous venues have been Cologne, Germany; Toronto, Canada; Paris, France; Denver, United States; Manila, Philippines; Buenos Aires, Argentina; and of course, the Vatican in Rome, Italy.
In addition to the weeklong World Youth Day, Jesuit is planning something special for its participants. "Since Spain is the home of St. Ignatius of Loyola, we are going to leave a week earlier to travel around Spain and visit the places of St. Ignatius' life," explains Mr. Murphy, S.J. This pilgrimage to Jesuit and Ignatian sites around the country includes Barcelona, Montserrat, Manresa, Pamplona, San Sebastian, and Loyola. Students will get to see the famous sites from Ignatius' life, from his cannonball experience and enlightenment to his retreat house. As Mr. Murphy, S.J. says, "This tour of Ignatius' birthplace makes the whole World Youth Day experience truly unique to Jesuit."
In the words of Pope Bendict XVI, "It [is] much more than a massive gathering of people; above all, it [is] a celebration of faith, a human encounter of communion in Christ. We saw [in years past] how faith breaks down barriers and truly has the ability to unite different cultures and create joy. That is why I am happy to see many young people united in the desire for God and for a truly human world."