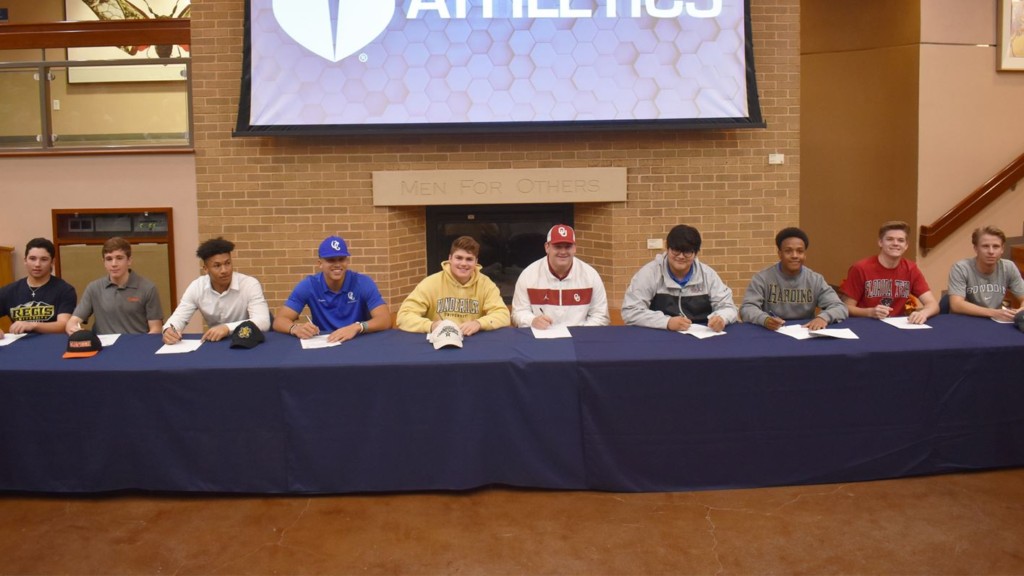 On Thursday, February 12th, the Jesuit community recognized and celebrated 10 athletes who have declared their college decisions during the winter season. Coming from a variety of Jesuit's sports teams, these seniors are soon to become a vital part of collegiate athletics in the coming fall as they disperse among the nation's competitive universities. 
Of the ten signees, four of them plan to further their careers on the baseball field. Pitcher Matthew Cox will be attending the California Institute of Technology, where he will represent the Beavers! Jalon Mack, who was selected as all-district first team last year, will be competing as a Wichita State Shocker. Odessa College welcomes Tyson Pointer, a two-time all-district selection, who will play catcher for the Wranglers. Finally, Braxton Boyle, who led the team last year with 37 hits, will join his classmate Tino Ramirez at Regis University, where the two will become Rangers once again!
Four more athletes will be joining the college football arena after a phenomenal playoff run to finish out their Jesuit careers. Jack Barton, a two-time Defensive MVP and two-time all-district second team linebacker during his time at Jesuit, signed as a preferred walk-on at Vanderbilt University, where he will compete as a Commodore. The University of Oklahoma will receive Ethan Lane as a preferred walk-on, a top long snapper in the state that earned all-district second team recognition this season. David Morales, an essential component of the offensive line for as a three-year starter, with all-district recognition each season, will soon become a Thundercat for Southern Nazarene University! Jhalen Spicer, the last of the winter football commits, will continue his career as a Harding University Bison after being recognized as an all-district first team defensive back, leading the Ranger defense with 13 pass breakups.
From the Rangers soccer program, Parker Christensen, who has made 13 saves after only five appearances at goalie, will attend Florida Tech as a preferred walk-on. Go Panthers!
The last of the winter recruits comes from our very own tennis program. Reid Staples, ranked No. 14 in the state, became the first Jesuit athlete in 12 years to win a UIL state tournament, coming out of the Region 2-6A 2018 Tournament victorious. Staples will continue to dominate at Bowdoin College, where he will join the Polar Bears!
The entire student-body has displayed an immense level of pride for their fellow brothers, who have the community at their back as they attack the challenges of collegiate athletics with energy and excitement. These 10 students join another 8 athletes that finalized their college decisions prior to the winter season. Stay tuned as Jesuit holds its final signing day of the year later this spring! Go Rangers!