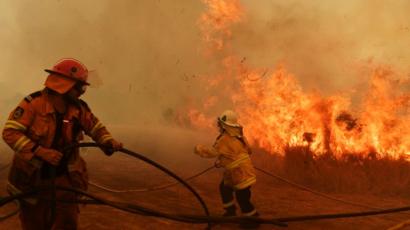 Eighteen million acres burned. One billion animals dead. Cities and towns overwhelmed by smoke and flame. This is just a glimpse into the havoc currently being wreaked by Australia's bushfire season.
Australia currently faces a wildfire system that is, by most metrics, the most extreme and disastrous it has ever faced. Since summer arrived in the Southern Hemisphere in late 2019, southeastern Australia has been engulfed in flame, beginning in rural forests before spreading to the outskirts of major cities like Sydney and Brisbane. They are primarily concentrated in the state of New South Wales, though at this point, the fires have spread further north and west from their origins.
Bushfires take place every year during the warm months in Australia, typically caused by high temperatures and low rainfall. Most experts say that these factors caused this season of fires, too. But what makes this year's bushfires particularly bad? For one thing, Australia endured some of its hottest and driest months ever in late 2019.
The eastern Australia drought that began in 2017 brought the continent's driest November ever last year. Rainfall typically helps alleviate fires during the summer, but this season, residents aren't able to rely on precipitation to mitigate the flames. The ongoing drought is considered a major cause of this year's fires. Hotter weather caused by global warming is another factor that led to the spread of the bushfires. A heatwave in December brought record-high temperatures to Australia, fostering conditions in which bushfires can thrive. The last few months have also been particularly windy, helping to spread the fires more quickly.
Despite the conclusions drawn by experts based on the available climate data, the exact causes of the fires have been subject to debate in Australia. The country's right-wing governing party has blamed the fires on arsonists and a decline in prescribed burning, in which forests are intentionally burned to prevent future, more severe wildfires. This environmental crisis has also brought climate change policy into the forefront of Australian politics.
However, there is little disagreement across ideological lines over the bushfires' impact. The fires destroyed around 6,000 buildings and 3,000 homes across the country. Some scientists and environmentalists worry that the fires irreparably harmed most of Australia's forests. The carbon emissions caused will never be fully reabsorbed by forest regrowth. The fires have killed around one billion vertebrate animals, and may lead some species to extinction because of the reach of the flames.
Stay tuned to The Roundup for more world news!