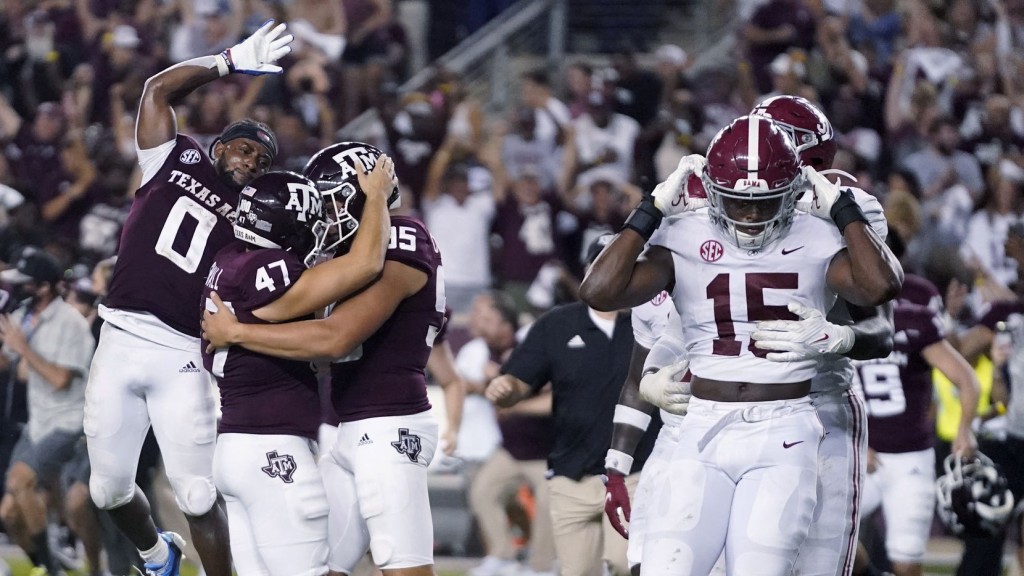 This past weekend in NCAA football left fans stunned, from comebacks to upsets to top-ranked teams battling it out against each other. There were many outcomes that changed the playoff rankings drastically, altering the course of the season for many teams.
6 Oklahoma vs. 24 Texas  
The first game of the crazy afternoon was the Red River Rivalry, the annual game between the University of Texas against the University of Oklahoma played at the Cotton Bowl. Texas came out with an early lead, scoring two touchdowns in the first two minutes, eventually leading 28-7 at the end of the first quarter.
Oklahoma quarterback Spencer Rattler was soon benched in the second quarter. Rattler's backup, Caleb Williams, who Oklahoma fans were cheering for during Rattler's struggles against West Virginia, came in. On Williams' very first play he ran for a 66-yard touchdown followed by an extra point to decrease the Texas lead to 28-14. Williams got taken out the next drive but was put back in after a Rattler fumble. Texas took advantage of the fumble, scoring the next drive with the help of a 50-yard run by Bijan Robinson. Oklahoma and Texas both made a field goal on their final drive of the half making the game 38-20, Texas.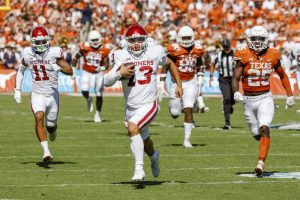 To start off the second half Texas and Oklahoma traded off punts and field goals before Oklahoma running back Kennedy Brooks ran for 65 yards and Caleb Williams finished off the drive with a touchdown pass to Marvin Mims. Oklahoma scored on their next three drives without allowing Texas to score once, including a 52-yard pass from Caleb Williams to Marvin Mims for a touchdown. Texas continued to punt until eventually scoring a final touchdown in the final two minutes to tie Oklahoma, but Kennedy Brooks scored a game-winning touchdown on a 33-yard touchdown run in the final seconds.
It is still not certain who will be the starting quarterback for the Sooners going forward.
Oklahoma is tied for first place in the Big 12 with Oklahoma State, while Texas is in fourth.
Oklahoma will look to continue their undefeated season alive while taking on TCU at home this Saturday. Texas will hope to bounce back against undefeated Oklahoma state in Austin this week.
Players of the game:
Oklahoma
Caleb Williams: 16/25, 212 yds, 2 TD , 8 car, 88 yds, 1 TD
Kennedy Brooks: 25 car, 217 yds, 2 TD
Marvin Mims: 5 rec, 136 yards, 2 TD
Nik Bonitto: 5 tot, 3 solo, 1.5 sacks, 3 qb hur
Texas
Casey Thomson: 20/34, 388 yds, 5 TD
Bijan Robinson: 20 car, 137 yds, 1 TD
Xavier Worthy: 9 rec, 261 yds, 2 TD, 1 car, 7 yds, 1 fum
Joshua Moore: 4 rec, 70 yds, 2 TD
Luke Brockemeryer: 12 tot, 6 solo, 1 pd
12 Arkansas vs. 14 Ole Miss
While Texas and Oklahoma were playing, another great game between two top 25 teams was going on. A newcomer of the playoff talk, Arkansas, traveled to Oxford, Mississippi to take on Ole Miss. Ole Miss quarterback, Matt Corral, looked for a different outcome than last year when he threw six picks against Arkansas, while Arkansas quarterback, KJ Jefferson hoped to put himself in the Heisman conversation with a great game.
The game started slowly with a couple of punts. Eventually, Arkansas scored the first touchdown on a seven-minute, seventeen play drive that included a big 8-yard on a fourth down by Raheem Sanders. The score was 7-0 after the first quarter.
The second quarter started off with a touchdown from Ole Miss, followed by another touchdown from both teams. Arkansas fumbled on their next drive, but great defense from Arkansas forced Ole Miss to punt. Then, Arkansas moved down the field until they were forced on a fourth and long to go for a field goal, and kicker Cam Little missed a 50-yard field goal, which Ole Miss would jump on and scored a touchdown to make the score 21-14, Ole Miss. They would end the half with an interception.
Ole Miss would open the second half strong with a 50-yard field goal from Caden Costa. Arkansas was still determined though and scored a touchdown on the next drive. Ole Miss was then stopped on downs and Arkansas took advantage and went downfield for a field goal to tie the game. There were then five straight touchdowns scored on consecutive drives, giving Ole Miss the lead 45-38.
Both teams then punted, but the next Arkansas drive ended with a 10-yard KJ Jefferson touchdown run, to tie the game at 45. With 1:22 left on the clock, Ole Miss took the field and in two plays stormed 75 yards downfield thanks to a 68-yard touchdown pass from Matt Corral to Brayton Sanders. Arkansas would not go down easily, and KJ Jefferson led a drive downfield that put Arkansas in the red zone with six seconds left. An incomplete pass took five seconds off the clock and with one second left in the game, KJ Jefferson threw it into the endzone to Warren Thompson.
Instead of trying to win the game in overtime and going for the extra point, Arkansas went for two, but KJ Jefferson was unable to convert and Arkansas lost the game.
Players of the game:
Arkansas
KJ Jefferson: 326 yds, 3 TD, 1 int, 20 car, 85 yds, 3 TD
Raheim Sanders: 17 car, 139 yds, 3 rec, 26 yds
Treylon Burks: 7 rec, 136 yds, 1 td, 1 car, 1 yd
Grant Morgan: 13 tot, 3 solo
Bumper Pool: 12 tot, 5 solo, 1.5 tfl
Ole Miss
Matt Corral: 287 yds, 2 TD, 15 car, 94 yds, 2 TD
Henry Parrish Jr.: 18 car, 111 yds, 1 rec, 3 yds
Snoop Conner: 12 car, 110 yds, 3 TD, 1 rec, 1 yd
Braylon Sanders: 2 rec, 127 yds, 1 TD
Otis Reese: 11 tot, 4 solo
Kendron Smith: 10 tot, 5 solo, 1 tfl
4 Penn State vs. 3 Iowa
The next game on the lineup was Penn State playing against Iowa. Two top four teams playing against each other midway through the season in hopes of staying in playoff contention. 
The game's opening drive resulted in a punt by Iowa, but on Penn State's very first offensive play Penn State quarterback threw an interception to Jestin Jacobs. However, the Hawkeyes could not capitalize on the play as they did not get a first down and had to settle for Calebd Shudak to make a 34-yard field goal. Penn State then pushed the ball downfield and finished their drive with a touchdown run from Noah Cain. Both teams would throw interceptions in the next few drives but then Sean Clifford completed a 30-yard pass to KeAndre Lambert-Smith for 30 yards and Clifford capped off the drive with a touchdown run. To finish out the quarter Penn State worked to get into field goal territory and eventually kicked a field goal at the start of the second quarter to make things 17-3.
With things not looking good for Iowa, they desperately needed a score, and they got one when Spencer Petras completed a 9-yard pass to Charlie Jones for a touchdown to make it a one-score game. There were no more scores in the second quarter.
The second half opened up with a punt from each team before a field goal from each team. Each team would punt a couple of times more before Caleb Shudak made a 36-yard field goal for Iowa. On Iowa's next drive, with 6:30 left in the fourth quarter, Spencer Petras threw a 44-yard touchdown to Nico Ragiani to give Iowa the lead, 23-20. Penn State tried to gain the lead back but failed to convert on fourth down twice and threw an interception. The game ended with Iowa in victory formation and Iowa fans storming the field.
This game gives Iowa the lead for the Big Ten West, with a record of 6-0.
Players of the game:
Penn State
KeAndre Lambert-Smith: 5 rec, 61 yds
Ellis Brooks: 14 tot, 9 solo
Jaquan Brisker: 9 tot, 7 solo, 0.5 tfl
Iowa
Spencer Petras: 195 yds, 2 td, 1 int
Tyler Godson: 25 car, 88 yds
Nico Ragaini: 4 rec, 73 yds, 1 td
Jack Cambell: 9 tot, 7 solo, 1 qb hur 
1 Alabama vs. Texas A&M
The final game of this epic day was Alabama playing Texas A&M in College Station. The undefeated Alabama took on unranked Texas A&M in a vital SEC matchup. 
The game started off strong with an opening field goal from Texas A&M. On Alabama's first offensive drive Bryce Young threw a 20-yard touchdown to Roydell Williams, followed by a three-play drive from Texas A&M with three throws from Zach Calzada that finished with a 27-yard pass to Jalen Wydemeyer for a touchdown. Alabama was shook and fumbled on their next drive. Texas A&M could not score though and was forced to punt. Alabama then punted and Zach Calzada threw a pick to DeMarco Hellams. Alabama took advantage of this and scored a field goal. Texas A&M was not hindered though as Isaiah scored a 15-yard touchdown run on their next drive to make the score 24-10. Both teams finished out the half without another score.
Alabama opened the drive with a punt, and then when Texas A&M tried to punt it was blocked by Ja'Corey Brooks who recovered it and scored a touchdown. Texas A&M was now angered and scored on the kickoff with a Devon Achane 96-yard kickoff return for a touchdown. That did not hinder Alabama though, they had a six-play 75-yard drive on their next drive capped off with a Bryce Young 29-yard pass to Jameson Williams for a touchdown. Texas A&M was forced to punt on their drive and Alabama scored a field goal to make the game 31-27, Texas A&M leading.
Again, Texas A&M punted and Alabama scored a field goal, making it a one-point game. That is until Texas A&M punted again and Bryce Young completed another touchdown pass to Jameson Williams to take the lead. Texas A&M tied the game on their next drive though with Zach Calzada completing a 25-yard pass to Anias Smith for a touchdown. Alabama did not score on their final drive. Texas A&M went 54 yards downfield in two minutes to set up Seth Small for a 28-yard game-winning field goal.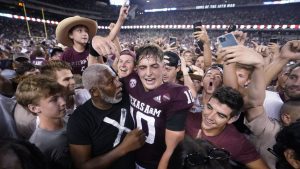 This is the first time that Alabama has lost to an unranked opponent in one hundred games.
Players of the game:
Alabama
Bryce Young: 369 yds, 3 TD, 1 int
Brian Robinson Jr.: 24 car, 147 yds
Jameson Williams: 10 rec, 146 yds, 2 TD
Brian Bunch: 11 tot, 8 solo, 2 tfl
Texas A&M
Zach Calzada: 285 yds, 3 td, 1 int
Ainias Smith: 6 rec, 85 yds, 2 TD
Leon O'Neal Jr.: 9 tot, 5 solo, 1 sack
*Rankings are not current, they were the rankings for the week of*
Stay tuned to The Roundup for more College Football updates!