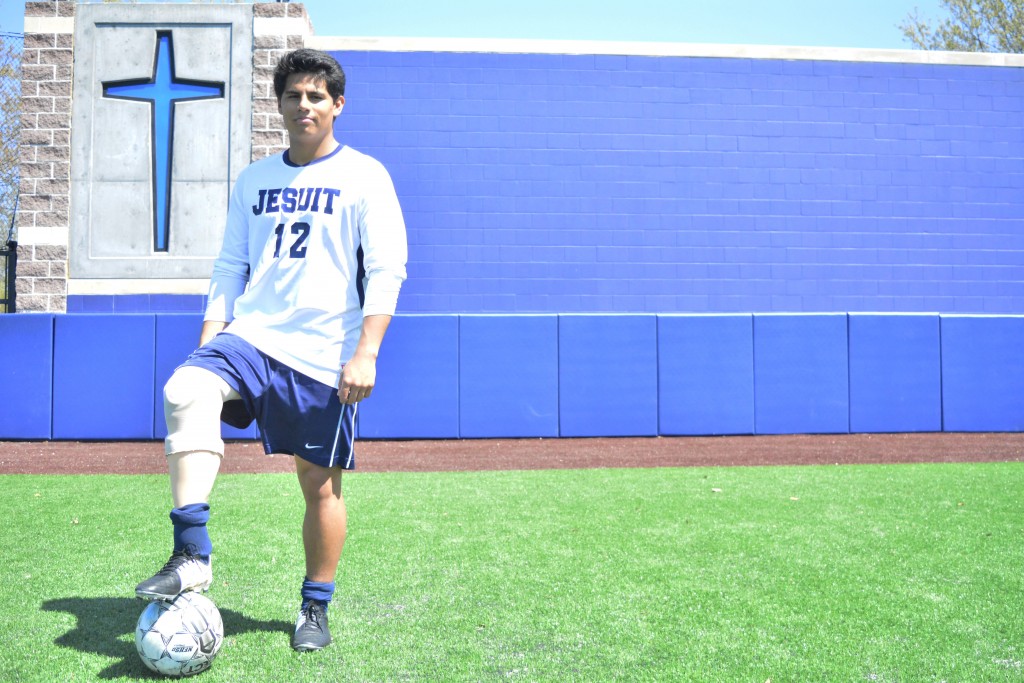 In the summer going into seventh grade, Mabeth Diaz, a current junior at Jesuit, got into a four-wheeling accident that truly changed his life forever. Even though this particular accident seemed awful at the time, it has allowed him to grow immensely and become the man he is today. 
Mabeth and his family have a tradition of going up to Oklahoma every the Fourth of July weekend to ride their four wheelers. On one of their trips in 2010, Mabeth got in a nearly fatal accident. Once he was hit, a helicopter rushed him to the hospital as quickly as possible. After many tests and operations, the doctors concluded that an amputation on his leg was necessary in order for his health to improve. Not only was he in pain due to the physical damage done to his leg, but also due to fears of being neglected or outcast by his community. 
To prove him wrong, all of his friends from St. Monica Catholic Community constantly Mabeth support in this hard time. All of his classmates gathered multiple times in the summer to pray the rosary for him during this tragedy. Mabeth said, "They supported me incredibly by visiting me and my family in the hospital and bringing me gifts and dinner every night." He continued by saying, "They really did help me with the whole process. They helped me think that nothing was going wrong and they made me feel as if I was a normal kid." 
Spending many days in the hospital, constantly having to move room to room to meet with different doctors from all around the Dallas metroplex, Mabeth felt as if this whole process was never going to end. All he was looking forward to was going home: "While being in the hospital I received a lot of visits from family and friends but I never felt like everything was good right at that particular time, but as soon as I was released and went home to sleep in my own bed, it felt like everything was back to normal after such a long time."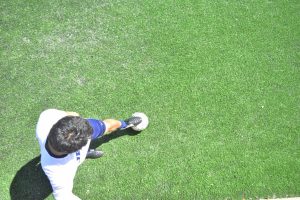 Mabeth, having to adapt to his prosthetic limb, made the best out of his situation, despite encountering extreme difficulty at the onset. For example, he reflected, "Being a soccer player all my life, it was extremely hard to adapt to how to use the prosthetic leg and learn how to use it to benefit my game." Showing unparalleled dedication and optimism, Mabeth worked so hard that he made the Jesuit soccer team as a freshman and is still playing on it to this day. It took him about a year to get fully comfortable with his leg, but as time passed, he grew accustomed to it and conquered the challenges that it presented.
Coach DeLong, the head soccer coach at Jesuit, said, "If you did not know he had a prosthetic leg, you would just think he had a slight limp when he ran." He went on by saying that "all of the kids have a lot of respect for Mabeth because of his ability to overcome adversity."
Mabeth went on by saying, "The main concept that I have learned from my accident is honestly the idea of never giving up." He preaches, "Just work your best at whatever you do and never let anybody tell you that you cannot do anything because you can do whatever you want as long as you are determined to do it." 
Mabeth's accident has allowed him to grow as a person, giving him the chance to prove to the world around him that nothing can stop his dreams or living a normal life. For example, one day, Mabeth and his friends decided to play basketball in the St. Monica gym. Initially, Mabeth's prosthetic leg had not given him any difficulty, until mid-game it suddenly detached from his body. The game came to an abrupt halt as everyone fell speechless, unable to respond. Mabeth, surprising every single person in that gym, hopped right back up, reattached his leg, and acted as if nothing had happened. Stories like these that highlight his perseverance illustrate why he is such an inspiration.
Mabeth, despite this traumatic experience, continues to four wheel today, refusing to let this event affect him. His admirable response demonstrates that one can be successful no matter the obstacles that beset him, exemplifying the saying, "When life gives you lemons, make lemonade."
Photography by The Last Roundup