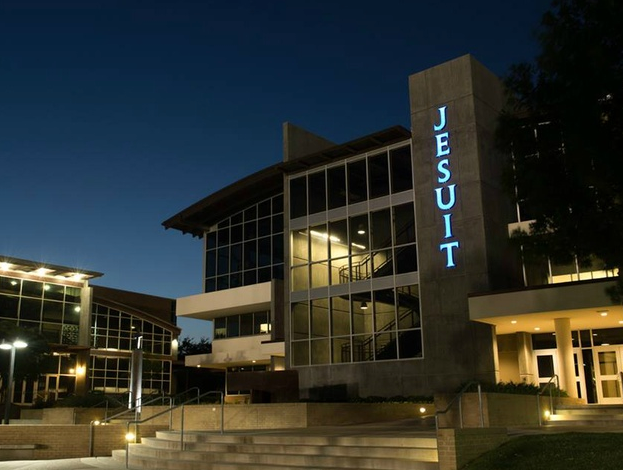 Playoff-bound!? No, not yet…but Jesuit Wrestling is off to great start to its competitive season.
Since November 14th, the Jesuit Ranger Wrestling team has been competing in several meets.
This 2019-2020 Wrestling Season is well underway and our Jesuit Rangers have competed well in their first couple of meets. Liam Leahy 20′ commented on the start of the wrestling season, "Although it has been a tough start to the season, this year the team has already developed a very strong bond. There are a lot of underclassmen on the team so the future of Jesuit's Wrestling program looks very promising". Now, let's take a look at some of the results.
Jesuit vs McKinney Boyd and McKinney Christian
On November 14th, the Jesuit Rangers had a split opener to its season at McKinney Boyd Highschool. The Rangers emerged victorious against the McKinney Christian Mustangs winning 36-0. After a long fight, the Rangers, unfortunately, lost against the McKinney Boyd Broncos 60-17. After a competitive start to the season, multiple wrestlers, both new and old, demonstrated their prowess in the sport.
To start the meet, Liam Leahy '20, captain of the varsity wrestling team, had his first victory of the season. With a fall against McKinney Boyd's Noah Tuma, the match resulted in a 16-0 technical fall win. Leahy would go on to win his second match of the meet with a second period fall against McKinney Christian's Christian Simonson.
Freshman Alex Lizardi 23′ competed in an exhibition match and he scored victory in just 27 seconds, getting a pin against McKinney Boyd's Alex Teague. Junior Joshua Montemayor 20′ had a victory over McKinney Boyd's Juan Patino, scoring a 10-8 decision. Sophomore Jack McClure had his first season win with a 6-4 decision over a McKinney Boyd athlete and classmate Dominic Farrell picked up a fall in 2 min 14 seconds in the second period.  Finally, sophomore Andrew Wiechman picked up his first win of the year over McKinney Christian's Caleb Stephenson with a pin 38 seconds into the match.
A fantastic performance by the Rangers against the two McKinney high schools.
Jesuit at the Richardson Roundup
On November 23rd, Jesuit traveled to Richardson High School to compete in the Richardson Round Up Tournament. Both the Ranger Varsity and Junior Varsity teams fought hard in the tournament. The Varsity won 3 matches and lost 4. The Junior Varsity won 5 matches and lost 11.
A standout in this tournament was Liam Leahy 20′. Liam went undefeated in his 3 matches, defeating Nana Antwi from Foster High School with a fall at 2 min and 37 seconds. He then proceeded to beat Kaden Peterson from Wakeland High School by a 10-4 decision. Finally, Liam bested Elijah Alardin from Samuell High School with a fall at 1 min 22 seconds. Liam commented on his victories stating, "I would attribute my success in the Richardson competition to my newfound confidence in myself and the support of the coaches."
Also, some commendation is deserved for Griffin Spaniel who won his match with a fall at 3 min and 15 seconds. Also, Andrew Clarkson and Jackson Chesney for each winning their matches with a fall at 44 seconds and 1 min and 40 seconds respectively.
A very strong start to the Jesuit Ranger Wrestling season, check-in with us later for coverage on the meet against St. Marks and Desoto, and especially for coverage on the annual Jesuit Frank Holloran Ranger Classic.