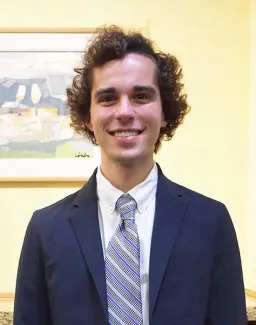 By the year 2030, the United States should expect a shortage of 40,000 to 100,000 physicians. And yet, medical school is constantly getting harder and harder to get into. Many people don't know how to approach applying to med school, or even how the application process works as a whole. Thus, I reached out to someone who has just recently gone through the whole process: ASC member Mr. Will Aberger. A graduate of Notre Dame's class of 2021, Mr. Aberger completed the application process during the 2021-2022 ASC year, and he'll be attending McGovern Medical School in Houston. Without further ado, let's take a look at Mr. Aberger's experience in applying to med school.
The Interview
When did you decide that you were interested in medicine? What sparked your interest?
During my freshman year of high school, I took biology with Dr. Gruninger. He made the subject so interesting, and he really sparked the passion in me for biology, so much so that my senior year, I took his AP Biology class, and really just fell in love with the subject. So I already had this interest in biology. And then, when I started shadowing doctors, I thought, 'Okay, this could be for me.'
I liked science, but I didn't want to just do a research job or get a Ph.D. because I knew I was not super interested in bench work or research. When I started shadowing doctors, I saw that medicine was about so much more than just science. I remember I shadowed one physician, a pediatrician, who had a 17-year-old patient come into her office concerned she was pregnant. Rather than prescribing anything or offering a treatment plan, the pediatrician just talked to her and assuaged her concerns; here, I saw a totally different side of medicine: that it's not strictly science at all – it has this human aspect to it that is so powerful. 
And that really, that really spoke to me because as a doctor, I would get to use both my passion for science along with my interpersonal skills to help people. I would get to partner with patients on their journey back to health and serve them. It's such a great opportunity. And it's a service profession. So that's really why I became interested.
How did you approach studying for the MCAT?
So things got a little weird with COVID. I was supposed to do research over the summer of 2020 at Notre Dame in person. I applied for research grants, but because of COVID, those were canceled. So that summer I was at home like the most of us. There, I started studying for the MCAT and did some research as well, just not in the same capacity as I would have if I were on campus. 
The first part of studying for the MCAT is what people call content review. Well, before content review, you should probably take a diagnostic test that kind of tells you 'okay, this is what I know, this is what I don't know.' The tests covers biology, biochemistry, organic chemistry, general chemistry, physics, and then you have your behavioral sciences: psychology, and sociology. And you review those subjects. I studied those over the summer and did practice problems from the AAMC as well (the company that runs the MCAT).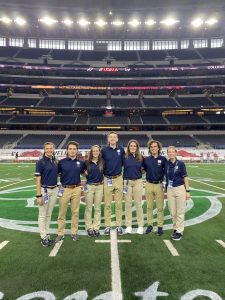 When my senior year started in the fall of 2020, I didn't study as much because I got busy with school and my job as a student athletic trainer for the Notre Dame football team. During winter break, we had extended time-off because of the shortened fall semester. We ended early, like before Thanksgiving, so I had maybe like ten weeks left to study for the MCAT. I actually stayed at Notre Dame for most of that time because the Notre Dame football team was preparing to play in the Rose Bowl. I would study in the morning, go to work, and then try to study a little at night, mainly doing practice problems or practice tests. As the test date gets closer, most of your content review is over. After the Rose Bowl, I went back home to Dallas and did a bunch of practice tests.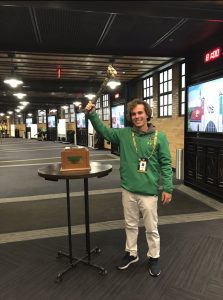 The way that you really retain the material for the MCAT, and the way you learn the most is by doing practice tests, and more importantly, reviewing them. So you go through and you review everything and I mean everything, but it's very tedious because it's a seven-hour test. It can sometimes take twice as long to review the test as it does to take the test, which is kind of wild, but that's where you learn the most. I ended up finally taking it in January of 2021.
How did you decide where you would apply to med school?
This is a good question. So most Texas Medical Schools by law have to accept a minimum of 90% Texas residents. They also happen to be much cheaper than medical schools outside of Texas. For example, a lot of Texas Medical Schools will offer in-state tuition of around $20,000 to $24,000 while an out-of-state school could cost you around $60,000. Luckily, I got to take advantage of both the lower cost and the requirement by law that they have to accept 90% Texas kids. Financially speaking, it wouldn't have been worth it to apply out-of-state if I knew I was more than likely just going to stay in-state. While Texas schools do not cost as much as out-of-state schools, they're also just really good medical schools. So I would say most Texas applicants end up staying in Texas, since it's also really, really hard to get a scholarship to medical school. Unfortunately, the majority of kids don't get into any medical school and have to reapply. So that's essentially why I just applied to most of the medical schools in Texas. 
Can you describe what the actual application process is like?
You start in like March or April the year before you plan to actually matriculate to medical school by drafting what's called a personal statement, which basically explains your motivation for becoming a doctor. A common reason why people want to become a doctor is that they want to help people, but you can't really say that bluntly in your personal statement since it's kind of too common or cliche. Instead, you have to craft your motivation in the essay in a way that's interesting or unique. After several revisions to the personal statement, you also fill out all the extracurriculars that you did in another part of the application. The main categories of extracurriculars are probably service, healthcare experience, and research. And then they also like leadership as well. Once the primary application opens, it is recommended that you submit it as early as possible due to rolling admissions. So you submit your primary application usually in late May or early June. 
Then each school will send you what's called a secondary application, which is basically more essays that are individualized for each school. The number of essays per secondary application varies – so you'll get, let's say, three essays from one school, five essays from another school, two essays from another school, etc. In Texas, they usually don't screen for secondaries based on the quality of your application. So basically if you fill out the primary, they automatically send you the secondary. This is not always the case in other states. Getting flooded with a bunch of secondary essays is probably the worst part of the application process because you have to write like three essays per school you applied to, and you need to get them back within a two week period. You don't have to, but that's the general recommendation. Because otherwise, the medical schools may think, 'Oh, they're not interested in us enough to get back our essays in two weeks.'
I was very lucky because most of my friends (out of Texas) applied to about twenty to thirty medical schools. I only applied to like nine, but because most states don't have as many medical schools as Texas, my friends had to apply to more than just their in-state schools in order to cast a large net. 
Let's say you get three secondary essays per school, and let's say you apply to thirty schools. Imagine after screening your primary application, twenty-five schools send you a secondary application. And if they average three essays per school, you could be stuck writing seventy-five essays right? Now, there's a lot of overlap between essay prompts from different schools, but still, that's a lot of essays to write when you're trying to make them perfect. 
So then, if they still like you after the secondaries, they extend the interview invitation for a date in the fall. Usually, the interviews are in-person, but because of COVID, now it's online. During the virtual interview day which can last anywhere from 8 AM – 3 PM, faculty members and current medical students will talk about their school, what makes them unique, why you should go there, etc. The actual interview part usually only takes around an hour. Most schools conduct two traditional one-on-one interviews that last about 25 minutes each with a faculty member and a current medical student. On the other hand, some schools may opt for the multiple-mini-interview, or MMI for short, where you're given a scenario and you get like a couple of minutes to look it over and respond. It is usually an ethical question, or some sort of personal characteristics question like, "When did you demonstrate integrity or leadership?"
One of the unique things about the interview day that I didn't realize at first is that it's an opportunity for you to find out, is this a school that actually want to go to? Which I wish I did more of at first, but you're so worried about whether they're going to like you and what you're going to say, you don't really focus as much on whether you actually like them at first.
Finally, what has it been like taking an ASC year in between undergrad and medical school?
So during ASC was when I did my interview season, and I was lucky that Jack Fitzsimmons and Colin Hanley allowed me to take off days to do the interviews (since they are like a full day thing). I'm also thankful that my fellow ASC members (Will Vincent and Dean Eikenberg) were kind enough to cover for me on those days. Most of my interviews were last semester and I think I had two at the very beginning of the spring semester. 
A lot of colleges are now recommending that their students take a gap year before medical school because getting admitted to medical school is difficult. They advise students to get an extra year of real-world experience during that time. Students can use that gap year to strengthen a portion of their application that is weak. Some students could do research if they don't have a strong research background. They could also get more healthcare experience, or they could do service for example, in order to strengthen their application.
For me, I was told I had to take a gap year if I wanted to study abroad in the spring of my junior year, because the university I studied at in Ireland could not get the grades back in time for me to apply. So I had to make the choice: Do I want to study abroad in the spring and take a gap year, or vice versa? And because I worked for the Notre Dame football team, I wasn't going to study abroad in the fall and miss a season in South Bend.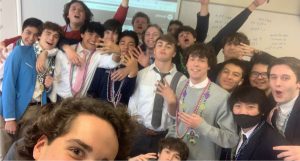 Ultimately, I chose to study abroad in the spring, and this gap year has been great! Serving as an ASC member is an amazing opportunity to give back to the school that gave so much to me, from accompanying students on a service trip to Monterrey, Mexico to just interacting with students in the hallway every day. Additionally, I have developed stronger leadership skills by helping to coach freshmen football as well as improved my patience, understanding, and communication skills teaching physics. Overall, it has helped make me a more holistic person and I am extremely thankful and appreciative for this gift Jesuit has given me.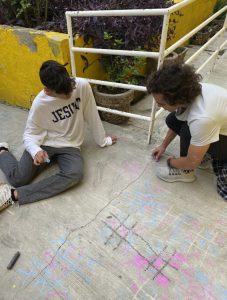 Admittedly, it has also been a lot of fun and a nice break from the stress of being a pre-med student, giving me a chance to reflect and get a lot of energy back. Now, I'm really anticipating going to medical school in the fall. I'm ready to get back after it.
Conclusion
Clearly, applying to med school is a rigorous, competitive, and demanding process. However, if you have a genuine passion for helping others, all of the work devoted to your application (and to your eventual career) is absolutely fulfilling and worthwhile. For any Jesuit students who still have questions about the process, reach out to Mr. Aberger at waberger@jesuitcp.org.
Stay tuned to The Roundup for more viewpoint articles!