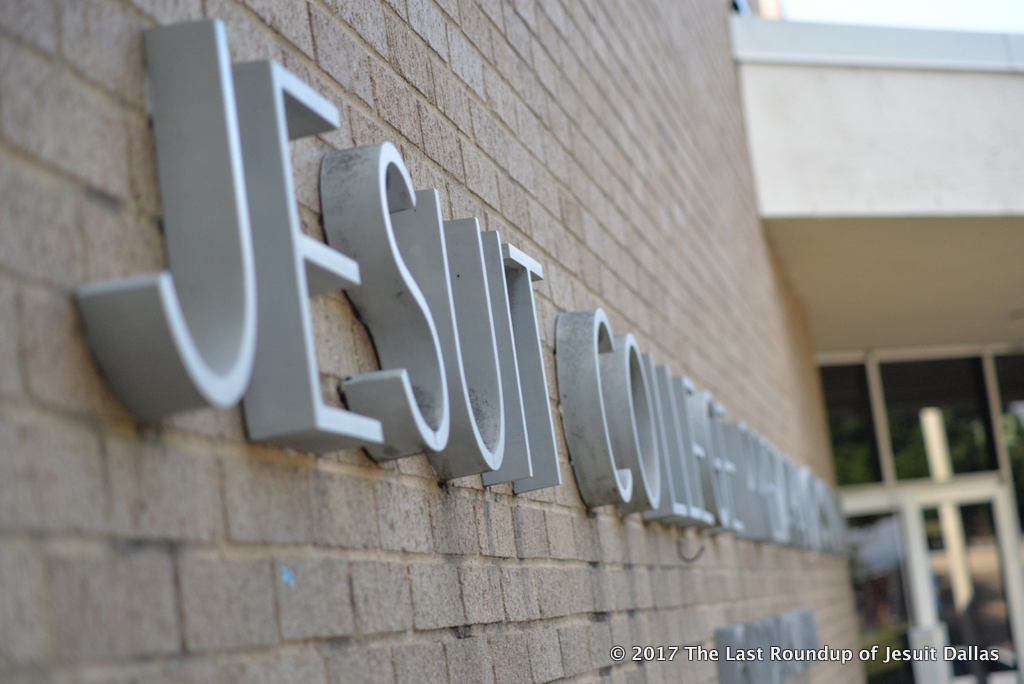 With the upcoming Freshmen Class President election next Tuesday, November 7, The Roundup collaborated with the Student Council to bring you the 10 Freshmen Class President candidate speeches. We hope that this will help you make a more informed decision. Voting ballots will be outside of the cafeteria and only for the freshmen. See you there!
The 2021 Candidates:
Benton Bacile
Graham Bowers
Patricio Boy
Kyle Cribbins
Shane Hatzmann
Sam Levis
Sergio Lopez
Luis Osorio
Camden Roy
Joe Zagielski
2021 Freshmen Class President Candidate Speeches
Benton Bacile
Jesuit is like no other school. Jesuit is a brotherhood built on being religious, being open to growth, and being intellectually competent. A very important part of Jesuit is its student council. Student Council is the governing body for the Jesuit students. Student Council is the voice of the students.  Students are able to talk with the representatives to throw out ideas and their opinions.  It is like a loud speaker amplifying the students' voices.  For you to be part of student council, you need to be willing to talk and listen to other people's ideas and to be creative in finding solutions.  I believe that I am a very creative person.  I am able to think outside of the box and see the big picture surrounding any given problem.  In addition, I also believe that I am a good leader.  I am able to get people excited and enthusiastic over a common purpose.  As a soccer player I know a lot of about teamwork and how multiple brains and ideas are better than one. For my soccer team, I am the on-field leader. I trust my instincts and I have earned the respect of my peers. I've also met a ton of different people through my classes at Jesuit and through soccer. I have built relationships with the faculty/staff which has given me unique perspective on Jesuit. Student council should be involved in and run many things such as mixers, fundraisers, and service projects.  As such, I would like to implement a faster electronic way to capture ideas and input so that the students feel that they have a direct voice and are able to be a part of the process. I believe in the Jesuit motto of being Men for Others and I want to be able to give back to this community as best as I can.
Graham Bowers
Any student council across the country allows its students access to responsibility and productivity. However, Jesuit is different in more ways than one. Our traditions, faith, and personality make us more open to growth, more open to serving others. That is exactly what I believe student council to be, an opportunity for students to provide input and decisions in service of his school and community. As a football as well as lacrosse player I understand how important communication and teamwork are in order for success. Student council should function as a single unit devoted to helping its fellow students and provide an inspirational work environment. Before Jesuit I went to Christ the King Catholic School and served as president of student council my eighth grade year as voted by my peers. I also was an altar server and a lector at masses. I led meetings to do community service, organized dances, and listen to fellow student's opinions. Student council provided a great way to practice public speeches and talk in front of a class without many notes. I learned what it meant to be a leader for you community and classmates. At Jesuit, I wish to continue to develop as a leader inside andoutside the classroom. Student council are the role-model students on campus that other students look to for advice and examples. Although freshman student council usually don't contribute to student council as much as older classes, I want to organize freshman service projects, mixers, and anything else I can do to integrate freshmen more into Jesuit society. I desire to devote my time and energy at student council to helping other students, being a excellent example for others, and finding new inventive ideas to aid our school.
Patricio Boy
To breathe is not to do just that, but your diaphragm contracts allowing for your lungs to expand and take in air. Then your bloodstream transports all this new oxygen to your entire body. To be a gear in a clock is not to be a single circle with teeth moving round, but to be one of many working in unison, working ever so perfectly to achieve a common goal. To be part of student council is quite the parallel.
The purpose of a council is to speak for the needs of the people not as a higher person, but as an equal. My goal as a holder of Freshman Office is to implement more collaboration in between faculty and student to create a better learning environment. Secondly, increasing the grace period for eligibility checks could help students bring their grades up therefore decreasing the number of students that must sit out of their extra-curricular activities.
In my past schools I have participated in student government and received a number of awards for this participation and for my academic and athletic success. I got this recognition because of my commitment to the objective. If elected, I would dedicate all the time possible to meeting the expectations you, the voters, would place for me if I were to be elected.
All these reasons and qualifications I have placed before you more than explain how prepared and able I would be to serve this school with all my power as how my commitment to the task will not be shaken.
Kyle Cribbins
The main function of the Jesuit student council is improving the life of the student community. This is accomplished by instituting the ideology of the Profile of the Graduate, that is, aiding the students in becoming more open to growth, intellectually competent, physically fit, loving, religious, and committed to working for justice. By doing this, the student council strengthens the overall reputation, integrity, and academics of Jesuit College Preparatory. The Jesuit student council is key to the success and prosperity of the school because it provides a student-led approach to the planning of school affairs and a better level of communication between the administration and the students. Thus, with the importance of the student council in mind, I am running for Freshman Class President. I currently have a few possible ideas for contributing to the school with the intent of carrying them out based on their feasibility once I am elected. My first major idea is making Jesuit green. Currently, few materials at Jesuit are recycled, which poses a major problem based on the state of our climate. Therefore, I propose introducing a recycling program, which would contribute a great deal to lessening the effects of warming temperatures and embody Jesuit's principle of serving the world. My second idea is introducing more service to Jesuit by creating new connections with service providers (i.e. food banks) as well as strengthening current programs through increased planning or funding. My past experiences and leadership would help me carry out these ideas as well as others suggested to me by the student body. I have received a Presidential Service Award, which shows my continued dedication to serving others; I have served as Homeroom Representative and Secretary of National Junior Honors Society, positions which taught me how to plan service events and communicate with school administration; and, finally, I have taken courses at Johns Hopkins University, which taught me about government and education. These qualifications have prepared me to take on a role in Jesuit's student council and serve the school to the best of my ability.
Shane Hatzmann
Jesuit Dallas is more to me than a school and more than a stage before college. Jesuit is a family formed in this place I am learning to call home. We are all called to exist as brothers. Father Pedro Arrupe, S.J. coined the slogan, "Men for Others" in 1973. Since then, this has become the motto and principal meaning of Jesuit education. Our call as Jesuit students is to grow together as brothers and work for the better of our classmates, ultimately affecting the world outside of our school for generations to come. When considering a position on Student Council, I asked myself: If Student Council is to be a group of leaders for the whole school, shouldn't I exemplify this motto in my everyday life? Shouldn't I be a direct reflection of our Jesuit Profile and our Jesuit values? Shouldn't I be challenged to encourage an awareness of this motto in each student's daily life? Yes is the clear answer and a challenge I am willing to accept.
The role of a student council member is not to set himself in a higher rank, but to intertwine himself with fellow brothers and work together for a common good. No idea is greater than another; different ideas may simply have different impacts. If we combine those ideas, we can have the most positive outcome possible. Student Council members must be willing to collaborate so that we are always growing as a community. After all, the role of a Student Council member is to be the voice for his fellow classmates and to make his school a better place for those surrounding him.
I am eager to begin my role as leader and servant in this Jesuit Dallas community. I believe I have the confidence, organization, determination and principles necessary to serve with character and virtue. I look forward to building up this community and nurturing this new place I call home.
Sam Levis
  There are currently about 300 freshmen at Jesuit College Prep, 300 brains, each with 100 billion neurons. Neurons that are specially designed to generate and develop ideas. I could spend all the time in the world talking about my personal ideas for the school, but it is just as important to get the input of the hundreds of other students. Student Council's job is to unify the many ideas thought up by students, and refine them into programs that students, guests, and staff can benefit from. Because of this mandate, student council is more than an extracurricular activity, it is an honor and a responsibility that must not be taken lightly. 
            Now, as teenagers, we all understand that we are nearing our final stages of childhood. Whether we like it or not, we are growing up. As important as high school is academically, it is just as important socially. High school can be one of, if not the most memorable periods in a person's life. It is a time where we build friendships, establish our own morals, and grow intellectually based on the people we meet, the people who teach us, and the people we serve. Student council plays an important role in building the foundation for these memories.
           My ultimate goal if I were to be on the freshmen student council would be to establish more programs and events that appeal to the general interests of students in our generation. As an example, I would propose the idea of adding a more technologically up to date news program. This program would be shown in homeroom and it would show things like events, sports scores, and general news from Jesuit. As a freshman representative, I would be the voice for the class of 2021, ensuring that our opinions are equally considered by the other council members.
           At my middle school, I participated in a number of athletic and extracurricular activities. While doing this I was able to maintain strong academics while playing leadership roles in many clubs, including as an officer in the National Junior Honor Society. If I were to be elected as a freshmen representative, I would be unafraid to voice my ideas and opinions, as well as those of my fellow student class.
Sergio Lopez
Student council is more than just a group of students, it is a team of brothers who see the potential in our school/community, and strive to achieve it. Student council is a connector, a bridge, between the students, faculty, school, and community. This team brings all four groups together and improves them. Student council does this by acknowledging and listening to problems and necessities at school, and work to fix it. They organize, decorate, clean, etc. and ultimately help with many things at Jesuit and outside of Jesuit. They help with charities/events and ensure that everything is good, and runs smoothly. Student council is an amazing workforce that works for everyone's benefit, from our well-funded school, to the needy of our community. One idea that I think would greatly help Jesuit and our community would be the creation of a homeroom community project. With this idea, each homeroom (students, and teacher) would be assigned one project per semester. Project ideas could be: helping at a food bank during the weekend, or cleaning up all around campus. Not only would these group-oriented projects help the community/Jesuit, but they will form a better relationship between teachers/faculty, and students, while also instilling and strengthening the brotherhood. Moving onto my qualifications, I have been homeroom representative all three years of middle school. I have attended many student council meetings so I know how the show goes, how the meetings are supposed to be run, and how to make sure that they are run efficiently.
Luis Osorio
Unlike most schools, Jesuit is a whole class apart; it's based on brotherhood, ethical morals, and the ideal of being men for others. Student council plays a significant role in Jesuit's development and growth by acting as a bridge between faculty and the student body, in order to satisfy everyone's needs. Additionally, the student council improves and bolsters the everyday life of the students and our community. Since I fully understand the importance and gravity of student council, I'm deciding to run for an office position. I believe I have several ideas that will help improve student life. Such as promoting the Jesuit spirt through the use of more activities like Ranger day, or more dress-down days like "wear your favorite team jersey" day. Before I dive into the my technical qualifications, my friends and family describe me as an enthusiastic, down-to-earth, funny guy, but extremely hard working and determined when it matters most. I believe these qualities demonstrate that I'm open to new ideas and suggestions, and that I'd be glad to personally answer any questions that may come up. My previous experiences and leaderships will help me serve and carry out any ideas presented to me, no matter the difficulty. I have been academically successful my whole life, in eighth grade I finished second overall in academic placing over my whole school, and I was selected to participate in the Duke Tip program. In addition, I received a religious award in seventh grade demonstrating that I am a man for others, and finally playing soccer for ten years has taught the importance of leadership and teamwork. At Jesuit I'm also involved in extracurriculars which includes car club and MUN. In these clubs I've had the chance meet upperclassmen, and I've had the oppurtunity to get to understand their particular views on Jesuit. Since I'm aware student council is a group effort and a student approach to the situations at hand, I will dedicate my time and energy to improve Jesuit in which ever way I can. I'm convinced that I will be a great officer and so should you, that's why I ask you to consider me for a position on your student council.
Camden Roy
I, Camden Phillip Roy, am a proven leader shown in various ways. I have lead a clash royal army all the way into legendary arena which was not an easy task. It took countless hours of strategy, thought and hard work to reach the tremendous achievement of 3,800 trophies, and all of which are qualities I will bring to student council. I do not do things as a typical student council would. I am involved in some pretty unconventional hobbies which include being able to play Mask Off by Future on the recorder and I am an avid Jake Pauler. These show I do not follow the crowd and that I will bring a fresh, new approach into student council. Some of my ideas for the freshman class would be to add a dessert line into the cafeteria and most importantly, be able to buy the snacks in the vending machine with your student ID. Being apart of freshman student council is a serious job and one that I do not take lightly. A student council member goes above and beyond as a representative for the class and that is something I am willing and capable of doing. As a student council representative I will lead the class to bigger and better things and will put my duties ahead of my personal life. A vote for Camden is not just a vote, but it is a voice being heard and an advocate for change.
Joe Zagielski
I understand that student council is very important and needs to be taken extremely serious. I realize that the student council organize mixers and represent the freshmen class. The position of student council is one I feel I could fill because I have had many leadership opportunities in the past through Boy Scouts, which I have been in for 6 years, and many other occasions of leadership through middle school and sports. Finally I feel like I could truly represent the freshmen class because I know the football, baseball, and debate teams, and I also know several guys just from my classes. Student Council would mean a great deal to me for several reasons. It would be honor for me to give my class of 2021 one a voice that they deserve. I believe it would give me a bigger perspective on how big the Jesuit Community is as a whole. I am also aware that they meet every Wednesday before school when I am free, I always get to school early anyways. I believe that the responsibilities of leadership for my fellow students, the responsibilities of representing my fellow students and the responsibilities of listening to my fellow students, that this job would require would help me grow more as a person. It would allow me challenge myself in a way I have never done before. It would me to become more intellectually competent, it would allow me to become more open to growth. It would allow me to accelerate faster in my journey to become a Jesuit graduate.