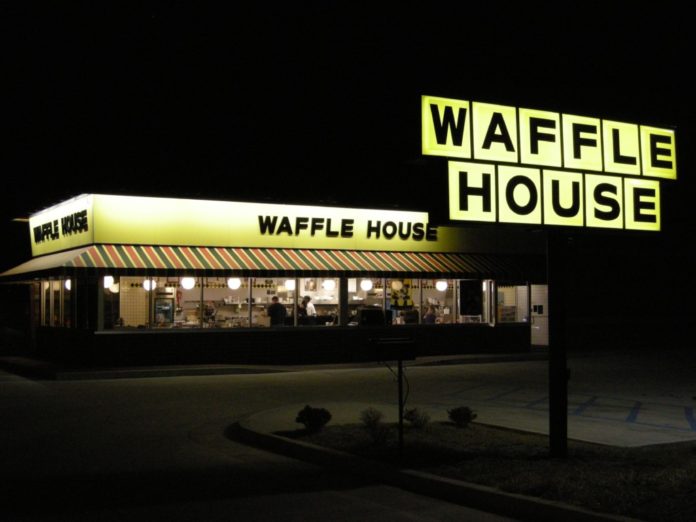 The vibrant Open sign quite literally never turns off, a beacon of consistency and reliability in a tumultuous world. As you park and approach the mundane brown building, the delicious smell of waffles hits you. You've arrived at Waffle House.
Waffle House is one of the greatest, if not the greatest dining establishment for a multitude of reasons, but there are three main reasons that make it stand out. The first would be its reliability, Waffle House is open around the clock, almost every day of the year. Whether your craving an early breakfast, a super quick lunch, or even a late, very late dinner, or midnight snack Waffle House is always ready to serve you.
Victor Zemanek '19 said, "It's one of my favorite places to go with my friends, whether it be for breakfast or a late dinner, it's always open."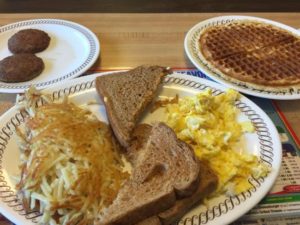 The second reason for its greatness would be its homestyle feel, compounded with its reliability. Armed with the classic diner menu of breakfast food and with burgers, steaks, and assorted dinner options make it a great place to stop for whatever cravings you have. An establishment known for its hash browns made a number of ways but none as good as the classic, and waffles, no need of explanation here, Waffle House is not for the health nuts or those looking to cut calories, but those looking to enjoy a well-cooked meal in an amazing atmosphere. The service at Waffle House never ceases to impress, as the waiters seem to put that personal, old-school touch that makes you feel special and right at home. They don't pretend to be anything their not, but rather regular people who if you take the time to talk to might tell you some rather cool life stories.
Sam Koijmeans '19 says, "My favorite thing on the menu is the all-star because it's so much food for a good price. Plus, they have Mr. Pibb which you just can't get anywhere."
The final reason as to why so many old Waffle House so dear is simply its value. For an example, the All-Star Special, pride and joy of the Waffle House menu, and a soda is around 8 dollars. Now, the All-Star comes with a waffle, three pieces of bacon or sausage, 2 eggs cooked anyway, four pieces of toast, and choice of hash browns or grits. That's a great amount of food for what you spend there. Also, you're not paying for 8 oz filet mignon that takes upwards of half an hour to prepare, but rather a quick, simple, quite greasy meal that fills you up inside. As well as the added bonus that the food takes very little time to prepare and they waste no time in bringing it out so it's piping hot. For high school and college students on a budget, Waffle House is a great way to go have a fun, well cooked, homestyle meal that won't break the bank.