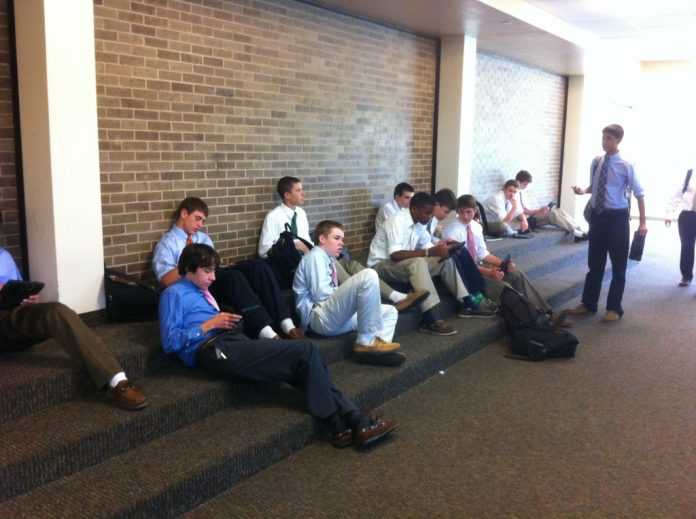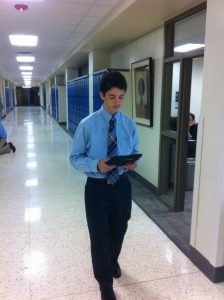 Walking through the hallways of Jesuit, one looks through the window of a classroom and sees a group of young men sitting at their desks. Clad in their sharp-looking ties and shirts, these young men listen to the teacher and diligently take notes on his or her every word. This image of the classroom setting has been a cornerstone at Jesuit College Prep since its opening in 1941. However, this school year this classroom scene has changed dramatically. Gone are the pens, paper, and heavy textbooks: in are the keyboards, styluses, and iPads. This new technology has been in use in the school for a little over three weeks.
Luke Gibbons '14 shared his opinion, "I thought there might be some problems at the beginning, but I think the prep work put in by the teachers has made [the transition] smooth." One feature that many students have enjoyed is the instant access to Moodle. In the words of Jordan Rayfield '13, "the best part of the iPad is being able to look at what is assigned constantly on Moodle, so you don't end up forgetting assignments."
Another feature that many students like is the eTextbooks. Instead of lugging around multiple large books in their backpacks students have access to the same information on their sleek iPads. "So far, my backpack has been light since I don't have any hard copies of my books. It's awesome!" marveled Dylan Suhy '14. This ensures that students never forget their textbooks because they are located right on their iPads. Peter Mills '14 agreed with Suhy, "Last year I would get in trouble because I forgot my book, but this year I don't have this problem since my book is on my iPad."
On a more extracurricular level, students are enjoying playing games on their iPads or checking Facebook or Twitter during their breaks. While these assets are distracting, they allow kids to have a leisurely outlet during the school day. "I love playing the game, Clans, with my friends," exclaims Mike Shropshire '15, "but I know when I go to class it's time for studying, not playing games."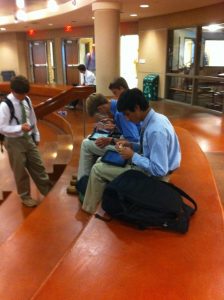 The change has drawn rave reviews from not only students but teachers as well. Matt DuRoss, a sophomore Theology teacher, says that "the iPads have provided some unique challenges," but he thinks that "the students have been very patient, and very willing to help those having difficulties with them." Coming into the school year, one of his biggest concerns was students forgetting to charge their iPads before school every day. However, he Mr. DuRoss has said that "this has not been a problem." DuRoss also added that at first he had trouble with kids uploading assignments to Moodle from Dropbox, "but it is resolved now."  Much of the early success can be attributed to Mrs. Williams, who was in charge of learning how the iPads worked and was committed to making sure all possible problems would be addressed.
While the iPads have changed how students work, they have also changed how classes work. For example, instead of wasting class time with a lecture, many teachers have started to record videos of themselves lecturing which allows the students to watch these videos at home. Stephen Pitts S.J., who teaches Geometry and Algebra 2, has created a virtual dictionary for his students where they all can collaborate on definitions from their iPads. Additionally, the iPads have allowed Jesuit to "go green" because most assignments are now submitted electronically as students can send their homework to the teacher through Dropbox or Moodle. Tests and quizzes have also been put online, and teachers have students take these exams on their iPads.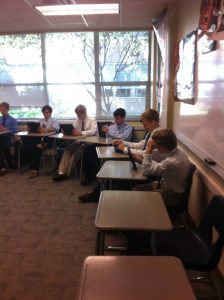 Although the new iPads have garnered much of the attention throughout this new school year, Jesuit has not changed its focus. Mr. Pitts S.J affirmed that "the most important mission of the school is to care for the personality of the student, everything else takes second fiddle." Assistant Principal of Student Affairs, Mark Knize, put it best at iPad Distribution night: "There is not a giant statue of an iPad in front of the school; there is a blue cross, and that will never change." While the iPads are a great addition to the school, they do not define the school; what defines the school is the motto "Men for Others." The focus will always be on the betterment of the individual, not the betterment of technology. As Mr. Pitts artistically added, "technology is easy, relationships are hard."