All-Star games aren't known for being very interesting to watch in nearly any sport. While the best in the world are out on the court, field, rink, or arena, they generally aren't trying their best. And you really can't blame them for that. If I was at the top of my game and making millions of dollars a year, I might be inclined to not put myself at risk in a game that doesn't help accomplish the ultimate sport's goal of winning a championship. All-Star games haven't always been like this, but with increasing conscientiousness on durability and player health with newer practices like load management, the competitive nature of All-Star games in all sports has decreased. However, on February 16th, at the United Center in Chicago, Illinois, for the 69th NBA All-Star game, the players actually tried…for a quarter.
New Format
For the past three years now, the NBA has been doing an All-Star game draft, allowing the most popular All-Star from the East and West to serve as captains to draft their team. This allowed players to play with stars from the other division and made things a bit more interesting. However, this didn't really make the game any more of a contest, with the real consequence being alley-oop highlights combining Eastern and Western players. This year, with some input from the NBA Player's Association president, CP3 (Chris Paul), the game underwent some rather exciting changes. Now, each quarter of 12 minutes is treated as a game within itself, with a winner of each quarter, who would then win a donation to a charity of their captain's choice.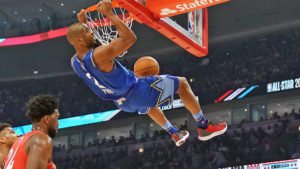 This goes on for the first three quarters, and then the scores are added up to produce a cumulative score. This year, 24 points were added, as a tribute to Kobe Bryant, to Team Giannis' cumulative score to set a target of 157 points. With no clock, whichever team reached that figure first would win the game. Team Lebron was down 9 points going into the fourth, making it so that they would need to score 33 points in order to win. To make things more interesting, the 3rd quarter ended in a tie so the charity money from that quarter rolled over to the fourth to create a $200,000 pot for the winner of the game to donate.
The Fourth Quarter
In the waning seconds of the third quarter, both coaches called timeouts to try and break the tie by drawing up plays. While their efforts were fruitless as the teams did tie, this slight change in competitive drive truly foreshadowed what was coming in the fourth.
With the target score set, the fourth quarter began. Very quickly it became evident that the player's effort had significantly increased, with full-court tight defense, a sudden lack of flashy plays, and more effort on the offensive and defensive sides. Players started complaining about foul calls, trying to take charges (Kyle Lowry), and taking smart shots. With tight defense, scoring became very difficult for the All-Stars as Team Lebron attempted to mount a comeback.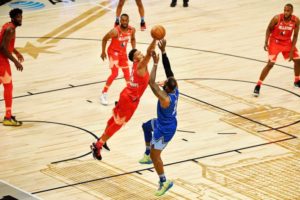 The game definitely didn't feature great offensive or defensive sets, with communication clearly not happening on a few plays, but the streetball vibe of the fourth quarter was a lot of fun to watch and made for a very interesting final stretch. After a few missed shots from Team Lebron, including a Lebron jumper from half-court, the game came down to a 'Next Basket Wins' situation. Unfortunately for the fans, the game ended on free throws as Anthony Davis put the game away for Team Lebron as they won 157-155.
Conclusion
The All-Star weekend isn't perfect and the dunk contest showed that better than anything else this year. On the other hand, the game itself showed tremendous improvement this year, and if the NBA and other leagues start to implement more changes like these, All-Star games might soon become must-watch TV.
Check back to The Roundup soon for more NBA and other news!