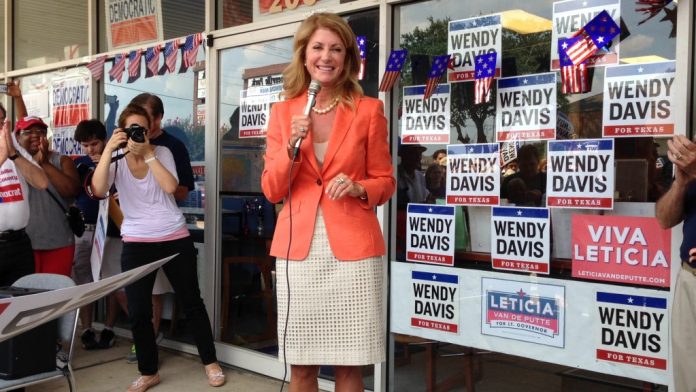 The gubernatorial race between Attorney General Greg Abbott and State Senator Wendy Davis will come to an end in less than a week. Regardless of who wins, one thing is for certain: this will not be the state of Governor Rick Perry anymore.
Both candidates want to take strikingly different paths with the future of Texas, and it is for this reason that Texas desperately needs the leadership of Wendy Davis.
Wendy Davis, the Democratic candidate for Texas governor, is running to make Texas a land of opportunity for all—not just for the richest Texans. She has correctly identified education, healthcare, and poverty as major issues facing our state, and her policies would actually address these important issues.
Wendy Davis' promise to restore over five billion dollars in education cuts is a genuine one; in 2011, she stood before the Senate to filibuster. Despite a valiant effort, Governor Rick Perry called another special session to pass the unnecessary cuts. Attorney General Greg Abbott has continued to defend the education budget, even after it was ruled unconstitutional earlier this fall.
Similarly, in 2013, Davis proved she'd stand for the rights of Texans through the issue that catapulted her to national fame: her filibuster against Senate Bill 5, an extremely restrictive anti-abortion bill that required clinics to be held to the same standards as surgical facilities and outlaws abortions after 20 weeks. Senate Bill 5 had nothing to do with health and safety—the restrictions were deemed medically unnecessary by multiple medical groups as abortion is already one of the safest medical procedures. The 20 week ban did not even include an extension for victims of rape and incest. Worst of all, the bill would lead to (and has caused) the closure of the majority of abortion clinics across the state; this would force women unable to pay for travel costs to a faraway abortion clinic to either resort to late-term abortions or dangerous back-alley abortions.
Both of Wendy Davis' filibusters proved she'd stand up for the rights of Texans, displays of courage that would be well-suited for the Governor's Mansion. Furthermore, her choice to use the filibuster to stop harmful laws from being passed prove that she would exercise her veto to protect Texans from similarly detrimental laws—including attempts at repealing in-state tuition for undocumented immigrants, a law supported by Rick Perry. Her choice in putting matters of education and reproductive justice—two issues integrally connected to our economy—at the forefront of her campaign speaks volumes about her emphasis on building the Texas economy in a holistic fashion.
Wendy Davis has proven her economic abilities in her time in the Fort Worth City Council, in which she has helped develop many parts of the city. Currently, Davis' economic policies include a raise in the minimum wage to combat rising poverty levels, which would provide a living wage to the many workers in our state unable to survive off a minimum wage that has failed to keep up with the rising costs of today. To continue the state's economic success, she will keep Rick Perry's business subsidy funds but add stronger oversight to prevent the auditing disasters the Texas Enterprise Fund has faced in recent months.
She has stated she will not raise taxes; instead, she will close tax loopholes and use our surplus budget to fund a universal pre-kindergarten program so Texas will have an educated workforce capable of working high-paying jobs. She will also expand Medicaid, a federal program proven to reduce the sheer amount uninsured Texans in the state while also creating more jobs. Reducing the amount of uninsured citizens is not only a moral imperative but an economic one, as taxpayers are forced to foot the bill when uninsured patients cannot afford costly treatment. (Currently, Texas has the most amount of uninsured citizens in the entire country, mostly because of Governor Rick Perry's refusal to expand Medicaid in the state due to political reasons.)
A Wendy Davis governorship will allow Texas to continue leading in the energy sector by supporting our oil and gas industries while also incentivizing companies to look toward cleaner energy, such as natural gas and wind, so that Texas can lead in both areas. Her record has also shown a commitment to not allowing oil and gas to trade-off with homeowners' right to a clean environment. Unlike her opponent who doesn't believe in the reality of climate change, Davis actually recognizes that humans contribute to climate change, which will allow her to strike a balance between growing our energy sector and protecting our environment.
The question for this election is not a simple one, and it's not about a singular issue—whether that's abortion, education, taxes, or healthcare. The question that must be asked is, "Which candidate will best represent the interests of a growing Texas and will shape the state so it can lead in the future?"
The answer is, unequivocally, Wendy Davis.