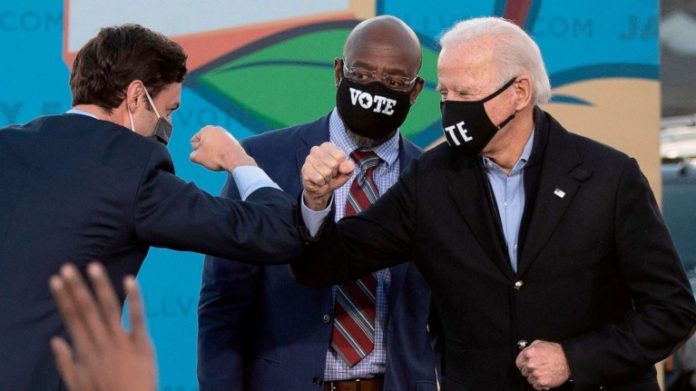 A regular Senate election and a special Senate election took place in Georgia on November 3rd. Democrat Jon Ossoff challenged incumbent Republican David Perdue's reelection. Republican Senator Kelly Loeffler campaigned against Democrat Raphael Warnock.
No candidate in either election on November 3rd won an absolute majority (at least 50% of the vote). By Georgia law, two runoff elections took place on January 5th between the two top-performing candidates of both elections.
In a surprise upset, both Democrats emerged victorious in a traditionally Republican state. The elections involved millions of dollars of campaign funding, with Democrats outperforming Republicans. Georgian activist Stacey Abrams significantly helped increase Democratic turnout for Democrats. Additionally, the Republican rhetoric of a rigged election likely backfired, resulting in less Republican turnout.
The victories of Ossoff and Warnock flipped control of the US Senate for the Democrats. With control of the House and the Presidency as well, the Democrats will have a unified government at least until 2022, giving them the power to enact their agenda and policy goals.
The Candidates
David Perdue
David Perdue first became senator of Georgia in 2014. Perdue had previously been a well-to-do business executive at various companies, including Reebok and Dollar General. His opponents criticized him for questionable stock trading practices during his time in office. In summary, he was accused of insider trading, which is the use of nonpublic information to make stock trading decisions. He was also accused of using his influence on Senate policy to help benefit his stocks. While the Department of Justice found no evidence of insider trading, Perdue's public approval dipped, especially for his trading during the COVID-19 pandemic. A shady stock trader is not very appealing to voters who may have suffered economically during a pandemic.
Despite his stock controversies, Perdue has been a popular Republican in Georgia. His political positions place him as a fairly solid conservative. He has been a strong supporter of Trump, who carried the state by 5 points in 2016. However, he has not been as outspoken or controversial as Trump on the national and state level. Being a popular Republican incumbent in a traditionally red state, many expected him to win reelection.
Jon Ossoff
Jon Ossoff was heavily involved in politics and foreign affairs, interning and working with House Representatives, such as John Lewis. A former journalist, Ossoff ran for the special election in Georgia's deeply red 6th Congressional District in 2017. While he lost his election, it was only a narrow loss. His campaign raised huge amounts of money and managed to drastically increase Democratic turnout. His impact in this election paved the way for a fellow Democrat to win the following year. He also became a well-known Georgia Democrat.
In 2020, Ossoff ran on a moderately Democratic platform, with an appeal to progressive and conservative Democrats. At 33 years old, Ossoff had a strong appeal to younger voters through his platform and messaging. He has been very critical of the Trump administration and gained wide support among Georgian Democrats. However, he was expected to lose against the popular incumbent Republican, David Perdue.
Kelly Loeffler
Kelly Loeffler received similar criticism as Perdue for her shady stock trading practices. However, this criticism was more pronounced and came from Democrats and Republicans. Once again, the Department of Justice found no evidence of illicit activities, however, Loeffler's stock practices during the pandemic hurt her approval. Before her time in politics, Loeffler was a wealthy businesswoman. In 2019, Georgia Senator Johnny Isakson resigned amid health concerns. Governor Brian Kemp appointed Loeffler to hold his seat until the next election in 2020. Most Georgia conservatives supported Doug Collins, and her appointment angered Collins' supporters.
Loeffler has been an unabashedly conservative senator. Calling herself the most conservative member of the Senate, Loeffler ran her campaign as a hardcore conservative and Trump loyalist. As an unelected and incredibly conservative candidate, Loeffler had a much weaker chance at reelection than Perdue.
Raphael Warnock
Raphael Warnock has worked as a pastor and political activist for much of his adult life. In the late 2000s, Warnock became the senior pastor at Ebenezer Baptist Church in Atlanta, the same church of Martin Luther King Jr. As a pastor, Warnock led protests to expand healthcare. His activism as well as his religious work made Warnock a well-known Democrat in Georgia.
Warnock is a fairly progressive and left-leaning candidate. His role in political activism has made him a major advocate for significantly expanded healthcare. He has also solidified his support of other progressive ideals. Despite Georgia being a traditionally red state, Warnock was widely expected to defeat Loeffler.
The Elections
November 3rd
In the regular Georgia election, Perdue and Ossoff became their parties' primary candidates. As results came in, Perdue took the lead but did not manage to win an outright majority. By Georgia law, a candidate must win at least 50% of the vote. In an election of almost 5 million votes, Perdue came just about 13,000 votes short of victory. At 47.95% of the vote, Ossoff gained about 2% less than Perdue's 49.73%. Those who did not vote for Perdue or Ossoff voted for the Libertarian candidate, whose political positions are close to those of the Republican party. Since no candidate won at least 50%, a runoff election was set for January 5th between the top two candidates. The results still bode well for Perdue's chances in January. Ossoff would have to make up 2% of the vote and try to win over more Republican and Libertarian voters.
The other election that took place was the special election. Since it was a special election, no primary took place, and so a handful of candidates from both major parties ran. At first, Democrat Matt Lieberman was the frontrunner, but the party soon coalesced around Warnock. This allowed him to win 32.9% of the vote with a mostly united party behind him. The two Republican frontrunners were Loeffler and the aforementioned Doug Collins. The two campaigned bitterly against each other, leaving their party fractured between the two of them. Loeffler defeated Collins with 25.91% of the vote compared to Collins' 19.95% A runoff election was scheduled between Warnock and Loeffler, the top two candidates, on January 5th. Warnock had the initial advantage due to Loeffler's unpopularity amongst Democrats and Republicans.
January 5th
Following the November 3rd elections, many expected the Republicans to keep control of the Senate. Democrats would need to win both Senate seats to have 50 seats in the Senate. This would effectively give them control since Vice President Harris would be a tie-breaker if necessary. However, with a Perdue victory seeming very likely, Republicans would keep the Senate.
Warnock's victory seemed slightly more likely than Loeffler's, and as election results came in on January 5th, that seemed more and more certain. Warnock took an early lead but was then overtaken by Loeffler. Despite this, she was not doing well enough to surpass the uncounted but expected votes in the deep blue counties in Atlanta. Warnock took back the lead and the final results were 51.04% to 48.96%. Warnock's victory made him the first black Georgian in the Senate.
While Perdue was slightly more expected to win than Ossoff, Ossoff greatly outperformed expectations on January 5th. Like Loeffler, Perdue took an early lead but was not performing well enough. Ossoff narrowly won the election with 50.61% of the vote to Perdue's 49.39%. Ossoff's victory made him the first Jewish Georgian to represent his state in the Senate. The Democrats' victory in Georgia is the first time since the early 90s that 2 Democrats were elected to be Georgia's senators.
Why Did the Democrats Win?
Loeffler's Shortcomings
Overall, Loeffler was a very weak candidate. As previously stated, Loeffler is very right-leaning and immensely supportive of President Trump. While Georgia is traditionally red, Loeffler's views are too extreme for a state where Republicans and Democrats had recently voted for Biden. Those from both political parties scrutinized her heavily for allegations of illegal stock trading practices. Her appointment to office by Governor Brian Kemp made her very unpopular to both parties as well.
Despite Collins' endorsement of her, the damage Loeffler did to her own party undermined her performance. Supporters of Collins were unwilling to vote for the more extreme and divisive Loeffler. This left the Georgia GOP unable to unify effectively around Loeffler.
Loeffler's debate against Warnock was a very damaging low point in her campaign. While she made her deep conservatism a key point of her campaign, she attacked Warnock's progressivism. She called him a "radical liberal" 13 times, and desperately tried to appeal to everyday voters by recalling her farm upbringing, her time as a waitress, and the American dream multiple times. Overall she was criticized as very robotic and uncharismatic.
Perdue's Shortcomings
While Perdue also faced criticism for his stock trading, he was not nearly as controversial or as weak as a candidate as Loeffler. His performance in debates was very low, however. In an early debate against Ossoff, Perdue came under a surprisingly heavy attack from Ossoff. In later debates, Perdue refused to participate, leaving Ossoff to debate an empty lectern at least twice.
Election Fraud Claims
In the months after the November 3rd election, Trump and his allies, including Loeffler and Perdue, alleged that the Democrats had rigged the election. These baseless claims included ballot harvesting and selling, duplicated or recounted votes, rigged voting machines, dead voters, violated election laws, etc. These claims were untrue and had a large role in influencing the attack on the Capitol.
More importantly, however, the claims of election fraud likely backfired on Republicans. Why should a Georgia Republican bother to vote if they believe Democrats are going to rig the election to win? Naturally, turnout in a runoff election decreases from a general election. But because of the claims of election fraud, Republican turnout across Georgia decreased more than Democrat turnout. Republican calls to boycott a supposedly rigged election were not too uncommon in the state.
$2000 Stimulus Checks
While in the Senate and in their reelection campaigns, Perdue and Loeffler opposed passing higher stimulus checks to support struggling families. In their campaigns, Ossoff and Warnock promised to pass $2000 stimulus checks if they were both elected to flip the Senate. Perdue and Loeffler, realizing their mistake, made the checks a part of their campaigns as well. However, Ossoff and Warnock were easily able to criticize them for not passing those checks when they had the chance.
Stacey Abrams
In 2017, then-Republican Secretary of State (SoS) Brian Kemp announced his plans to run for governor in 2018. As SoS, Kemp was able to oversee his own election. In an election that Kemp won by only about 55,000 votes, his office wrongly purged or delayed about 350,000 voter rolls, disproportionately affecting black voters.
Seeing the leftward shift in Georgia, Abrams devoted the next two years to flip the state. In a state with a history of voter suppression, Abrams led a broad effort to devote Democrat resources to increasing turnout, especially among minorities. Her role in the 2020 elections was likely responsible for Biden's victory and for a flipped Senate.
Trump's Phone Call
Lastly, on January 2nd, 2021, President Trump had a heated call with Georgia Secretary of State Brad Raffensperger.  Most worrying, Trump asked his fellow Republicans to "recalculate" the election results or find at least 11,780 votes in his favor. Trump repeated baseless lies of election fraud, some of which were explicitly debunked by Raffensperger's general counsel in the call. Trump ignored his remarks. Later in the call, Trump vaguely threatened Raffensperger, calling his actions a "criminal offense." The 1-hour call led to wide criticism. Trump's repeated election lies and his threatening behavior towards a supposed ally and towards the Georgia elections was incredibly damaging for Perdue's and Loeffler's campaigns, especially since they were strong allies of his.
A Democratic Senate
With Warnock's and Ossoff's victories, the Senate has flipped for the Democrats. Although they hold 50 seats to Republicans' 50 seats, Vice President Harris can break a tied vote for the Democrats, effectively giving them the majority. With the Presidency and the House in their control, the Democrats will have at least until 2022 to enact their policies and agenda.
Ending The Filibuster
While a vote in the Senate can pass with a simple majority, the use of the filibuster has greatly complicated this. Very briefly, the filibuster is any method used to delay or prevent a vote on a bill from happening. At least 60 votes are needed to end a filibuster, meaning that a bill essentially needs 60 votes to pass. In this time of increased partisanship, this is very rare.
Democrats are hoping to vote to get rid of the filibuster, which will allow them to implement their agenda much more easily. With the filibuster in place, Democrats will only really be able to enact their agenda through executive orders written by President Biden. Many of their legislative plans for COVID, fighting global warming, immigration reform, gun reform, healthcare reform, raising the minimum wage, canceling student debt, tax reform, and other policies will likely not pass as planned due to Republican opposition. More importantly, it will allow any party in control of the Senate to work significantly more efficiently since bills very commonly fail in the Senate.
COVID-19 Aid
Warnock and Ossoff campaigned on $2000 stimulus checks to individual Americans if they were elected. Biden hopes to work with Democrat and Republican senators on helping small businesses and schools, supporting vaccine development and distribution, providing rental aid, and much more. Biden hopes to focus especially on disproportionately affected minorities. However, the point of contention between Democrats and Republicans will continue to be the price tag of any COVID relief bill.
Biden's Appointments
As President, Biden has the power to nominate appointees for various Cabinet and other executive positions. With his party in control of the Senate, most of his appointees should be confirmed without much trouble.
Puerto Rico and DC Statehood
Despite being American citizens, 3 million Puerto Ricans lack the right to vote for President and lack the right to representation in Congress. In 2020, the island voted for statehood in the clearest indication of their desires.
While DC's 700,000 citizens have the right to vote for president, they lack any representation in Congress. Many view this as racial suppression due to DC's primarily black population. Worse, while DC has the right to self-govern, their laws must be approved by Congress. Congress also has the ability to strike down DC's already existing laws. DC is a very liberal city, leading to Congress constantly undermining their self-governance.
Puerto Rico's population is higher than that of 20 states. DC's population is higher than 2 states and slightly less than 2 other states. Puerto Rico deserves the right to vote for President and DC must be granted the states' right of self-determination. Both territories deserve representation in Congress just like their fellow Americans as guaranteed by the Constitution and the principles of democracy.
Primarily Democrats have advocated strongly for Puerto Rico and DC statehood. While the filibuster will be a challenge, the Senate Democrats could work around it. By modifying Senate rules with a simple majority, they could remove the filibuster for confirmation votes for new states.
Puerto Ricans would receive 2 senators in Congress, just like any other state, and receive 5 House Representatives based on its population. DC would receive 2 senators and 1 Representative. DC's congressmen will be very Democratic. Puerto Rico's congressmen will be mostly centrist, but would likely be Democrats initially due to the party's support of its statehood. Over time, the state would likely become a purple state, with a good mix of Democrat and Republican lawmakers.
Final Thoughts
In a traditionally red state, many expected Perdue and Loeffler to have a good chance at winning reelection. While Loeffler was a weak candidate, Warnock was only expected to win by a very narrow margin. Perdue, a popular and incumbent Republican, had a significant advantage over his opponent Ossoff.
Trump's presence in the Republican party actively worked against the Republican campaigns. Loeffler's weak candidacy was especially detrimental to her electoral chances. The Republicans' continued lies on election fraud backfired immensely. Why should a Georgia conservative bother to vote if they falsely believe Democrats will rig the election? Most importantly for the Democrats, activist Stacy Abrams' priceless work in bringing out the Democratic vote was vital to their success.
With the Democratic victories in Georgia, President Biden now has control of both chambers of Congress at least until 2022. However, should Democrats fail to eliminate the filibuster, many of their legislative ambitions will be immensely hindered. One significant goal they may be able to accomplish is achieving statehood for Puerto Rico and DC. This would grant basic democratic rights to the American citizens of these territories and it could drastically change the landscape of the Senate for the Democrats in the future.