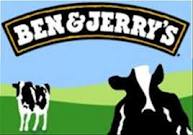 Documentary Review
Since 1987, the cable network A&E has run the popular "Biography" series, exploring the history of American companies and personalities. One such documentary chronicles the improbable rise of Ben and Jerry's ice cream business, from its humble beginnings to its eventual financial success. The director first takes us to the childhood of Ben Cohen and Jerry Greenfield, eventual founders and namesakes of Ben and Jerry's. Almost comically, their friendship began in 1973 in a Long Island grade school, where the two portly future entrepreneurs fell behind when running the mile in gym class. The rest as they say is history.
The director then shifts to the founding of Ben and Jerry's first ice cream parlor in Burlington, Vermont. The two set their sights on college students as their target market. Since the two had no prior experience in business or even ice cream, they explored college towns with one objective in mind: no competition. They finally decided on Burlington, where Ben and Jerry founded their ice cream parlor in 1977.
With no money to their name, the two upstarts made everything in their parlor from scratch, unable to afford anything else. The team opened with 5 flavors in May of 1978, almost immediately attracting lines of customers that stretched down the street. In the brutal Northeastern winters, the store would lose clientele. Breaking conventional wisdom, the two solved this dilemma by staging festivals and promotions. In creating these attractions, the two not only encouraged business in winter time, but also attached the community to their ice cream parlor.
Community was a reoccurring theme in the young business men's practices. Every year, on their founding anniversary, they give away free ice cream. Ben and Jerry's also supported their community, using local Vermont milk only in their ice cream. While the young entrepreneurs were building community, they were barely breaking even; therefore, to make more money they started to sell to mom and pop stores around the area.
The new client base brought about an unprecedented rise in production. In 1984, distribution was expanding, and the young company found itself in need of new capital. Generally at this stage in business venture capitalists invest the necessary funds for majority control of the company.
Cohen rejected this premise, wanting to align the company's moral values and social activism with his own. The company once again defied conventional thinking by holding a public stock offering, selling each share for $10.50. In the end, the business raised over $750,000 for the company's new plant.
The duo's success caught the eyes of competition. The vice president of Häagen-Dazs ice cream began informing distributors that "if they were to sell Ben and Jerrys, then Häagen-Dazs wouldn't sell them their ice cream." The two found out about these practices and knew it was illegal. Faced with the realization that they couldn't lawyer up against a multi- billion dollar conglomerate, Greenfield picketed Pillsbury Company, the father company of Häagen-Dazs.
Ben and Jerry employed media coverage to portray their company as the little guy in a David-Goliath matchup. The two also decided to print "whats the do-boy afraid of?" on each of their cartons. These tactics generated a nationally recognized label, and eventually Häagen-Dazs relented; the little guy had won.
The increased media coverage also brought an infusion of new business, and another public stock offering was necessary for expansion. Now worth over $50 million, Ben and Jerry's conveyed interest in social responsibility. The public stock offering came with 7.5% donated to charity.
Social responsibility became an integral part of their business plan. The two began employing products that held social benefits. One instance of their activism is their creation of a Brazil Nut flavor. The money used for buying Brazil nuts was then used to preserve the rainforest. Another instance was the implementation of brownies into an ice cream flavor. The brownies were made by a homeless shelter in New York and supported the homeless.
In 1988, the two protested President Ronald Reagan's military campaign, printing 1% on each carton in support of lowering the defense budget by 1% and reinvesting it in education. Ironically, in the same year Reagan honored them as small business men of the year.
Companies decided that Ben and Jerry held great financial potential and offered a buyout. Shares rose from $10.50 to $43.60 per share.  After two public stock offerings, Ben and Jerry conceded but stipulated in the buyout that $1.2 million per year go to charity. Cohen, still working with the company, continually lobbies congress for social change.
The director depicts Ben proposing taking 15% off the military budget and dispersing it into different programs – education and helping pregnant teens. The Ben and Jerry's legacy will always remain as integrating social concerns into day to day business and making it profitable.
Ben and Jerry's set an unusual precedence, their super premium and thus more expensive ice cream, supports community causes.