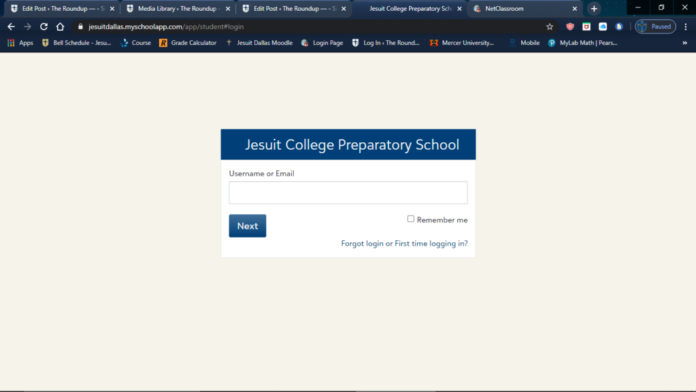 Jesuit is always making technological changes which optimize efficiency for the faculty and student body. For example, Jesuit upgraded its Moodle software, the platform for all classes and activities, to a more cloud-based software to prevent any crashing. Similarly, Jesuit is changing its RangerNet platform, used for keeping track of grades and assignments, to a more upgraded BlackBaud software. This will be the system for virtual summer-school and for school (hopefully physical) next year.
As I am writing this, incoming freshman and transfers, you may ask yourself, "There was another RangerNet before this?" Short answer: Yes, there was, and there are many differences between the two websites. Today will be a comparison of the two, and my thoughts on adjusting to this new system. So to the class of 2024 and transfers who will not experience Old RangerNet, here's a recap and comparison.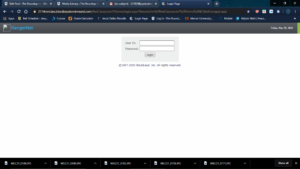 How does Old RangerNet compare to New RangerNet?
New RangerNet seems like a vast improvement from our old software, as more information is now accessible on this one platform. For example, there was no system in RangerNet to keep track of absences and check your schedule on a calendar system. Now, RangerNet includes both of those things, and I truly appreciate the absences part because absences can contribute to a pH (detention). Moreover, there was no messaging feature. For example, if you had a missing assignment for a class, you had to exit RangerNet and directly message them. Now, you can message them within the website, so it's much easier to notify teachers.
In terms of looks, New RangerNet looks very organized with a minor scrolling distance. The website looks very clean and everything seems to be perfectly positioned.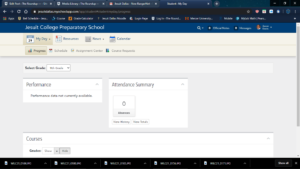 The attendance area stands out in the middle of the page, and can serve as a small reminder for students to keep attending classes. The non-important stuff, such as customizing your profile and making notes, is not in the way of other stuff. It looks well-furnished. The colors fit with the Jesuit theme. I like it.
Old RangerNet, however, did have some nice features. Your grades were the first thing you see, and changes in grades were easy to see. You could also see your daily schedule on the side of your browser, as in what time your classes were scheduled and what homeroom you were in. I hope they add those changes to RangerNet. I believe the main reason for this change was for logistics, strength, and efficiency rather than looks, because there are no real changes I have for Old RangerNet. While it didn't follow Jesuit colors, the green and gray color palette still work, and everything fits very well. Grades and schedules were clearly emphasized. It's just the features available on the old site that distinguish the two.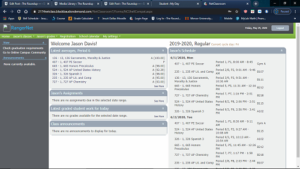 Why did we make the switch?
I was able to interview Dr. Kirby, Assistant Principal of Curriculum and Academic Support, to discuss why Jesuit made these changes. Here's what he had to say:
Why did we make the change? Is this one stronger or more stable? What reasons/complications were behind this change?
"It was time to move to the newest version. It is from the same company – Blackbaud – but this is the fully upgraded version. Two years ago, we moved away from our self-hosted environment (Education Edge/FAWEB/RangerNet) into the cloud. Most of that was in the background. Other than a few of us dealing with the data, few noticed that change. We have been looking at the upgrade to the newest version for some time. However, as you can imagine, it takes planning to make big changes for a community our size. In addition to making things easier for the students, parents, and teachers, the new platform also allows us to keep our health records digitally (HIPPA secured) so we can move away from paper. As you well know, this fits in-line with one of our goals to keep 'care for creation' as a constant focus. We will be significantly reducing our need for paper for student records. This platform should be much more stable and robust. It has a great web and device presence – you can access the information very easily by bookmarking the site and putting it on your home screen like an app."
What features does New RangerNet have that Old RangerNet doesn't? How does the new version compare to the old one?
"The new RangerNet is going to be something welcomed by many members of our community because it is so robust and accessible. It will include the following features, to name a few: schedules for classes, schedules for due dates/assignments, school calendar, athletic/event schedule, family directory, news and announcements, Club/Extracurricular pages, messaging, course requests and teacher recommendations, and more. It also better syncs with our admissions and alumni connections, better allowing for accurate records and a more seamless transition from applicant to student to alum. Students will also be able to see their assignments in one place, alongside their daily schedule and school-wide events."
What underlying software changes are being made in this new software?
"The transition has been a big one. If you think about the number of people in our community and the amount of data that we have for each student, it can seem overwhelming. That being said, a great team has been working hard to make sure things are set-up in a way that maintains superb accuracy. If you think about it, each student has all of their admissions information, biographical information, grades, schedules, etc. in a 'folder' on campus (digital or paper). We had to build the entire database and bring all of this information together in way that we can better serve the students and the parents."
What do other students think of New RangerNet?
"The New RangerNet looks aesthetically pleasing. The new features are easier to access, and it's a great upgrade from Old RangerNet." -Julian Garcia '21
"I like the organization of the new RangerNet much better. All the links and buttons are on the front page and easy to read. The new system combines parts of Moodle and Rangernet into one." -Harrison Karicher '21
"I think it looks cleaner than the other site. The color scheme is the same as New Moodle, which I like. It is more accessible than the old one with school links at the click of a button."- Josh Ryanboldt '21
Conclusion
While the administration is still working on making new features, I think that new RangerNet is a very solid change. It is more robust and sensible than ever, and thus will be great to use. It looks nice, and it's a nice one-stop hotspot for everything involving Jesuit academics. Whether it's grades or attendance or class messages or even the Roundup, it's all there for you under one hub. Overall, good choice Jesuit!
Check back to The Roundup for viewpoints on Jesuit culture!