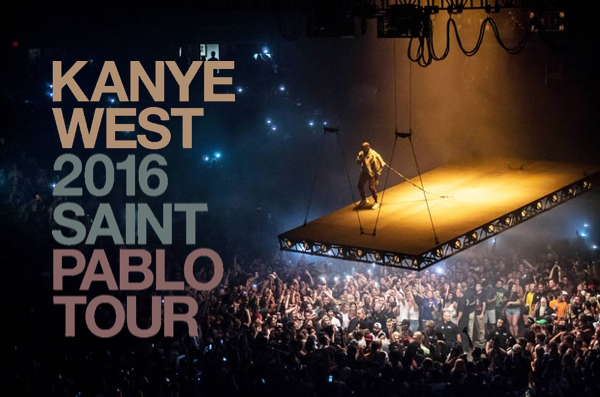 Torn clothing, lasers, and a floating stage stun the audience, as they listen intently to Kanye perform. The atmosphere indescribable, the fans soak up the entire experience as best they can, awestruck at the presence of rap royalty.
Kante West brought his Saint Pablo tour to Dallas this September, welcomed by thousands of cheering fans at the American Airlines Center.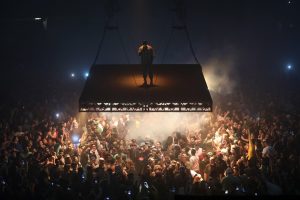 In typical Kanye fashion, Yeezy arrived an hour late to his concert at the American Airlines Center as a part of his Saint Pablo tour, named after his newborn son, Saint West. His concerts, equally as unique as his music, involve a floating stage, a wall of lights, and a fog filled stadium.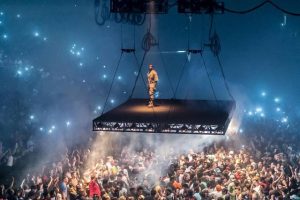 Kanye also decided to bypass an opening act in Dallas, instead relying on the star power of his music to appease the fans. Without warning, Kanye climbed a ladder onto a floating stage using only the chants of "Yeezy" by his fans to announce his presence in the nearly pitch black stadium. Thousands watched in awe as Kanye instead lit the stadium with the lights of fans phones who's combined brightness rivaled that of the stadium lights at a Maverick's game. He opened the concert with one of the most popular songs on his critically and publicly-acclaimed album, performing "Father Stretch my Hand Part 1." The concert continued in this manner with a steady diet of TLOP songs with sprinklings of popular songs from his features and past albums such as "That Part" and "Heartless." Midway through the concert, Kanye stopped to pay tribute to his late mother Donna West, following with "Not One," a song that was written in of honor his mom.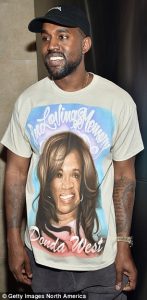 Kanye continued to perform a wide range of songs from Gospel rap akin to his TLOP album from "Jesus Walks" to "Don't Like." In his performance of "Jesus Walks," Kanye gave the audience goosebumps as he sang with full voice his loving song of praise to God on his knees. The concert ended as abruptly as it began with the stage tilting allowing Kanye to climb off at the end of a song and leave the stadium with no goodbye or thanks. As the audience waited for assurance the concert was over, the lights in the stadium flashed back on and people filed out. In a beautifully eccentric exposé of music that could only work under the idiosyncracies of Kanye West, the concert left the audience with sore legs and no voice and a re-imagined idea of what a concert could be.