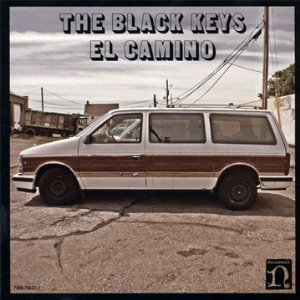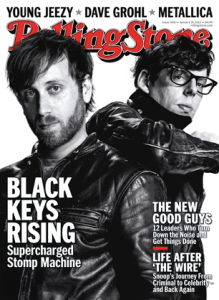 Is it safe to declare The Black Keys the best rock 'n' roll band in the world?  They're certainly the most universal, with their songs equally beloved by alternative, indie, and, at long last, mainstream rock fans.  Made up of just two laid back guys from Akron, Ohio with great senses of humor in guitarist/vocalist Dan Auerbach and drummer Patrick Carney, The Black Keys have managed to bring the grand tradition of raw, gritty rock 'n' roll influenced by blues and garage into the 21st century, keeping the music true to its roots while remaining relevant and innovative.  After seven brilliant albums, including a nearly perfect third album, Rubber Factory, and their universally hailed latest triumph, El Camino, The Black Keys are bigger than ever, with their recent tour positioning them as headliners at some of the biggest music venues and most prestigious music festivals in the world.  In celebration of their much-deserved success, I present the top ten greatest songs of The Black Keys.
10.  Just Got to Be
On the first track off of their fourth album, Magic Potion, The Black Keys maintain the minimalist blues-rock set-up of their early albums in "Just Got to Be," while moving towards the musical complexity that would be featured on Attack & Release.  With one of Dan Auerbach's most memorable guitar riffs, Patrick Carney's signature garage-style drumming, and an accessible, catchy chorus, this song stands as a perfect introduction to the sound of The Black Keys.
http://www.youtube.com/watch?v=1GV9CYiWJlk
9. I Got Mine
"I Got Mine" starts off as one of the most exciting songs in The Black Keys' catalogue.  It contains perhaps Auerbach's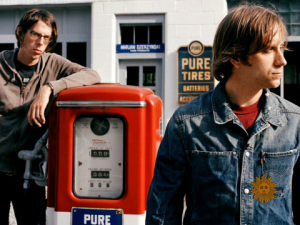 strongest guitar work in terms of pure technicality and energy, as well as the signature roadhouse-blues sound that screams, "Instant classic!"  Unfortunately, "I Got Mine," like the rest of Attack & Release, is hindered by Danger Mouse's overproduction.  Where there should be a blistering guitar solo, there is instead an overwrought bridge that does nothing but kill the song's tempo.  Nevertheless, "I Got Mine" is undeniably one of the best songs The Black Keys have ever written, a modern blues standard that will be endlessly covered by future bands.
http://www.youtube.com/watch?v=v5FW8Xo8ENo
8.  10 A.M. Automatic
"10 A.M. Automatic" is what "I Got Mine" should have been.  It's high energy, while still maintaining precision; it features Auerbach at the top of his game both in terms of his vocals and guitar-playing without going too over-the-top, and it replaces that useless bridge with a brilliant guitar solo that ends the song on a glorious note.
http://www.youtube.com/watch?v=pK446tjll2Q
7. Chop and Change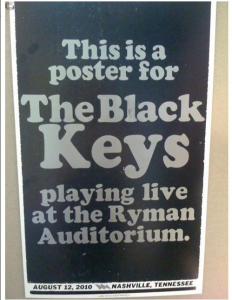 Unlike the songs that have preceded it, the best feature of "Chop and Change" is not the interplay between guitar and drums.  Instead, its best features are the vocals and lyrics.  On this song, Auerbach establishes himself as one of modern music's greatest raw-voiced storytellers, continuing the grand tradition of artists like Howlin' Wolf and Tom Waits.
6.  Busted
On their first album, The Black Keys possessed a raw sound that would never be replicated on their later albums.  It is a great relief, then, that they chose to cover more traditional blues songs by the likes of Junior Kimbrough and R.L. Burnside than on their later, more pop-oriented albums like Brothers.  Of The Big Come Up's raw blues covers, "Busted" is the strongest, featuring the pure energy and technical genius that makes The Black Keys great.
5.  Lonely Boy
The Black Keys had a great deal of expectation to live up to when they released "Lonely Boy" as a single in October 2011.  With their last album, Brothers, going platinum, winning a Grammy, and receiving universal acclaim, The Black Keys were finally breaking into the mainstream.  Fortunately, The Black Keys not only matched expectations, they surpassed them.  "Lonely Boy" is and forever will be remembered as The Black Keys' signature song.  The guitar riff, the keyboards, the chorus, and the hilarious music video all instantly became cultural touchstones, and the album "Lonely Boy" kicks off, El Camino, is an undeniable masterpiece.
4.  Tighten Up
This is the exact moment where The Black Keys broke free from the limitations of their traditional blues-rock set-ups and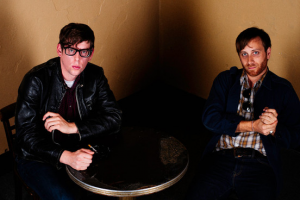 into the mainstream. That's not to say they abandoned what made them great to become more accessible.  Instead, The Black Keys just made their sound deeper and more complex.  "Tighten Up" is a modern blues song, featuring a mud-crunch guitar sound and Auerbach's soulful moaning about "wanting love" and "needing love" and begging, "what can I do?"
3.  Little Black Submarines
I feel the need to make an embarrassing confession here: I didn't like "Little Black Submarines" the first time I heard it.  I simply rolled my eyes and dismissed it as a forced attempt to make an epic in the vein of "Stairway to Heaven" by Led Zeppelin.  Listening with fresh, open ears, I hear my mistake, and boy, I was wrong.  "Little Black Submarines" is not forced in any way.  With its slow opening verses about a blind broken heart, sung with authentic pain by a subdued Auerbach, there's no way this song couldn't end with a huge emotional outburst, preferably with awesome, towering guitar solos.  As the song progresses, the tension builds, and the moment when the electric guitar rips the song apart is perfectly timed.  A single lyric or second of anticipation more would be superfluous and a single lyric or second less would make the payoff less rewarding.  Do I even need to say anything about the guitar solos?  They're certainly the strongest Auerbach's ever played, and they're undoubtedly as good as anything rock music has ever produced, up there with even "Comfortably Numb," "Free Bird," "Aqualung," and, yes, "Stairway to Heaven."  Listening to "Little Black Submarines" now, I've never felt happier admitting I was wrong.
http://www.youtube.com/watch?v=490s689kvpo
2.  The Lengths
As you may have noticed, describing The Black Keys can get a little repetitive.  The phrases "modern blues standard" and "great guitar work" tend to show up a lot.  Although the vast majority of The Black Keys' catalogue is made up of high-energy, blues-rock songs (oh yeah, "high-energy-"  forgot about that one), they possess a great deal of depth.  No song is greater proof of that than "The Lengths."  This is the great emotional ballad of The Black Keys' catalogue.  Somehow, they manage to make the break-up songs sound relevant, fresh, and even innovative.  Listening to it now, how could "The Lengths" not sound like a groundbreaking work of art?  Has there ever been a vocal performance more vulnerable and heartbreaking than Auerbach's on this song?  On the first verse, Auerbach takes on the role of the man being left.  He sounds like he's on the verge of tears, like he's going to break down before he can even get to the second verse.  The second verse finds Auerbach in the role of narrator.  In this role, he is poetic and sensitive, sympathetic to the people in the situation, begging them to "make amends, or carry on another way."  Finally, on the third verse, a bitter and accusing Auerbach questions how the woman could "treat somebody so," while still being sympathetic and understanding.  When was the last time you heard a modern song this lyrically inventive?  After hearing this epic masterpiece of heartbreak, going back to Top 40 radio to hear song after song of "verse, chorus, verse, chorus, chorus" structure about night clubs and material wealth is almost unbearable.
http://www.youtube.com/watch?v=HaGaSqJGa0Y
1. Grown So Ugly
By now, you should already know what a good, up-tempo Black Keys song should sound like.  Great guitar work, inventive musical structuring that still derives from traditional blues, and a raw, energetic vocal from Auerbach are all musts.  No Black Keys song more perfectly fulfills the template than "Grown So Ugly."  The Black Keys remove every ounce of novelty the song had, as originally performed by Robert Pete Williams and covered by Captain Beefheart, to unveil a rip-roaring rock 'n' roll masterpiece.  Auerbach, at the top of his game vocally during the opening verse, free from any musical accompaniment, is completely unrestrained, and accordingly allows himself to sing at full power.  A powerful, hard, blues riff counters his vocals and the transition to the second verse is intense, setting up Auerbach's manic panting ("baby, this ain't me!  Baby, this ain't me!") perfectly.  Finally, during the bridge, the tension builds as Auerbach describes a run-in with his former lover, who does not recognize him.  The intensity and volume of the music increases with Auerbach as he builds up from nearly a whisper to full-throated yell.  The blazing, powerful guitar solo that follows it ends the song perfectly.  Every second of "Grown So Ugly" is interesting and gripping, never ceasing to be terrifyingly powerful no matter how many times it is heard.