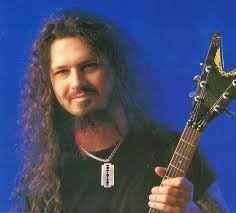 When you think of the world's greatest guitarists, the names that probably come to mind are the classics, such as Jimi Hendrix, Slash, Eddie Van Halen and other renowed 80's heavy metal guitarists. However, one name often slides through cracks despite being universally considered one of the greatest guitarists ever to walk this planet by almost all of these men. His name is Darrell Abbott, the now deceased founder and lead guitarist of local Texas bands Pantera and Damageplan. While alive, he was often referred to by the nickname "Dimebag Darrell."
He was born on August 20th, 1966 in Ennis, Texas, just a couple miles outside of Dallas. His parents were local songwriters and music producers in the area. When he was twelve years old, Darrell decided to take up the guitar along with his brother Vinnie Paul, who also took up the drums at an early age. From the moment he picked up that Hondo Les Paul, Darrell was a natural. He began participating in competitions around Texas, most of them held in the Agora Theatre and Ballroom in Dallas. At one of his competitions, Darrell was awarded the Dean Ml guitar, a cross between a Flying V and Explorer guitar. This would later become Darrell's signature guitar.
Darrell and his brother formed the well-known band Pantera in the early eighties along with bassist Rex Rocker and singer Terry Glaze. The band in its early years mainly took inspiration from such bands as Def Leppard and Motley Crue, both of which are considered to be the front runners of the headbanger metal era. However, the band experienced only minor success. So in 1988 the band added a new singer, Phil Anslemo, who brought more of the heavy metal influence that the band was looking for, instead of the pop rock of other more popular bands of the time. It took some time, but in 1990 the band's luck began to change.
Before 1990, the band had yet to achieve any major label success, due to their new and intriguing style of hardcore heavy metal foreign to most music fans at the time. The band was reportedly turned down by 28 different recording labels before finally getting their shot with Atco Records. They then went on to release the revolutionary and groundbreaking album "Cowboys from Hell." The album was praised by almost all critics. The heavy metal beat combined with the stylistic sound and impeccable guitar solos and riffs was beautifully played and written by Darrell Abbott himself. "Cowboys From Hell" helped skyrocket the group from members of just some small, misunderstood Texas metal band to pioneers of the early nineties groove and grunge metal.
Pantera became an international sensation whose sound and influence reached all the way across the country, and "Dimebag Darrell" was at the center of it all, establishing himself as one of the best and most innovative guitarists of his generation. Darrell and Pantera maintained their success throughout the early and mid-nineties, when grunge metal was at its peak with bands like Nirvana and Pantera leading the way. However, things would soon come tumbling down for the band.
The band's success led to rampant drug use by their lead vocalist, Phil Anselmo. This caused tension between Darrell, his brother Vinnie, and Phil. This led to the band taking a hiatus, which soon morphed into a permanent break up as a result of Phil's refusal to work with the rest of the band members and the other projects that he was working on at the time.
So, in response, in 2003 Darrell and his brother decided to form the band Damageplan, which continued the heavy groove metal sound of Pantera. Dimebag is quoted as saying,"We wanted to stretch out and expand our capabilities as musicians to the absolute fullest." Darrell and his brother helped maintain the success of Pantera through their short stint with Damageplan by providing, in basic terms, more of the same music which people loved. The heavy metal sound and hard, yet fun and free-flowing attitude that Darrell maintained on and off the stage translated to Damageplan somewhat seamlessly. Unfortunately, on December 8th, 2004, at a small Columbus venue, tragedy struck the band.
During a concert at the Alrosa Villa in Columbus, Ohio, a gunman armed with a 9 mm Beretta came up onto the stage and opened fire on the band members and the crowd, beginning with Darrell Abbott. Abbott had his back turned and when the gunman came up onto the stage, Darrell turned to face him, only to have three bullets enter his head, killing him instantly. The gunman would go on to kill three more people and wounded seven others before being gunned down himself by a local police officer.
Millions mourned the passing of Darrell Abbott. Several famous rock stars who Darrell took inspiration from attended his funeral. One of his idols, Gene Simmons, had a specially made KISS casket made for Darrell's burial. Along with several hundred bottles of alcohol, Darrell is also buried with a one of a kind yellow-striped "bumblebee" guitar owned by none other than Eddie Van Halen. Van Halen was going to recreate the guitar for Darrell as a gift months before his death, but instead gave him his very own original stating, "Dime was an original and only an original deserves the original."His girlfriend, Rita Haney, who he had met when he was in third grade, stated that "Dime was that kid growing up that you just wanted to protect and just be friends with. He was my best friend, companion, and just everything."
Millions of other artists have been inspired by Darrell's revolutionary influence and sound. But along with being a phenomenal guitarist, Darrell is mostly remembered for his kind heart and great attitude. "Everything he did came from a place of fun for him because, to him if its wasn't fun then it wasn't worth doing," said Scott Ian, guitarist for Anthrax. Max Cavalera, a guitarist from SoulFly and Sepultura, reminisced about how "there are very few people who are as talented and gifted as he was, yet still a humble and cool guy despite all the fame and fortune." Darrell was also known for his generosity and benevolence toward his fans. Sully Erna, the lead vocalist for the heavy metal band Godsmack, remembered a venue that Darrell was at in which he was standing in the back with the fans and, as a mosh pit broke out, several people were escorted out of the building. Darrell personally started to pay the security guard at the front ten dollars a person to let the people who had been kicked out be allowed to reenter the building.
Darrell lives on in ways never imagined. During Dallas Stars hockey games, when the whole crowd stands and chants, "Dallas Stars" the background music was written by Pantera, and Darrell Abbott played the solo. Darrell and the band were all huge Dallas Stars fans and decided to write the song, entitled "Puck off." So the next time you're sitting in your seat at the American Airlines Center and join in on the chant with all of the other fans, remember who made that possible.
Darrell's grave site is just outside of Arlington, Texas and thousands of people visit it each year in honor of one of the greatest guitarists ever to walk this earth. His brother wanted the public to remember, "Dime just enjoyed making people smile, it didn't matter if he was doing it with his guitar, handing fans guitar picks, doing a shot with them, or just plain hanging out with them, and that was always a really important goal in his life, not just making himself happy, but other people happy as well".
The excerpt on Darrell's headstone reads, "He came to rock and rocked like no other with the heart twice the size of Texas, our beloved brother, companion, mentor, idol and friend, We love you Dime. Until we meet again."