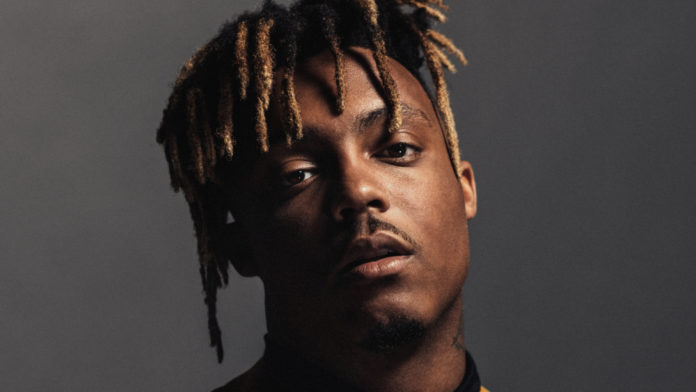 All legends fall in the making
Sorry truth, dying young, demon youth.
What's the 27 Club?
We ain't making it past 21.
They tell me I'ma be a legend
I don't want that title now
'Cause all the legends seem to die out. (Legends, 2018)
A legend he was, and die out he has. Jarad Higgins, widely known as Juice WRLD, died Sunday, December 8, at Midway International Airport in Chicago, Illinois. Higgins was 21 years old.
With over 27.5 million monthly Spotify listeners, Higgins' death came to the shock of millions around the world. According to TMZ, after his flight landed in Chicago early Sunday morning, Higgins suffered a seizure inside the Midway airport, was bleeding from his mouth when paramedics arrived on scene, and pronounced dead shortly thereafter in a nearby hospital. An autopsy has yet to be conducted to determine the exact cause of death.
Career Overview
Legacy
Juice WRLD's legacy has been honored by public statements released by artists ranging from Lil Nas X to Camila Cabello to Lil Uzi Vert and more. The Jesuit student body likewise mourns the loss of a legend:
Gregory Pope '20
"My three favorite Juice Wrld songs are Empty, Robbery, and Scared to Love, but it's hard to pick because honestly I love every single song he has ever made. When I first found out he died it was around 9:30 in the morning when I received a call from one of my friends. My initial reaction was complete shock, then I broke out into tears. I never thought I would shed tears over someone I had never met, but he meant that much to me.
Juice WRLD had more significance to me than any other artist ever has before. His music got me through the worst and best times of my life since I first discovered him on Soundcloud freshman year. To me, he was my idol and someone who I greatly admired. I can sing along to every single song he has put out, including the Soundcloud ones. It's hard to relay how much Juice WRLD impacted my life in a way that made me want to be better. It was my dream to meet him, and he inspired me in many areas of my life including art because I focused a lot of my drawings on him.
I would say my favorite memory associated with him is the chills I got during his concert because I had saved money just to go see him and hearing him perform the songs that got me through hard times was chilling. Simply put, my life will never be the same without Juice WRLD."
Ermias Belay '20
With the recent passing of Juice WRLD, the Hip Hop Appreciation Club will be having a tribute to the late artist after school on Friday in B118. All are welcome.
My favorite three Juice WRLD songs are No Time (SoundCloud), Chimp (SoundCloud), and Lean Wit Me. I had just woken up and picked up my phone. I began to look through Snapchat stories, and someone had randomly put up a picture of him, which confused me, but then I saw another post with a screenshot of a news report saying that he had passed. I was shocked. It's crazy to think about how he has been paying homage to recently passed young artists and has even put out a hit song about it. Regardless, I wasn't too surprised. If he really does live the lifestyle he talks so much about in his music, it is totally possible that fatal effects can occur.
He was amazing at putting out songs that anyone could relate to and sing along to as well. I personally enjoyed his slower, "in your feels" type of songs. They were always so smooth and relaxing to hear if you ever got sad, similar to late artists, XXXtentacion, Mac Miller, and Lil Peep. My zeal for Juice WRLD is not as great as I thought before answering this question. I have seen Juice perform several times, and I listen to his music pretty much every day. However, his last album disappointed me. I feel like his message in almost every song is the same, but I'm going to miss him putting out music for sure.
When I first discovered Juice, it was actually by accident. I saw a meme on Instagram and his song All Girls Are The Same was playing in the background, and I really liked the song at first listen, which is rare. I didn't know what the song was though, so to find it, I found the meme on YouTube, searched through the comments seeing if anyone else was also interested about the song, and I discovered Juice WRLD."
Tom Jubin '20
"[His death is] shocking, what else can you say. One night you're listening to songs of his with your friends, and the next night you wake up to a breaking news article saying he's gone. It's sad really. Such a talented artist, and so young, too. Having just turned 21, I was excited to see where his future career could take him. He was something special really, I've always known that since day one.
From the first time I listened to him, when he had only 6 songs on Soundcloud, I knew he was going to make it bigtime. Two of those songs were All Girls Are The Same and Lucid Dreams, arguably two of his most iconic, two which really jump started his career. His flow was an extremely unique one, one that we may not see for a while. On YouTube, I remember seeing a video of him freestyle for over an hour, and I was thoroughly impressed. There's not many guys in the world who could do that, let alone as good as he did. I've been a Juice fan ever since the first time I clicked play, and even his summer concert was definitely an unforgettable one.
It's really sad to see him go, I can't say I knew him, but I can say his music definitely played a role in my life, and in all of rap culture. Rest easy, 999 forever."
Matthew Freeman '20
"Flaws And Sins, Fast, and Maze are my favorite songs of his. When my friends first told me this morning, I thought they were trying to pull my leg because he was my most listened to artist on Spotify this year, but then I saw the articles and was completely shocked. Juice WRLD visited Dallas last Summer, and I made sure to buy tickets months in advance. It ended up being one of the best shows I've ever seen.
"Stay tuned to The Roundup for more pop culture news!
References:
https://www.independent.co.uk/arts-entertainment/music/news/juice-wrld-death-age-cause-seizure-lucid-dreams-a9238041.html
https://www.tmz.com/2019/12/08/juice-wrld-dead-dies-seizure-chicago-midway-airport-hospital/
https://www.youtube.com/watch?v=bsoGh1czMGw