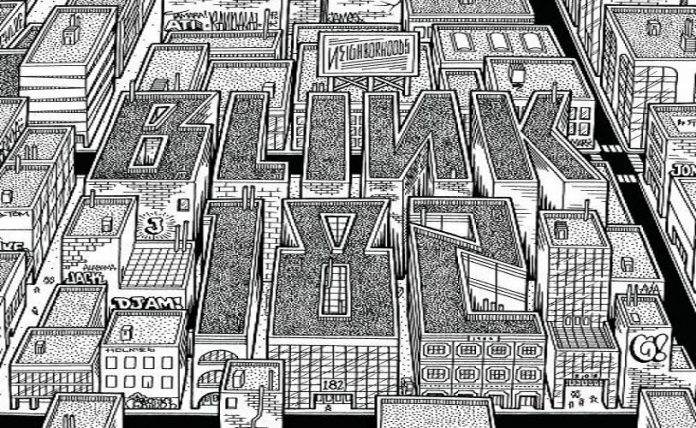 For several weeks of Fall 2011 The Roundup has had a poll in the bottom corner of its main page asking you, our readers, which music album you were anticipating the most this year. The choices were Blink-182's Neighborhoods, Drake's Take Care, Coldplay's Mylo Xyloto, Switchfoot's Vice Verses, Scott McCreery's  Clear as Day, and J. Cole's  Cole World: The Sideline Story.
Blink-182 pulled ahead in this one, taking first place with 38% of the votes while Coldplay and Drake tied for second with 24% of the votes. As a devoted fan of Blink-182, I am ecstatic to see that they won and that I get to talk about them and their new album!
Blink-182 came onto the California punk music scene in 1993 under the name "Blink," but as they grew in popularity they faced legal issues with an Irish band that went under the same name. To resolve this, they tacked on "182" to the end of their name. A lot of speculation and rumors as to what these three digits mean has surfaced on the Internet and in the press, but the truth was revealed in a short interview with the band's former drummer Scott Raynor.
He told the reporter that the band was in a bind and needed to change it so they just put some numbers on the end.  If you asked Tom Delonge, lead guitar and vocals, or Mark Hoppus, lead bass and vocals, you would get an entirely different response. Mark has been heard saying that at one point in time his doctor feared that he would become morbidly obese if he didn't take care of himself, and that his ideal weight was 182 lbs.
This news was enough to motivate Mark for change so he put "182' on sticky notes and put them around his apartment to remind himself to watch his weight. Interestingly enough, the band had printed several of their Cheshire Cat albums with "Blink" across the top and had to have them recalled and reprinted with "Blink-182."
Since Scott's dismissal from the band, Travis Barker has taken over the drumming and has a notably more serious and passive tone, that is, until you hear him drum. Barker is revered as one of the best drummers of all time, and he has toured with The Aquabats!, Blink-182, rappers Eminem, Lil Wayne, and Kanye West, and with the side projects of Mark Hoppus and Tom Delonge during Blink's hiatus from 2005-2009.
From personal experience at their concerts I can say that Tom has an ineffable amount of energy.  He plays the entire set list of songs on top of having himself harnessed into a seat so that he can be swung over the crowd on a metal pallet while he plays a drum solo. Did I mention he does this while spinning and upside down?
Mark and Tom on the other hand aren't quite as talented, but they compensate with charisma and humor. Note: their concerts are not for children, as they have said numerous times in interviews, but still there are parents who bring their children and leave almost immediately. That being said, the concerts are a blast. Travis can manipulate a drum set to do his bidding and Tom and Mark can play all the songs Blink fans have come to adore.
The band has released 8 albums to date, all varying in appeal and sound. They are: Cheshire Cat (1994), They Came to Conquer Uranus (1995), Dude Ranch (1997), Enema of State (1999), Take off your Pants and Jacket (2001), Blink-182 (2003), Blink-182: Greatest Hits (2005) and Neighborhoods (2011).  In addition to these, the band had a live album released in 2000 entitled The Tom, Mark, and Travis Show (The Enema Strikes Back).
Cheshire Cat was their first studio-recorded album, but they did have their own demo called Flyswatter, which was never put into mass circulation.  Cheshire Cat, a typical punk album, had a range of fast songs that embodied the southern California punk movement that was going on during the early 1990s. It continues to be circulated digitally, on CD, and even in vinyl in stores like Hot Topic. It is considered the quintessential Blink -182 album, and is often what devoted fans will say they wish Blink still sounded like, as they have changed and arguably matured as the years have gone by.
Dude Ranch featured the band's first breakthrough to the top 100 charts, "Dammit," which climbed all the way to #61 and got the band national recognition. Their next album, Enema of the State, went platinum. It had "All the Small Things," a pop/punk anthem that reached #6 on the top 100 charts, and "What's my Age Again?" which reached #58. This launched Blink into stardom.
They performed on the Tonight Show with Jay Leno as well as the Video Music Awards (VMAs) in support of Enema of the State.  After this period of breakthrough came Take Off Your Pants and Jacket, which was a more pop/punk version of the band's music that was deemed by some fans to be untrue to the band's roots. They seemed to be getting too "mainstream" for some people.
This album featured "The Rock Show," which hit #71 on the top 100 charts, as well as "First Date," which hit #106. Next came what most fans consider Blink's most serious album, the self-titled album, "Blink-182." Although it was not the typical sound of the band, it still had wide ranging success, with "Always" and  "Feeling This" becoming two of the more notable songs the band had written to date.
After this came what all fans feared: the break up. The band went on an indefinite hiatus in 2005, causing fans to fear for the future of their favorite band.  During this time the three members stayed active. Tom created a side project called Angels and Airwaves, an independent/alternative band. Mark created a punk band called +44.
Both of these bands had mild success, but never lived up to the hype they had placed on them as offspring of the mega-band Blink-182. Travis, on the other hand, did not join a new band, but did remixes for rappers and toured with them, which created a lot of new fans for him and his music.  In 2008 Travis Barker and DJ AM, a famed DJ in the worlds of electronica and hip/hop music, were in a plane crash. This crash killed DJ AM and Travis was left with severe burns, ruining the tattoos that cover his body from head to toe, which he has been quoted as calling "job stoppers" because with so many tattoos nobody would hire him.
In the months of recovery, Tom Delonge and Mark Hoppus came to their friend's side and they realized that they only had one life each and that they were very short. They realized they needed to get back together as a band, so in 2009 they announced at the VMAs that they would be getting back together and releasing a new album.
After a successful 2009 revival tour, the band got to work on their new album, which would take two years to make, an eternity for their fans.  It is called Neighborhoods, the album that won our poll!  It was released on September 27, 2011, the same day that Blink would perform at the Gexa Energy Pavilion for the fans of Dallas, Texas on their Honda Civic tour.
Some are complaining that the album isn't punk enough and that it is too much like the self-titled album in that it is too serious. Others are enjoying it and love the single the band released "Up All Night." The album features the following tracks:  "Ghost on the Dance Floor," "Natives," "Up All Night," "After Midnight," "Snake Charmer," "Heart's All Gone Interlude," "Heart's All Gone," "Wishing Well," "Kaleidoscope," "This Is Home," "MH 4.18.2011," "Love Is Dangerous,"  "Fighting the Gravity," and  "Even If She Falls."
This album, although serious, does have one song that is a little more upbeat and fast. It is "MH 4.18.2011," which is personally my favorite song.  I also would like to say that the concert in Dallas was superb, and I dare say it was even better than the one in 2009. Upon my purchasing this album, the band offered bundle packages that included a shirt and the CD along with a mystery item. These mystery items ranged possibly from a signed guitar to granola bars that they had from a show. Clearly the band's music has changed, but their humor remains the same. Thank God for Blink-182.