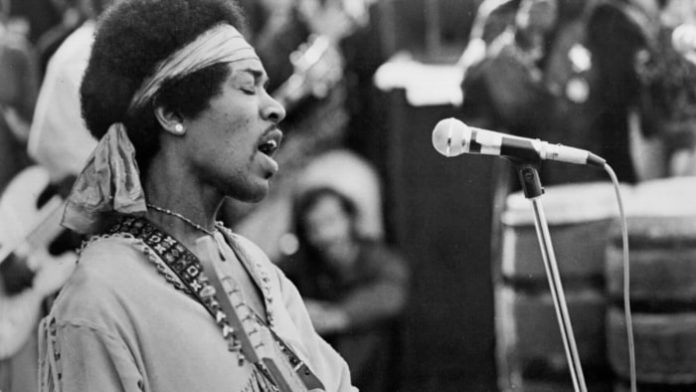 Before I receive any distraught comments or letters informing me of my list's inadequacy, I would like to clarify that the list below was formed according to what I approximated to be a range of just a FEW of the greatest and most classic guitar solos of all time, and is by no means definitive. In this list I tried to cover an assortment of classic solos by different guitar legends, picking songs that I believed to have many of the qualities of a great solo. Yes, I did indeed tear my heart and hair out in the making of this, but here is a list of ten of the greatest guitar solos of all time.
1. Little Wing – Jimi Hendrix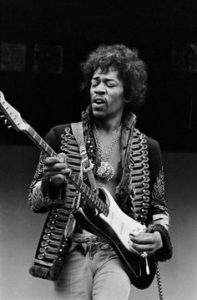 Hendrix' blues inspired composition of "Little Wing" encompasses all of the qualities he is known for in his inspiring guitar playing. His creativity, use of blues rhythm, beautiful melody, and brilliant note selection makes for a solo so memorable each note is sure to be ingrained in your memory. Not only does the song possess a rich, light, and chiming tone (enhanced by the use of a glockenspiel according to producer Eddie Kramer), but also it maintains a heavily moving and soulful effect, its ethereal sound making the song seemingly otherworldly.
2. Comfortably Numb – David Gilmour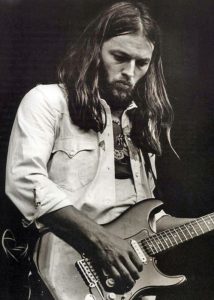 Not only being one of the most iconic Pink Floyd songs, but also containing one of the most iconic guitar solos of all time, "Comfortably Numb" presents some of the band Pink Floyd's best melody/songwriting ever. "Comfortably Numb" possesses a great emotional power, heightened AND highlighted by David Gilmour's solo work on the song. Gilmour creates a story with this solo, summarizing and enhancing an aggregate of the song's many elements, eventually reaching a haunting climax. The solo is so emotionally overpowering it almost adds more to the song than the lyrics themselves, and the solo is essential to the overall emotional statement and meaning of the song.
3. While My Guitar Gently Weeps – Eric Clapton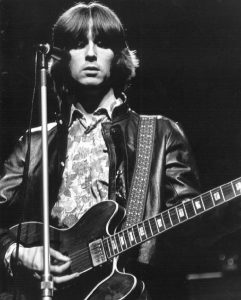 One of my personal favorites is Eric Clapton's solo on "While My Guitar Gently Weeps." This track by the Beatles recorded on The White Album was completely unique, as Eric Clapton was even reluctant to play on the album when asked by good friend George Harrison, stating that "nobody ever plays on Beatles' records." Thankfully, Eric Clapton did choose to come and play on the track in Abbey Road Studios, the end result being a graceful guitar solo that perfectly complements the tone and overall feel of the song. Clapton's ability to make his guitar sing is most notable in this solo, the notes whining out and sustaining into an extended vibrato. Harrison clearly made the right decision in bringing on Clapton, as Clapton was able to truly make his guitar weep.
4. Eruption – Eddie Van Halen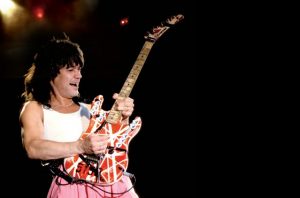 I'm not quite sure where to begin on this, but Eddie Van Halen's solo on "Eruption" pioneered a new sound for rock guitar. His use of tremolo picking, whammy bar dive bombs, two fingered tapping, developed incredible creative sounds from the guitar which even remain unparalleled today. "Eruption" also introduced the method of creating musical pieces using tapping (no, Eddie did not invent tapping), and also introduced a new type of shredding guitar sound, so fast and so different that the sounds are tantalizing to a beginner player. The solo's influence on music qualifies it as a top solo just on that aspect, not to mention the complexity of the notes and roar of Eddie's frankenstrat (the name of his guitar).
5. Hotel California – Don Felder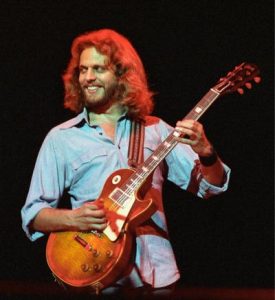 This simple yet jaw-dropping composition is one revered in rock history. "Hotel California" by The Eagles gives us one of the quintessential guitar solos that is a must on everyone's playlist. The song's solo, developed mainly by Don Felder, has a wave-like rhythm as there are many high and lows within it. The simplistic but expressive guitar riffs and licks loop repetitively, cementing their melody within your head. Additionally, Don Felder and Joe Walsh's perfect synchronization on parts within the solo create a harmony with an enchanting ring, making the solo seem like an only one-guitar piece.
6. Cliffs of Dover – Eric Johnson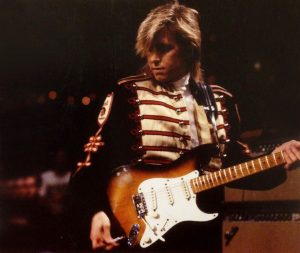 This composite piece written by Eric Johnson beautifully binds fast shredding guitar with a majestic and royal sounding melody, working to create a solo that became a cornerstone of his live shows. Johnson's incredible legato combined with a wide vocabulary of riffs strung together creates a piece that could separated into many. The tonality and touch of Johnson in this solo allows him to sound every note, despite the difficult speed and fingering of the many notes. The piece combines complexity along with the sound of a growling guitar, making for a composition sounding classical but groovy at the same time. The "Cliffs of Dover" solo is an overall awe-inspiring creation, one that often makes me want to get back on my own guitar and start practicing!
7. Sultans of Swing – Mark Knopfler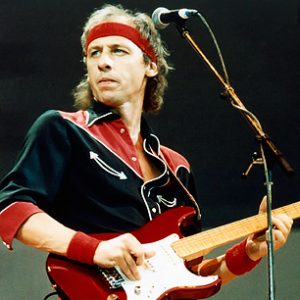 Mark Knopfler flaunts his guitar virtuosity on his "Sultans of Swing" solo, proving his role of a Rock N' Roll legend. This hard rock but country-feel song immediately kicks off into a rocking up tempo pace, making you feel as if you're in the audience cheering for the band. Knopfler displays his wide capabilities and absolute control with the guitar in his solo as he uses ALL the good qualities of a solo, highs and lows, perfect loops with increasing intensity, and funky shredding! He also displays his delicate touch on the guitar, playing quieter through certain riffs but getting in your face with his electric crunch at just the right time. All of this combined with his claw hand picking technique and quirky groove make for a solo that makes you want to get out of your seat and start rocking!
8. Layla – Duane Allman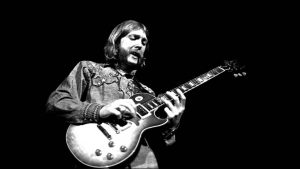 Clapton's screams of passion within the song "Layla" are screams that have been felt by millions since its release. In this song we see some of Duane Allman's famed slide guitar within the solo, his guitar magnificently whining out, emanating manic energy. His guitar, complemented by Clapton's rhythm and fat tone, works to create beautiful countermelodies, the two guitarists working in perfect harmony. Allman's ability to reflect the emotional outcry of Clapton within the solo is what makes it so revered, the high pitched notes, rising and descending emulating heartfelt cries.
9. Black Magic Woman – Carlos Santana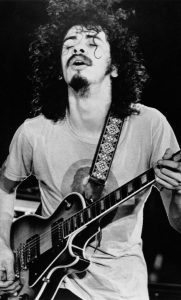 Although done superbly by Fleetwood Mac, Carlos Santana's cover of "Black Magic Woman" is nearly perfection. Santana performs the solo with grace, playing with subtle tenderness in some parts but then ramping it up in others. His playing throughout the solo has its own very unique funk unlike any other song. Using a slide, Santana enhances his own tasty licks through creating supernatural and alien sounds. Through this Santana goes totally outside of the box with his guitar, using the instrument in ways that people had not thought about before. Santana demonstrates his mastery of the guitar within this solo, just as you are lost within the sounds of his guitar, he begins to draw you back in, showing how in control he is of the instrument.
10. Gimme Shelter – Keith Richards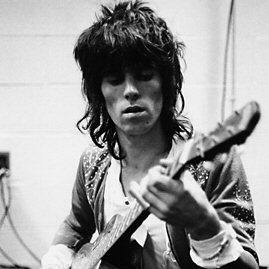 Keith Richards' composition of "Gimme Shelter" is a truly haunting song on The Rolling Stones album Let it Bleed. Richards' isolated and minimal guitar lines add an eerie quality to the already dark and ominous song. When Richard kicks in the solo he not only keeps with the unrelenting tempo of the song but pushes the song to its limits, his guitar lines creating an apocalyptic scene. Throughout his riffs, Richards masterfully builds up tension in his notes but comes down and releases, immersing himself back into the brooding groove of the song.