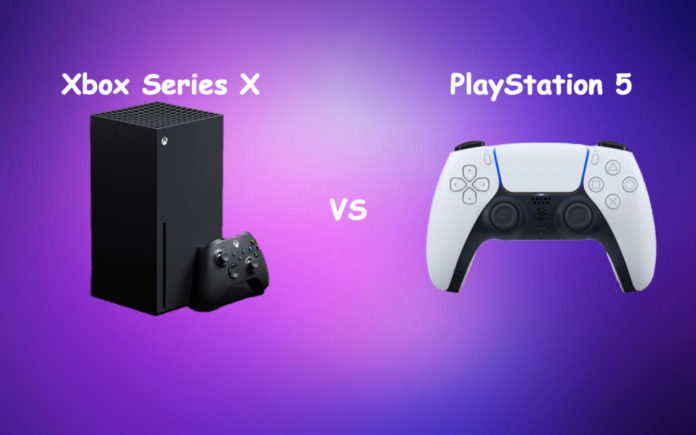 It has been years since the release of the Xbox One and the PS4. The time is now to once again ignite the console wars. Which console is better? Which console is cheaper?
I will answer all of those questions with what we currently know or should predict with these two consoles coming out this holiday season. I will also provide an in-depth analysis of all the features that each company has to offer.
Xbox: Ugly Past but Promising Future
In 2013, the Xbox One was a disaster at launch.
The console lacked backwards compatibility, had limited games at launch, and came with a hefty price. Worst of all, it focused on its TV features instead of its games. The errors that Don Mattrick, former Xbox-leader, made resulted in the Xbox One launching as a failure. As a result, Mattrick stepped down from the role which eventually led to Phil Spencer taking on the role as Xbox leader.
Phil Spencer revitalized what it meant to have an Xbox. Spencer brought back backwards compatibility, improved the console's user interface, the way the user interacts with the console, and threw away the Kinect. The Xbox One was not terrible anymore, but the damage was already done.
Since being head of Xbox, Spencer and his crew have released two consoles, the Xbox One S and the Xbox One X. In contrast to the Xbox One's bulky design, these two aimed at creating a slim design, like the PS4. They were much better consoles than the original brick Xbox.
Spencer finally brought Xbox back to its roots and appeased Xbox fans. He now has fans excited for the brand new Xbox Series X.
Unlike its predecessors, the Xbox Series X seems like an option instead of the only option. What I mean by that is for the first time, there are multiple options in determining how you want to play your favorite Xbox games.
Known Specs
Even with the many available options, the new Xbox is nothing to laugh at.
To start off, this new Xbox will run true 4K at 60 FPS. Not to mention it will also support 8K gaming and 120 FPS, although it is not clear if the new console will include both at the same time.
The internal hardware we currently know about, according to Tom's Guide:
CPU: Custom AMD Zen 2 CPU
SSD: 1TB NVMe
RAM: 16GB GDDR6 memory
GPU: 12 teraflop RDNA 2
Expandable Storage: 1 TB Expansion Card
Optical drive: 4K Blu-ray drive
Other great features include ray-tracing, instant load times for games, and some minor upgrades for the controller.
Additionally, Phil Spencer made it known that he feels confident about this new Xbox's price. So, that should calm fans down a little.
Project xCloud 
The popularity of streaming high-end games on any device has started to become wildly popular in the gaming community. As a result, Xbox fans are excited to see that Microsoft are creating a game streaming service.
I have been fortunate enough to grab my hands on the BETA version of this service and it's great. There has been almost no lag and I get to play Halo on my phone! I dream of playing Halo during lunch or during my free time whenever and wherever I want.
The details of price and release date for the Xcloud are unknown, but it sure is fun.
Xbox All-Access
Phil Spencer around 2018 announced a subscription style service similar to leasing a car.
Instead of having to pay full price for an Xbox, the consumer can pay a monthly price for the Xbox One S and Xbox One X, featuring 24 months of Xbox Game Pass Ultimate and the ability to upgrade to the next Xbox.
There are some benefits and flaws for this model to consider though.
The obvious benefit is that it is cheaper than buying an Xbox One S or Xbox One X, Xbox Live, and Game Pass altogether over 2 years. Another benefit is that the consumer is not paying all upfront rather paying over time, which is good for people who do not like spending a ton of money immediately.
The new Xbox All-Access also comes with many flaws, including the contract's length. This could frustrate some people who despise contracts that last 2-3 years. Another flaw is the consumer has to complete 18 payments before being able to upgrade. That could be a long wait for people right now with the Series X coming out so soon.
Xbox Game Pass
Xbox Game Pass is one of the flagship features that the Xbox currently has to offer. In a nutshell, it is the Netflix of video games.
Instead of having to pay $60 for every new Xbox One game that comes out exclusively for the Xbox, Game Pass has you covered. Game pass has 100+ games, including every Xbox One exclusive that has come out or will come out. The games that are not Xbox exclusive are games that are in rotation, meaning they are available for a limited amount of time.
But, if there is a game you enjoy that is in the rotation and want to keep it forever, Game Pass automatically offers a 20% discount for most of the games.
There is also two other versions of Game Pass. There is the preview version of Xbox Game Pass for PC which works exactly like Game Pass except it is only for PC. The other version of Game Pass is Game Pass Ultimate. This version allows consumers to not only play a catalog of games on the Xbox and PC for a cheap price but also play online. Instead of having to pay for games and Xbox Live Gold separately, you can it get in one package which is significantly cheaper.
To end, Game Pass Ultimate currently is running a promotion which allow consumers to get the subscription for one dollar the first month.
Cross and Backwards Compatibility
Microsoft has toyed with the idea of including cross play with PlayStation and PC with Fortnite and Xbox Play Anywhere. They seem to be taking it to a whole other level now with future plans.
For example, they included cross-play in the new Gears 5 game and Halo Wars 2. Another title that could include this feature is Halo: Master Chief Collection. Xbox continues to work on completing the PC version of Halo: The Master Chief Collection (the game only includes Halo Reach and Halo Combat Evolved). This feature will allow PC and Xbox players to become more united.
Additionally, this new Xbox will come out with full backwards compatibility. This means that the consumer will be able to play all of the games they loved in the Original Xbox, Xbox 360, and Xbox One on the Series X.
Lastly, it is also good to mention that all of the games you buy digitally on the Xbox One will be available on the Series X for you free of charge no matter what.
Projected Available Games at Launch
Microsoft has maintained silence about its Series X major launch titles which could concern fans. But, the Series X will come with full backwards compatibility, so it should have more than enough games to play at launch.
My personal favorite game series, Halo, will for sure have a new Halo coming out. Halo Infinite has had almost zero reveals except the reveal of its Slipspace Engine which makes the game the most beautiful it has ever been.
Games rumored to also come out for the Series X or have improved graphics/performance include Hell Blade 2, Cyberpunk 2077, Gears 5, and Outriders.
Ending Thoughts
Unlike 2013, Xbox finally seems focused on what truly matters: gaming. The new Xbox packs in promising specs, a promised good price point, and good launch titles. In addition, Xbox includes the Xbox Game Pass which will allow people to avoid the $60 price of Xbox exclusives, the ability to choose between PC and Xbox, and full backwards compatibility.
I also have to mention that Microsoft is indeed revealing another console to go along with the Series X as well. It will be weaker but it will be cheaper. If the Series X is just too expensive, this other Xbox could be the way to go as well.
PlayStation: On the Decline or Super Secretive?
In contrast to the utter disaster that was the Xbox One, the PlayStation 4 enjoyed massive success. It beat the Xbox in nearly every category: console sales, game sales, you name it.
The PS4 broke many launch records and released ground-breaking games that everyone enjoys. Some games include God of War, Until Dawn, Spider-Man, and the Last of Us: Remastered.
Everything has gone extremely well for Sony, but they have been a part of noteworthy news. For example, the face of the PS4, Shawn Layden, stepped down in 2019. They then stopped participating at E3 completely, which confused many fans. Lastly, they took long to reveal the contents of the PS5. This left fans anxious that the PS5 was no match for the Series X or was going to release much later.
Sony has released two new consoles since the PS4. These would be the PS4 Slim and the PS4 Pro. Both have been successes and great indicators for the future of PlayStation.
With Xbox spiking up the competition, Sony finally has a worthy opponent, but with Sony revealing very little, it's hard to say if they are way ahead or in a close battle with the Series X.
Known Specs
In contrast to 2013, the PS5 is slightly less powerful than the Xbox overall, but it beats the Xbox in some categories.
It will have the same 4k 60 FPS support that the Xbox Series X has. It will also include the 8k and the 120 FPS support although like the Xbox Series X, likely not at the same time.
Internal hardware we currently know about according to Tom's Guide:
CPU: 8x Zen 2 Cores at 3.5GHz
GPU: 10.28 TFLOPs, 36 CUs at 2.23GHz, RDNA 2 architecture
RAM: 16GB GDDR6
Storage: Custom 825GB SSD
Expandable storage: NVMe SSD slot
Optical drive: 4K Blu-ray drive
The highlight of the specs is probably the addition of the ultra fast, unique SSD Sony has been bragging about. While the Series X's SSD has more storage, the PS5 SSD provides 2x speeds. The PS5 will also include most, if not, all of the great features like ray-tracing that the Series X will have.
However, the new controller has been the center of controversy. Some fans have complained and some have cheered about the new controller. They went from a design that was unique, different from the Xbox controller to now looking more like an Xbox controller. This even generated some memes on Twitter and other social media platforms.
Nevertheless, it might be possible that PS4 controllers are compatible with the PS5. I also wouldn't rule out the design so quickly without trying it but it is defintely a change of scenery. Heck, it could be the best of both worlds.
PlayStation Now
This service is basically a combination of the Xbox Game Pass and the XCloud into one service. And, unlike the the XCloud and Game Pass, all of these features are available already.
Depending on the prices and future details of xCloud and Game Pass, PlayStation Now looks like a better deal on paper. It is basically a combination of xCloud and Game Pass into one package for a low monthly price of 10 dollars. But, PS Plus is sold separately, making PS Now look a little less eye-catching.
PS Now's exclusives are also only available for a limited time. This is unlike Microsoft who keeps all of their exclusives like Forza and Gears on Game Pass forever. PS Now rarely removes games at a quick pace, so this is more of a caution rather than a red flag for the service.
Cross and Backwards Compatibility
Like Microsoft, Sony has experimented with having most of their major games available for PC through their PS Now service. Sony also recently agreed to team with Xbox and other companies to make Fortnite cross-platform not too long ago. Both companies have similar goals when it comes to cross play.
However, Sony loses in the backwards compatibility department. Sony revealed that they were only going to have 100 games that will be ready for backwards play. The 100 games have most of the notable PS4 games and they will add all of them at one point, but PS1, PS2, and PS3 games will be a no show.
Project Available Games at Launch
Because backwards compatibility will not be as sophisticated as the Xbox Series X, it could hurt the PS4's opening week sales, but they could have some interesting games that will be available at launch.
There is the obvious choice, Last of Us 2, as the likely most popular game that will launch on the PS5 as one of the backwards compatible games. Yet, the game has been delayed twice already because of in-game issues and the Covid-19 outbreak.
Ending Thoughts
If you noticed, there was no section for a low monthly cost PS4 to upgrade to a PS5 like there was for the Xbox One. This is because the Sony does not currently have one that gives consumers less opportunities to choose how they want to pay for games and their console. The specs and the price should be fairly similar to the new Xbox Series X, which makes the PS4 a less obvious choice than it was in 2013. There will be less games available for launch for the PS5 and that will hurt its initial sales.
With that being said, I believe that the PS5 is still a great console for Sony fans and I believe that Sony is definitely not falling apart rather trying to innovate. Sony has been more secretive about the PS5 than Microsoft has been with their Series X, so it is always possible that Sony has something big for all fans of gaming.
My Conclusion
I have a gaming laptop that is nearing its 3rd birthday, and it has worked out great for me. With Halo finally coming out for PC along with potential cross play with Xbox players seems to good to pass up. So I plan on sticking with my computer even though gaming laptops are tremendously expensive and fragile.
So, if my PC were to break, I would lean towards the Xbox. I am biased because Xbox has Halo, but the price and quality is good enough. If I were you, I would go with which console has your favorite games because at the end of the day, that is what matters. Ask Nintendo!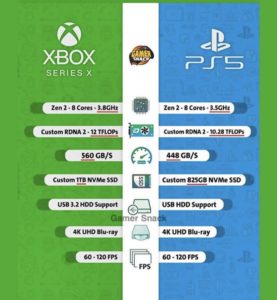 Here is a good graphic to summarize the spec difference to end things off.
Please stay safe and stay tuned to The Roundup for more coverage of video games!