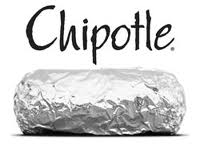 I've found it. No, not just the best burrito in the world, but also, heaven, my friends – heaven. In burrito form, that is. And you'll see me with no other burrito in my hands than one from Chipotle, the pinnacle of burrito excellence.
Some argue that another burrito establishment, Qdoba, surpasses Chipotle's burrito quality in that they provide the option of queso and also offer to mix all of your ingredients. However, as delicious as queso is, it belongs nowhere near a burrito as it masks the finer tastes of the other burrito ingredients.
Additionally, Qdoba's mixing option is nothing of great significance, as blending all the ingredients together makes it so that one cannot taste the individual qualities of each ingredient. It is a blurred, somewhat tasty experience.
Chipotle's use of simple, fresh ingredients and a wide variety of choices, including pinto or black beans, marinated and seasoned chicken or steak, and a countless array of vegetable options, including the chipotle pepper, which is a smoked and dried jalapeno pepper, create the traditional, delicious burrito that we all know and love and which is above the competition.
While Qdoba has its strong points, after one bite into a Chipotle burrito, you'll understand the saying, "Once you go Chipotle, you never go back."