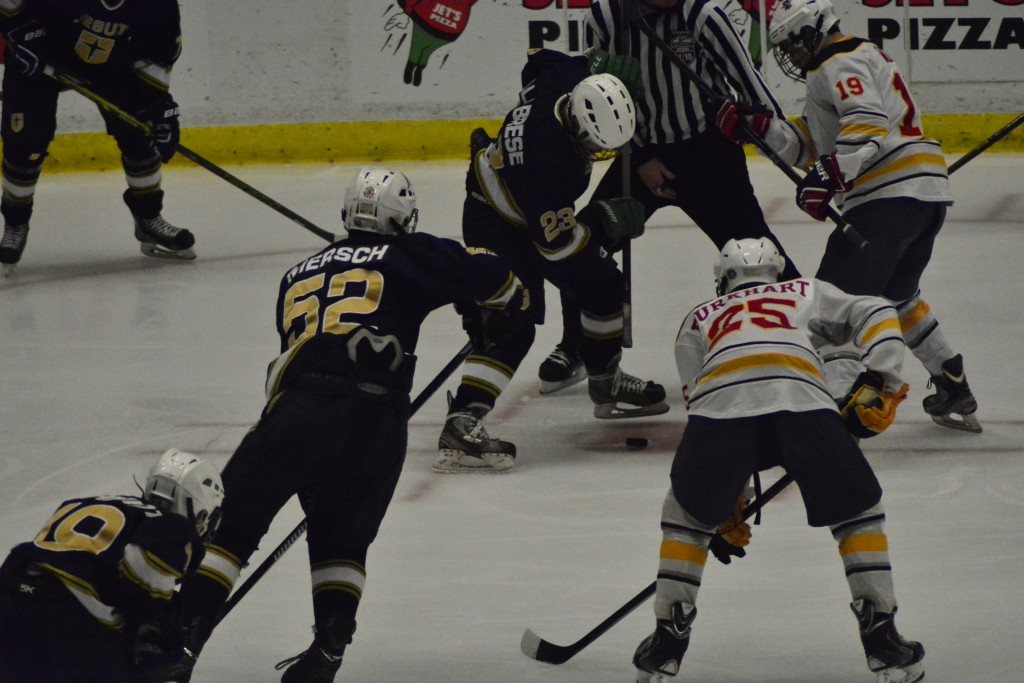 Ever since the Rangers' Varsity Hockey team lost to Plano West almost three months ago, they have been on an absolute tear through the rest of league play, winning their last eight games in domineering fashion. The road so far definitely hasn't been easy; they have at times been cornered and on the ropes, yet somehow they always find a way to come out victorious. Nothing changed in their recent matchup against Colleyville, as Jesuit was placed in a tough position with goalie George McBey '16, Jesuit's all-time leader in wins, out of the game.
Jesuit would start off the game in typical fashion by getting some early goals through screens in front of the net and other unorthodox methods which have become somewhat of a habit for the team this year. Colleyville would also put up a goal at the end of the first period, making the score 2-1.
Then, just as Jesuit has done all season, the foot hit the accelerator and the goals came pouring in. Nick Mersch '16 said, "It can only be described in simplest terms as utter and total domination by the boys." Jesuit would use their tough, old school, no nonsense style of play to pressure Colleyville in the opposing zone and force turnovers. It seems as though the team's strategy has become infectious and now is being spread all throughout the ice; Colleyville would be just another one of Jesuit's victims.
The third period saw basically Jesuit, "just taking care of business and wrapping things up," continued Mersch. Jesuit would work the point up top in the opposing zone while stymying any last ditch efforts by Colleyville for a final a score of 5-2.
Jesuit's two highest scoring players Vili Lappalainen '15 and Carson Platt '17 have both registered over 30 points this year, combining for a total of 65 points between the two. However, this year's team has definitely not thrived off the efforts of just a few individual players. As a matter of fact, the team only has four players with over twenty points.
The team has denitely benefitted from hardworking leaders like juniors Louis Helsen, Nicholas Jerome Mersch, and Michael Schmidt. All of these players have contributed in their own individual way on the ice. Louis Helsen, for example, who was a member of the 2013 state championship team, is "a key leader and boosts everyone's confidence when he is on the ice," according to Mersch. Schmidt is a player who may not look as intimidating as others, but will make the sacrifice and gutsy plays that most players wouldn't even think of making. Lastly, Mersch, who has patented his game off of right winger Antoine Roussell of the Dallas Stars, has come into his own role as a man who does whatever he needs to for the team's benefit. He has definitely grown in his discipline and continues to give his all during every shift that he is out on the ice. All three of these players provide smart, selfless play that has helped Jesuit achieve a high level of play that even they were a little skeptical about at the beginning of the year.
Jesuit hopes to continue their success this year and compete for another state title. With the star-studded cast of players that have been assembled and the chemistry that the team has continuously built throughout the season, it won't be hard for them to make a whole bunch of noise with the playoffs brewing.