The 52nd annual Knights of Columbus Dallas Classic Tournament was held Thursday, Dec. 4 – Saturday, Dec. 6 in Jesuit's own Walsh Gym. The tournament hosted eight teams from across Texas.
Jesuit Head Basketball Coach Chris Hill called the tournament "a tradition in the Jesuit basketball program," adding that "we are so lucky to have the support of the Knights of Columbus and we love having the opportunity to have a tournament in our gym."
The eight teams included Round Rock, Amarillo Tascosa, Waco University, Mesquite, Wilmer-Hutchins, Dallas Molina, Richardson JJ Pearce, and Jesuit. Jesuit began the tournament with a record of 2-2, hoping to gain momentum before district play.
Hill explained that "since joining the UIL we work hard to invite the top UIL teams we can get. Some years we have private schools compete as well but we do what we can to get the teams from our league to come. We've had teams from Australia, to Canada, and El Paso. We love a diverse tournament and our hope is for it to be as competitive as possible."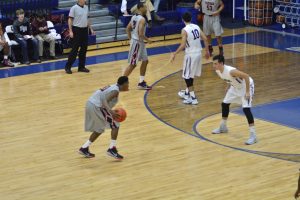 Assistant Coach Alexander added that "Duncanville had originally planned on coming but had a coaching change and the new coach decided to go else where," saying that "they would've made it a really good tournament."
In the opening round on Thursday, Jesuit creamed former district foe Molina, ending the game with a final score of 78-28. The Jesuit squad dominated their opponent in all facets of the game, winning in blowout fashion. Three juniors Shawn Regan (14 points), Joe Fimian (7 points), and Mitch Prendergast (7 points) were key contributors in the opening win.
Coach Hill emphasized that the team "played great in the tournament, one of our best showings of the year…it was a great team effort."
Jesuit then went on to defeat Amarillo Tascosa by 10 in the semifinals on Friday. Peter Lynch '15 lead the way with a monster 19 point, 8 rebound game. Michael McReynolds '15 also had a big game, scoring 13 points, along with Hank Shotland, who put up 12 points. The final score was 62-52.
McReynolds said that throughout the tournament Jesuit "learned a lot about ourselves as a team. Everybody got a chance to chip in and help us win."
The Championship game was held Saturday. In the third quarter, Jesuit was losing 29-19 before they went on a 13-0 run, a combination of strong offense and lock-down defense. On the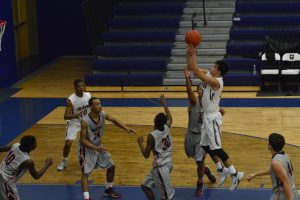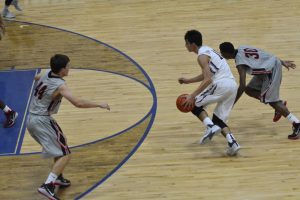 last play of the game, Michael McReynolds '15 scored on a back-door cut, sending the game to overtime with the score tied.
In overtime, it was all Jesuit. With several baskets coupled with big defensive stops and Mesquite turnovers gave Jesuit the early lead. Jesuit players hit key free throws and managed the clock well to win comfortably 50-43. Having lost the Skeeters earlier in the season, Jesuit was able to get a payback win.
Coach Alexander reflected on the tournament field, pointing out that the "competition was good except for one team. Except for the one team all of them were athletic. Some were really well coached too." He added that "the tournament absolutely provides an opportunity to examine what we need to adjust or improve in order to be ready for district."
Two Jesuit players were recognized for their stellar performances in the tournament. Peter Lynch and Christian Chiles '15 were chosen for the All-Tournament Team, Chiles was also presented with the Knights of Columbus Dallas Classic Most Valuable Player (MVP) Award.
McReynolds thought that the tournament "went really well" and explained that  "there is always a sense of pride when you when your own tournament and something that is a great accomplishment to have."
Tom Weber '15 similarly concluded that "the tournament went great. We really came together as a team throughout those three wins. It was an incredible experience to win our own tournament especially considering only a few teams before us had won it. It was also especially gratifying to see how much we've progressed as a team since our first game about a month earlier.
The Jesuit Varsity team will look to continue improving as they rematch Highland Park at the Allen Tournament on Monday, December 29th at 4:15 p.m.